Roll Your Towels for a Spa-Like Experience Using This TikTok Hack
You can find all types of lifehacks on TikTok. The latest craze is rolling up your bathroom towels so they look very fancy and spa-like. Here's how!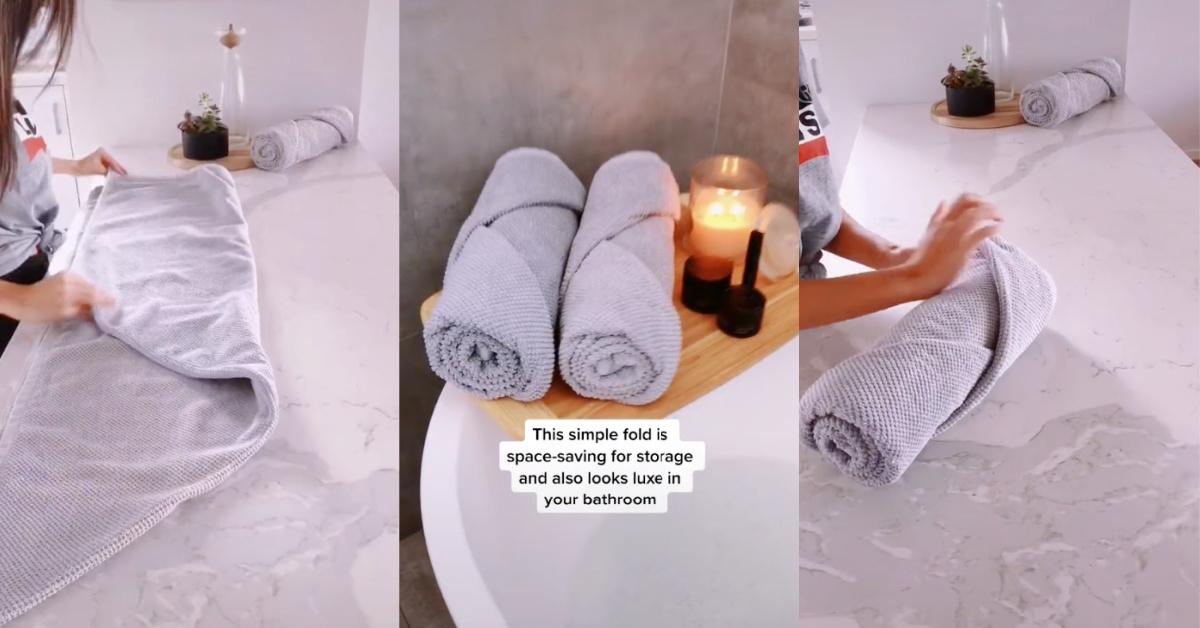 You can learn a lot from TikTok these days. Obviously, there are the pranks and dances and trends that gain popularity on the app until you've suddenly seen approximately 1,000 of the exact same video in your feed. But there are also plenty of life hacks on TikTok that you can use to take your life to the next level. Such hacks include the proper way to clean strawberries or the proper way to clean your dishwasher filter (honestly, a lot of the hacks center around cleaning).
Article continues below advertisement
And now, there's a new lifehack that will instantly transform your bathroom (or your linen closet) into a spa-like experience. Thanks to the popular video-sharing app, we now know exactly how to roll towels to make them look classy as heck.

Article continues below advertisement
Here's how to roll your towels (according to TikTok).
At the end of the day, a rolled-up towel isn't technically any better at absorbing water than a folded-up towel, but it just looks so fancy and spa-like, ya know? Who wouldn't want to pretend that their bathroom is a spa-like getaway where everything is nice and relaxing and wonderful?
Rolling up your towels isn't the only thing required for a bathroom transformation, but it's definitely a good start. Plus, assuming you already have towels (you do own towels, right?), this hack is totally free! All it takes is some time and fancy folding.
Article continues below advertisement
Start with your towel spread out in front of you on your folding surface, then fold the upper right-hand corner down to create a triangular shape at the end. Next, fold the towel in half lengthwise (hot dog style!). Flip the entire towel over and roll it up starting from the straight-edge side. Finally, tuck the end of the triangle into the rolled-up towel and you're all set!
(If you're confused, just watch the above video a couple of times. It's really very easy!)
Article continues below advertisement
Now that your towels are all fancy and rolled-up, you can use them to style your bathroom, or just rearrange the cupboard where you typically keep your towels. We're kind of tempted to try this same technique on our sheets, blankets, and cloth napkins — time to roll up all the things!
From what we can tell this towel-rolling hack originated from TikTok user @mama_mila_, who shares all sorts of home styling tips and tricks on her account. In fact, this isn't even her only towel-related hack. Here's another one she uses specifically for hand towels:
Article continues below advertisement
What a game-changer! She also has tips for folding hooded sweatshirts, hanging sweatshirts, and cleaning out your washing machine (because it wouldn't be a lifehack TikTok account without plenty of cleaning advice).
Basically, if there's a way to make your life look better or just feel fancier, you'll probably find it there.
Now that you've officially found yourself on HackTok (that's what the cool kids call the lifehack-filled part of TikTok), get ready to transform your life and clean everything around you until it sparkles. Or at least learn how to clean everything around you until it sparkles — there's no rule saying that you have to implement every single hack you see on TikTok. Just the good ones!