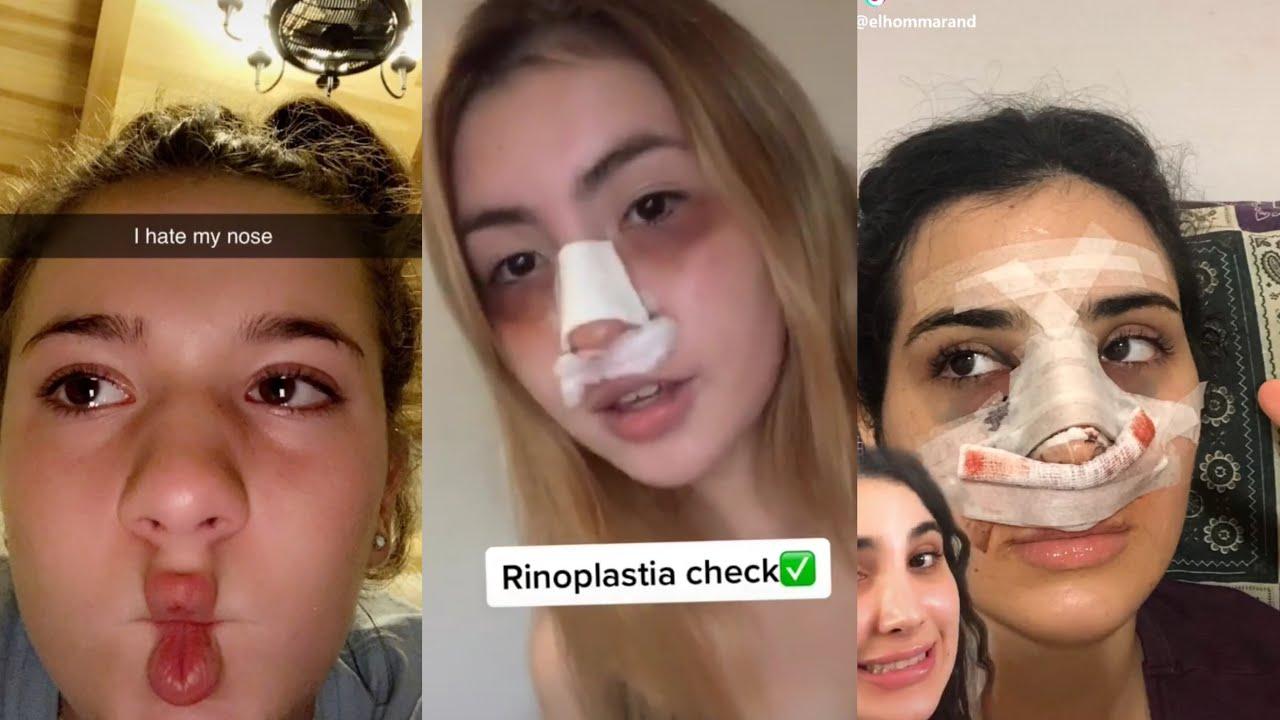 There Seems to Be a Weird Obsession With Nose Jobs on TikTok
By Mustafa Gatollari

Oct. 12 2020, Published 6:26 p.m. ET
Social media apps like Snapchat and Instagram are often being lambasted for worsening folks' images of their own bodies. It doesn't help that the camera software implemented in these social media applications use some type of crazy wizardry to make us look like our best selves, and that's not including all of the other touch-ups that popular influencers use in order to make themselves look even prettier. Now we've got the "nose job" filter on TikTok to make us even more self-conscious.
Article continues below advertisement
What is the nose job filter on TikTok?
Technically, it's called the "inverted" filter, and it's a supposedly accurate representation of how your face appears to other people when they're interacting with you. It's a trip for individuals who are used to seeing their faces a certain way on camera, but with the inverted filter activated, they can then see just how asymmetrical their face is to others.
the tiktok inverted filter has absolutely scarred me , if this is how people see me in real life then i'm deceased

— E L L I E . D (@Ellie_daviesxx) October 12, 2020
Article continues below advertisement
This has caused a lot of folks to freak out over their physical appearance. People have said that "nothing humbles me more than the inverted filter on TikTok" while others have said "I just did the inverted filter on tiktok AND I WANNA CRY."
The reason why some people are calling it the "nose job" filter is because it shows them how badly they need a nose job.
i judt used the inverted filter on tiktok and actually started crying i look SO BAD

— riley (@autistichinata) October 8, 2020
Article continues below advertisement
So why use the inverted filter at all then? Well, seeing your face in a new light can also help you find out which other filters would probably best suit your face for the ultimate fake-beautification experience. If you've never used the inverted filter and want to try it out here's what you're going to want to do:
Open TikTok.
Click the effects button, which is positioned right beside the record button.
Scroll until you hit face filters.
Select the inverted filter and you're good to go.
IM GETTING A NOSE JOB. nah man I used the inverted filter in tiktok and THE WAY ONE NOSTRIL IS SMALLER THAN THE OTHER. IM NOT OKAY

— L (@Some1Random20) August 19, 2020
Article continues below advertisement
Here's a list of reasons I can't sleep at night

- the inverted filter on tiktok
- the inverted fiLTER ON TIKTOK

— ca ro line (@carohitchcock) November 9, 2019
There are beautification "nose job" filters on TikTok and Instagram Reels you can use, too.
Superimposing other people's facial features is kind of the name of the game when it comes to filters, which were popularized by Snapchat and then adopted by other social media platforms like Instagram and TikTok now. 
Let's say you're using Instagram Reels instead of TikTok because, you know, you're counterculture like that, plus TikTok's oversaturated anyway.
Article continues below advertisement
I need to get off TikTok cause seeing all these nose job videos makes me closer by the day booking one for myself 😭😭

— Jeri (@jeriwebx) September 23, 2020
So in order to use the "nose job" filter on Reels, you can head over to @sasha_soul_art which is a huge purveyor of beautification apps and filters. The "Belle" filter is the one you're gonna want to look for and it'll give you a nose that is so good that a Kardashian would gladly pay for it. 
Article continues below advertisement
Users have found that this is the "best" nose job filter solution out there and a lot of the native TikTok filters aren't really as good as the ones on Instagram. So what a lot of folks are doing is recording these videos with the installed filters on Instagram, saving the videos they've recorded with the filters, and then uploading those videos to TikTok and putting their favorite songs and little captions and whatever stupidity to them so they can rack up likes on their accounts. Fun.
I'm absolutely furious I don't have the time warp scan filter on tiktok I just wanna see what my nose job is gonna look like

— soy boy (@c_nner) October 1, 2020
Article continues below advertisement
The "instant nose job" and "nose job check" trends are kind of big on TikTok, too.
For some reason, TikTok users seem to be obsessed with the topic of nose jobs. In addition to finding filters that'll help people visualize how they'd look with a different schnoz, folks have also been posting nose job reveals and a visual "trick" to see how they'd look with a nose job that really just entails you puffing your upper lip out. Check it out below and you be the judge of whether or not it works.