If You're Trying to Peep Your Friend's Birthday on Snapchat, Here's How to Do It
Want to know how to see your Snapchat friends' birthdays on the platform? It's actually pretty simple.
I probably remember 90 percent of my friends' birthdays only because of social media. Then there's 9 percent I only recall because I have them in my Google calendar with multiple reminders at staggered intervals to alert me to their special day.
A variety of different social media and messaging platforms thankfully compile birthday data, but Snapchat's method is probably the clearest. Here's how to see your friends b-day info on the platform.
Article continues below advertisement
Here's how to see your friends' birthdays on Snapchat.
If you wanted to surprise one of your pals with a nice little birthday treat (or maybe you want to know how to cue up an excuse to miss one of their parties), then you can easily glean that information thanks to Snapchat. As long as they put their actual birthday on their profile, that is.
There are a couple of ways to get this info. The most readily apparent one is the cake icon beside someone's name on the social media platform.
You'll be able to see that cake icon on your chat list, which compiles your most recently contacted people up top. If it's someone's birthday, then you're going to see a cake beside their name. But what if you want peep your friends' birthdays and they aren't individuals that you speak to regularly on Snapchat?
Well, that's where the friends list comes into play.
Article continues below advertisement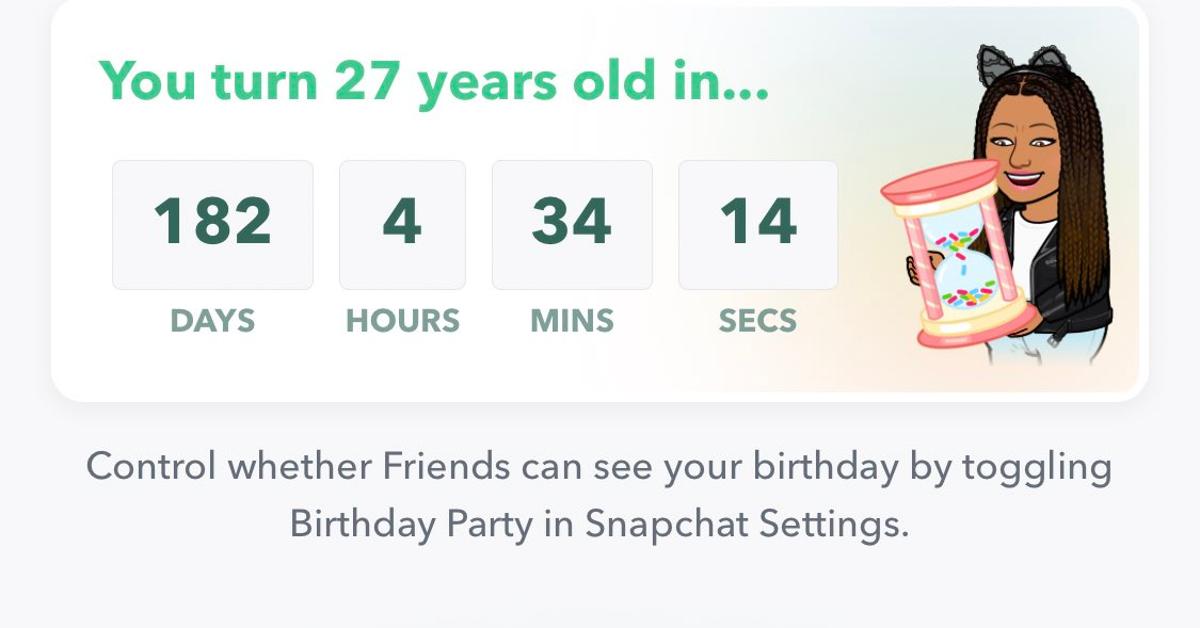 All you need to do is open up Snapchat, tap the three little dots in the upper right-hand corner, hit "Manage Friendships," and then scroll through your list. Your most recently contacted peeps will be up in their own VIP category, and everyone else will be filtered in alphabetical order beneath them. You'll then be able to quickly see if there's a cake emoji beside their name. From there, you can send them a Snap message wishing them a happy birthday (or not).
Article continues below advertisement
Snapchat also has a "Birthday Party" feature if you're not aware.
To enable it, jump into your settings, then hit "Birthday" under the "My Account" menu. You'll be able to enable a virtual birthday party for yourself that not only shows the cake next to your name in people's friends and chat lists, but also, whenever you send a Snap photo or video on your actual birthday, you'll have some other fun extras pop up on the screen. It's pretty nifty.
Article continues below advertisement
Snapchat also takes birthdays a step further with its astrological breakdowns.
While astrological analysis usually veers into eye-rollingly annoying territory, part of the whole appeal of social media is to waste time and help distract you from the overwhelming dreams we've set up for ourselves but which few of us actually have the perseverance, mental fortitude, and commitment to put into action.
Article continues below advertisement
Article continues below advertisement
So while deferring those dreams even further, why not read about how a bunch of theories involving celestial bodies are the reason why "you just can't even" with some people, or why you should quit your job, or whether or not you should pursue a relationship with a particular individual?
You can see your astrological compatibility (or lack thereof) by tapping on a Snapchat friend's profile to glean more information. There's Sun Sign Compatibility, as well as info on their Astrological Sign, birthstones, and a slew of other Snapchat-specific stuff.
Article continues below advertisement
It's clear to see that the application has come a long way from the days of just sending disappearing photos to one another. Have you checked out the app's new features, or are you plunging deeper into the world of digital minimalism?