Internet Can't Stop Talking About Woman's Bitter Reaction to a TikToker at IHOP
A woman at IHOP has gone viral for a video she filmed of her excitedly receiving her pancakes, but another customer seemed to steal her thunder.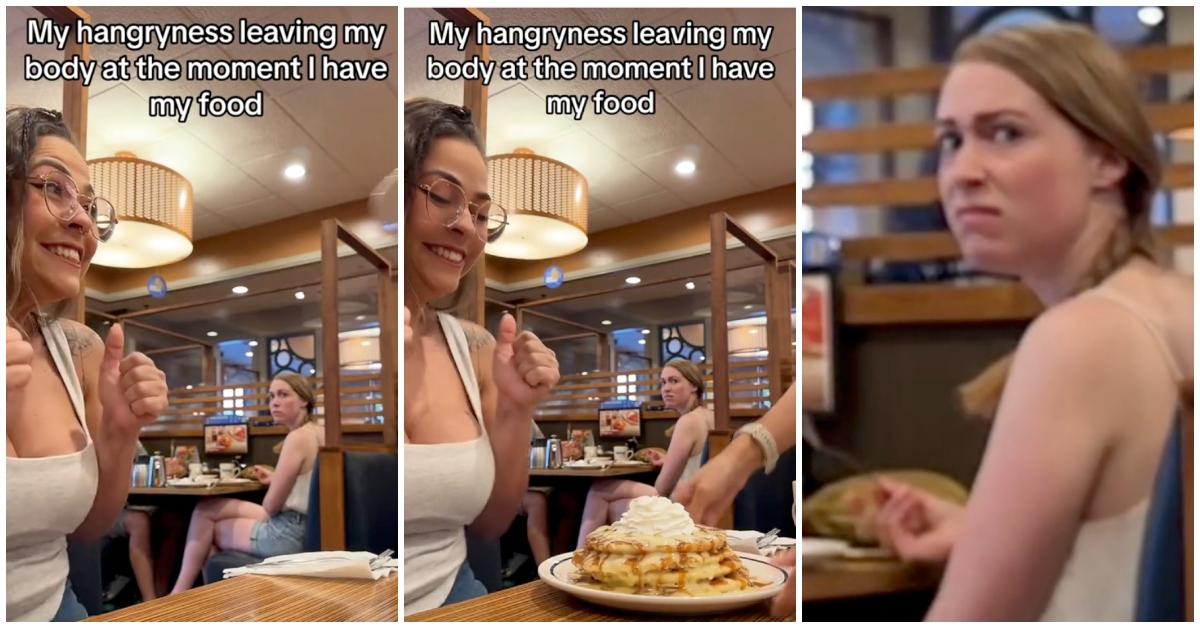 Imagine filming a TikTok video of you genuinely excited about something, but when you replay the footage, you notice another woman in the background scowling at you.
Article continues below advertisement
That's what happened to one TikToker who was trying to capture the exciting moment she got her food at IHOP. Little did she know that when she shared this video, the woman in the background would become the main character to most viewers.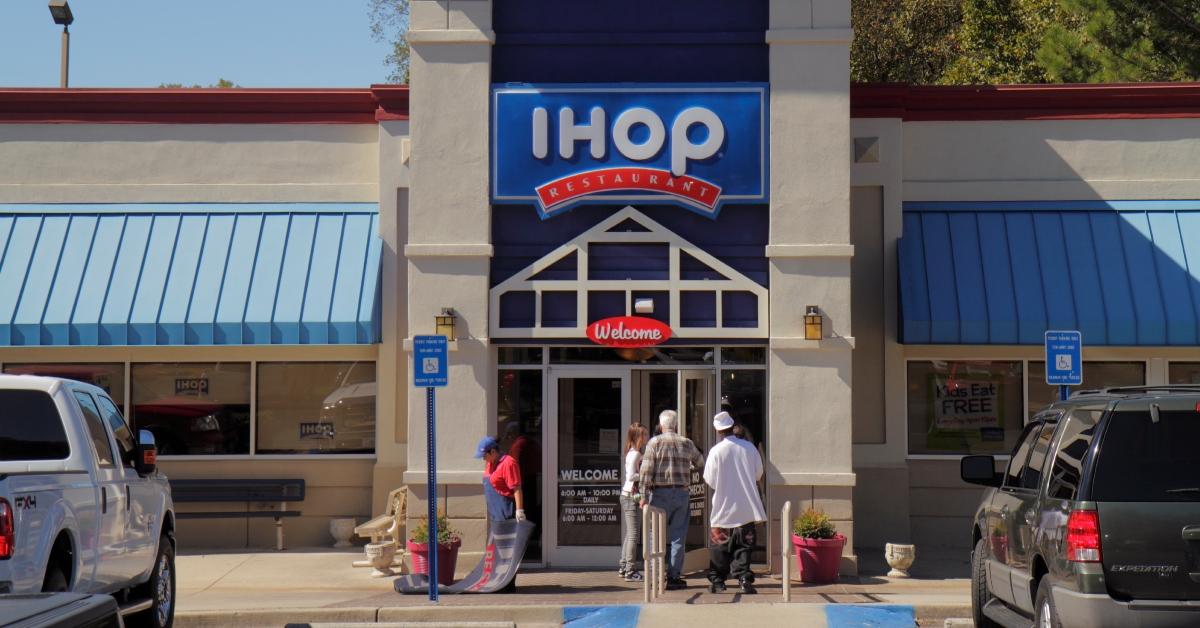 Article continues below advertisement
The internet praises the woman in the background of the IHOP dance girl video for being "so real."
A woman named Ana (@addictedtoana) recently shared a video on TikTok of her at IHOP. "My hangryness leaving my body at the moment I have my food," she wrote in the text of the eight-second clip, where she's seen smiling and dancing while seated in an IHOP booth as the server puts a plate of pancakes in front of her.
Article continues below advertisement
While the video was centered around Ana's joy about receiving her food, it was hard not to notice one of the customers in the background. Sitting in a booth across from Ana was another woman who didn't seem to share Ana's love of pancakes. In fact, the woman looked as if she was judging Ana for filming a video of it.
Ana noticed this woman, too, and acknowledged her in her caption. "The best part of this video is the woman judging me," she wrote.
In the comment section, it appeared that viewers looked right past Ana and directly at the woman in the background.
"She's like 'it's IHOP.., chill,'" wrote one user.
Another wrote: "The girl in the back is so real for that."
In fact, the majority of users in the comment section claimed they related to the grimacing woman in the back.
Article continues below advertisement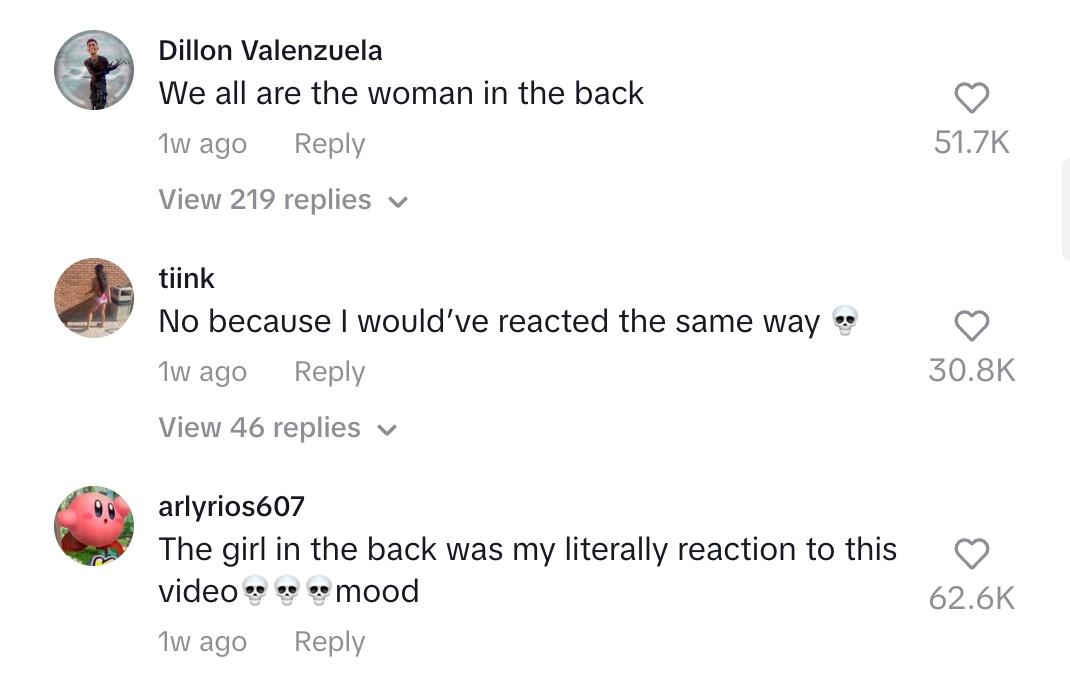 But a few folks pointed out how it was sad that the woman couldn't just let Ana have fun.
"People really can't be minding they own business when they see someone else happy smh enjoy ya pancakes girly," read one comment.
Another comment read: "I will never understand why people get irritated at other people's happiness."
Article continues below advertisement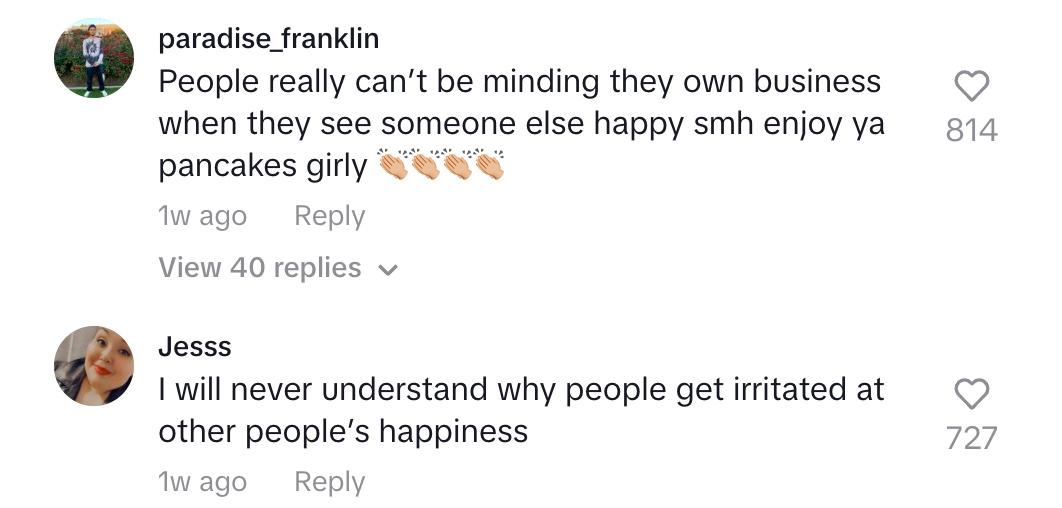 Ana made a follow-up TikTok where she tried to understand the other woman's perspective.
"POV: when a customer that came after you gets their food first," she wrote in her new video, which contained the same footage as the original video, except this time, the camera zoomed in on the woman in the background.
Article continues below advertisement
Ana gets called out for a seemingly racist comment on her IHOP video.
For viewers who might not have gone through Ana's comment section, TikTok user @realshaftandi created a video where he highlighted a seemingly racist response Ana wrote to another user.
The user, like many others who watched the video, claimed that he identified with the woman in the background of Ana's video. In response to him, Ana wrote: "For a Black guy hating in other person that's food for thought society doesn't made you suffer with hate too? Interesting."
Article continues below advertisement
Users were confused as to why she noted his race. In fact, many users interpreted Ana's comment to mean that, if the user was Black, he was part of a minority group and should understand what it's like to be judged.
This user wrote back to her: "Wow so not only are you a cringelord but you're racist AF too."
Article continues below advertisement
Speaking to Insider, Ana, who is Brazilian, claimed that the language barrier means that sometimes her wording may be confusing. However, she did confirm to the outlet that she was essentially nodding to his race as he should know what it's like to be a part of a minority.
She said: "What I meant was as being part of the minority — you know, as me being a woman, he being Black, or a trans person — hating on strangers on the internet is something that I don't swallow very well. It's like, man, the society hated on you in your entire life, and this is what you spread?"
She also added: "I thought for being part of the minorities makes us better, in a way that we don't do to nobody what they do to us our entire lives."
Ana has yet to publicly address the backlash she has received for the comment.
Perhaps the best takeaway we can all learn from this video is to not judge others.