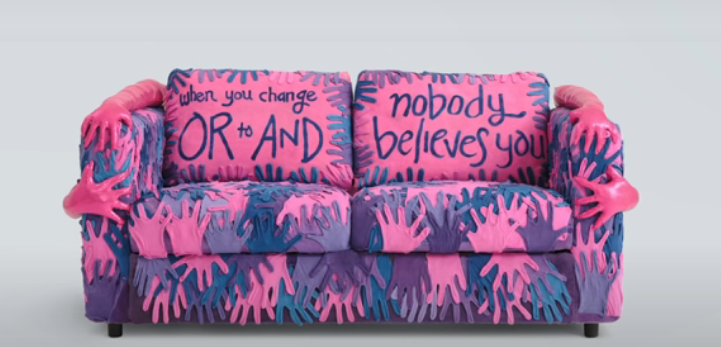 People Have Some Thoughts About IKEA's Bisexual Couch
Bisexual couch isn't a term that you likely see every day, but thanks to IKEA, it's one you'll never forget. In honor of Pride, IKEA has unveiled a collection of 10 Love Seats, with each one inspired by stories from individuals in the 2SLGBTQ+ community, as well as by the flags associated with different parts of the community.
Article continues below advertisement
Responses to these Love Seats range from "That's so pretty!" to "How the heck do you sit on that?" But by far, the Love Seat that has stolen the show is the one inspired by the bisexual flag, adorned with the words, "Nobody believes you." Here's the story behind the couch that has the internet very confused.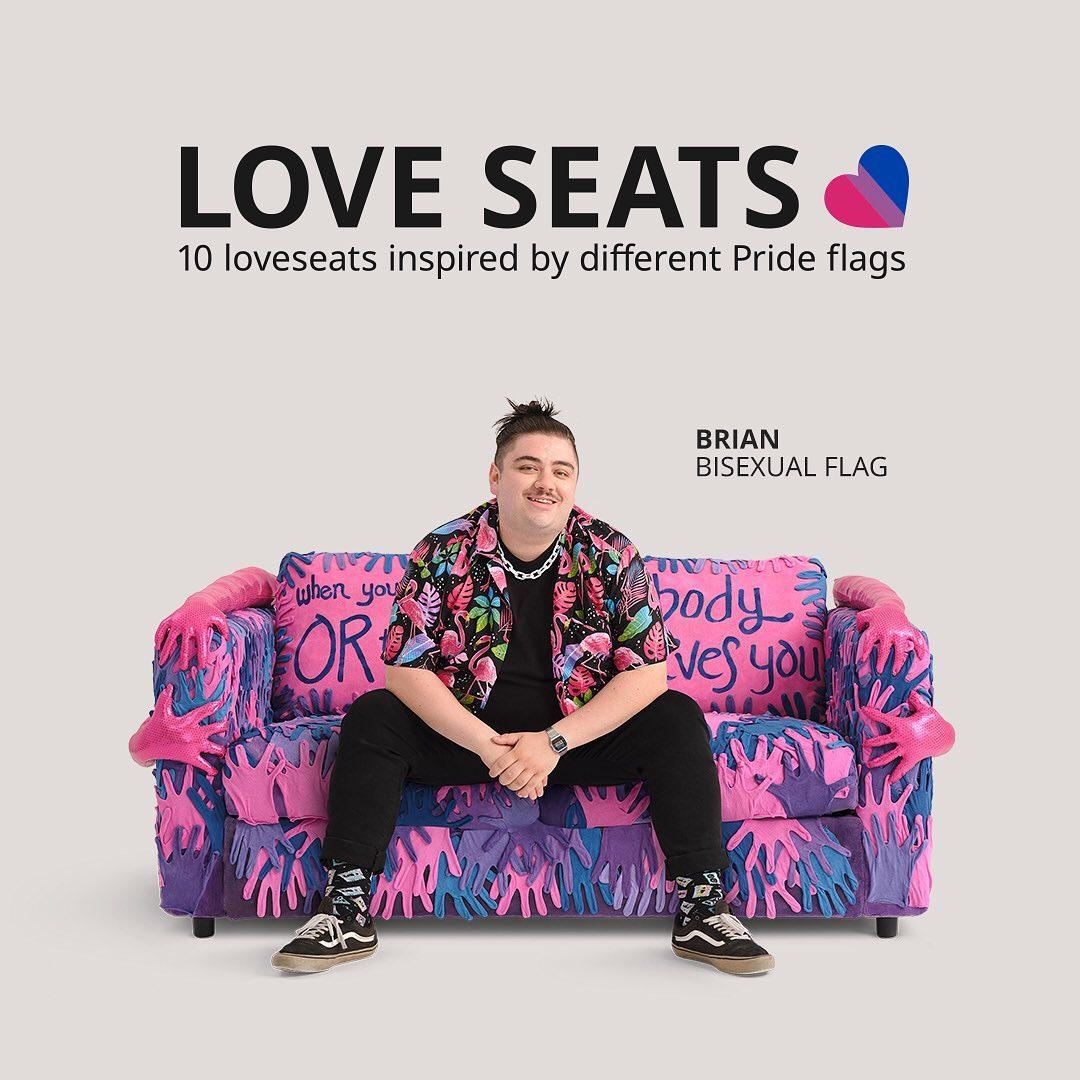 Article continues below advertisement
IKEA's bisexual couch was inspired by a poet.
The "bisexual couch" was originally created by designer and activist Charlotte Carbone, but her story is actually not the one being told through the Love Seat. The story behind the now-viral couch comes from Brian Lanigan, a poet who came out as bisexual in early high school. In fact, the words that you see on the couch, "When you change 'or' to 'and,' nobody believes you," come from one of his poems, a performance of which you can see below.
Article continues below advertisement
Although most of the internet is particularly focused on the "nobody believes you" part, the beginning is rather important to Brian's poem. Many bisexual people understand the reality of what Brian is describing, being told that bisexuality isn't real and that you have to be either gay or straight. Coming out is hard enough, but bisexual erasure makes it so much worse.
If you're still confused (and especially unsure about what all those hands are doing), Brian also took to Twitter to explain more.
"Hey everyone, I'd love to explain the NOBODY BELIEVES YOU love seat! The line 'when you change 'or' to 'and,' nobody believes you' is from a poem I wrote in high school about bisexual erasure I experienced from an ex-partner and others," he said. "I'm a spoken word poet and the hands are meant to represent the audience reaction, especially those of other bisexual folks who would approach me after performances and share their story with me."
Article continues below advertisement
Can you buy IKEA's Love Seats?
If you'd like to own your own bisexual couch, we're sorry to tell you that's not something you can do at this time. It doesn't look like there's a way to purchase any of the Love Seats from the collection. Each of the 10 Love Seats was created by a very skilled designer, like Charlotte, winner of the Canadian fashion design competition show Stitched.
Article continues below advertisement
It's unlikely that any of the couches could be mass-produced in order to be sold at IKEA. In fact, since IKEA Canada is behind these Love Seats, they will only be on display in IKEA stores throughout Canada.
Article continues below advertisement
Twitter doesn't know what to make of the IKEA Love Seats.
If you weren't totally sure what to make of the IKEA Love Seats, you're definitely not alone. Shortly after they were unveiled, the phrase "nobody believes you" began trending, with many in particular voicing confusion about the bisexual flag-inspired Love Seat.
"I dare you to think of anything funnier you could put on a bi themed couch than 'nobody believes you,'" one Twitter user said.
"My childhood recurring nightmare was hands and fingers coming through the floor to grab me and pull me into some even worse world. So the bi couch is freaking me out. The 'nobody believes you' cushion is just the icing on my nightmare cake," another said.
"The bisexual couch looks like something you would find in an abandoned asylum in a horror video game. You enter the dark room and start hear echoes of whispers. 'Nobody believes you,' over and over, louder and louder, until you realize you have to go now or you may never leave," added this user.