Bride Uses IKEA Bag for Brilliant Wedding Gown Hack in the Bathroom
This bride-to-be's IKEA bag hack helped to keep her gown pristine on her wedding day and people are calling it a "genius" move.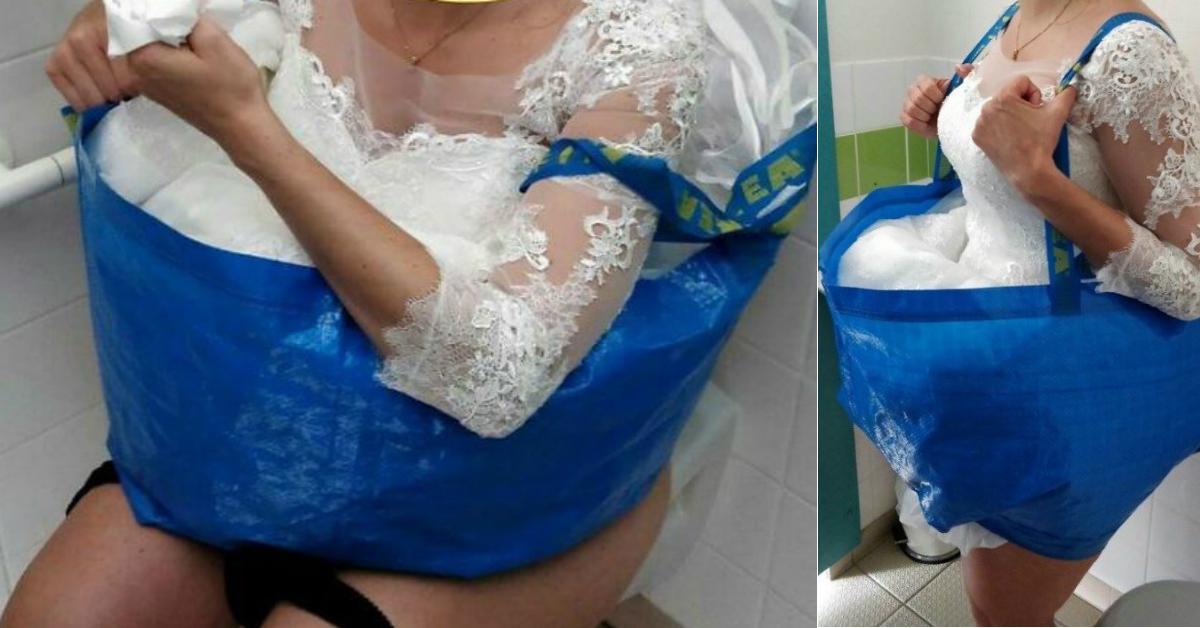 Wedding dresses are a big, big deal to most brides. I've never gone shopping for one, as beautiful as I think they are, but I've seen the price tags on more than a few of them and have been known to watch the occasional episode of Say Yes to the Dress.
Article continues below advertisement
However, they tend to be very bulky on the bottom and very white, which can pose a lot of problems, particularly if nature calls. How do you keep this very expensive, very beautiful white dress immaculately clean on your wedding day if you have to make a stop in the bathroom? Most brides have had to enlist the help of a very close friend who's comfortable being around while you go number 1. But if you prefer to so to the bathroom solo, there's a solution.
According to Tina, all you need is an IKEA bag. The bride-to-be has drawn praise and awe for her ingenuity after she shared images of her inventive use of an IKEA bag to keep her gown clean and dry whenever she needed to use the bathroom on her wedding day.
Article continues below advertisement
She posted this brilliant workaround on IKEA hackers and provided a step-by-step guide, with pictures, on how to use everyone's favorite utilitarian blue bag as a gown protector during bathroom breaks.
So keep a couple of these handy on your special day and maybe even leave them hanging in the bathroom. Between all of the special toasts and gallons of water you'll be imbibing after dancing the night away, you'll need it.
Article continues below advertisement
Here's what you'll need: an IKEA Frakta blue bag and a pair of scissors. That's it. Oh, and probably a big wedding gown, but we're assuming you've already got that part covered.
First you're going to want to fold the bag, like in the image above.
Article continues below advertisement
Then you're going to want to cut a hole in the middle of the bag — but not too big. Tina explains why:
"Careful: The hole must not be too big. It is better to cut a smaller hole and to enlarge it a bit later. It must be close to your body if you want it to work! I have large hips, DO NOT take my measurements as an example. Each body is different."
Then you're going to want to stand inside the bag to get an idea as to whether or not you'll need to make the hole larger.
Then comes the shoulder strap test. "Put the large handles on your shoulders. If your hips do not fit through the hole, enlarge it a little bit. Again: just a bit! Your hips need to fit in the hole, but the closer the bag is to your body, the better."
Article continues below advertisement
It's probably best to try the bag on while you're wearing the dress. The goal of this little "hack" is to bunch up the dress around your waist without having to worry about fabric going all over the place. Tina writes, "Simply step inside the bag, your feet in the hole. You don't need to remove your shoes! Pay attention to step in the hole, not in the bag if you don't want to have a dirty wedding dress.
Take the bottom of your dress and put it in the bag — all of it. Place the larger handles on your shoulders. You can also if you prefer, ask someone to just help you put the dress inside the bag and to leave you alone after."
Article continues below advertisement
Voila! You should have a result similar to the photo below. Poop and pee on your wedding day to your heart's content without having to worry about getting someone else involved to look after your dress.
What are some of your favorite wedding hacks? Props to Tina for going through all of the motions to show off this effective method of bridal gown care excellence.