Since IKEA has you build your own furniture anyway, the Swedish home goods giant decided it'd probably be a good idea to just let people design their own couches from the get go.
After debuting a new tool online that gives you a visual of what your final home-piece is going to look like, people decided to have a bit of fun and come up with some couch designs that are hilariously impractical.
I have to think the Powers That Be at IKEA knew exactly what they were doing. Everyone knows what happens when you let the internet freely decide something, just ask the folks behind the "Dub the Dew" campaign.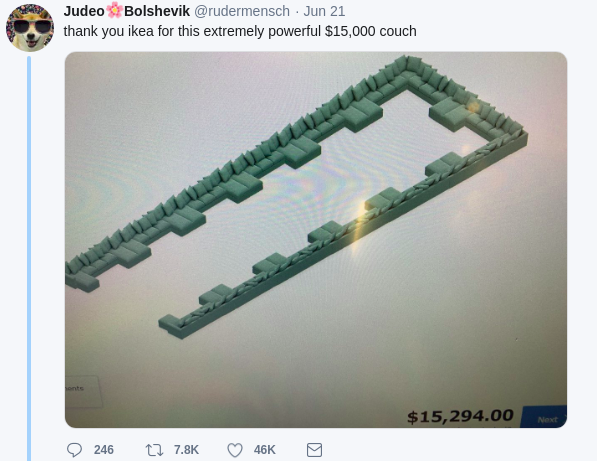 People immediately began creating monolithic structures, enormous couches that defied not only square footage but bank accounts everywhere. I don't even know how to begin assembling this thing, let alone finding a financing company that would give me a loan to be able to afford it.
As crazy as it is though, how awesome would it be to have a bunch of friends over to chill on this huge pillowed masterpiece?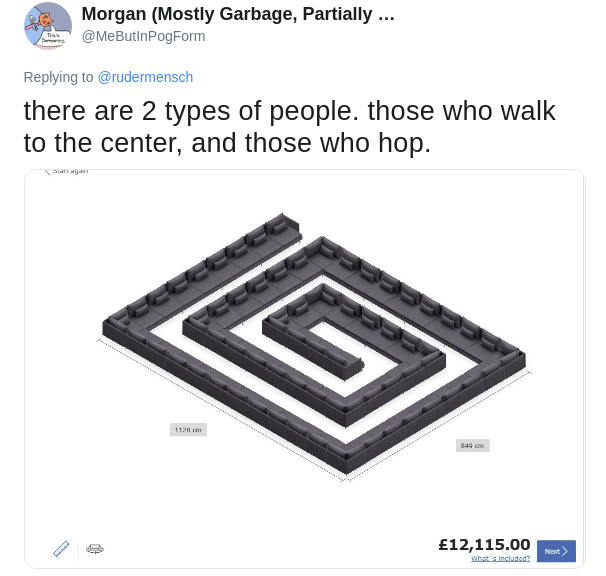 Others decided to spell out a specific word with their design, in this case, "couch." You know, just in case you forgot what you were sitting on. I'd like to state though that I feel like this "couch" actually violates the rules of the meme. This is a collection of couches arranged in a particular way. I'm more a fan of the continuously-connected custom couch designs myself.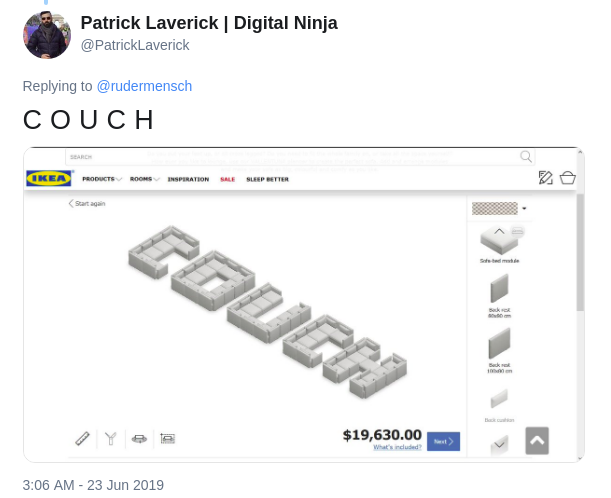 This "randomly generated rpg dungeon" couch seems like a child's dream. I could see my own kids, giddy with glee, hopping all over this thing and running into the padded back supports. Heck, I'd probably like doing that myself. Bummer he didn't put the price at the bottom because if I had the space I'd totally want something like this in my own place. THINK OF THE SLUMBER PARTIES.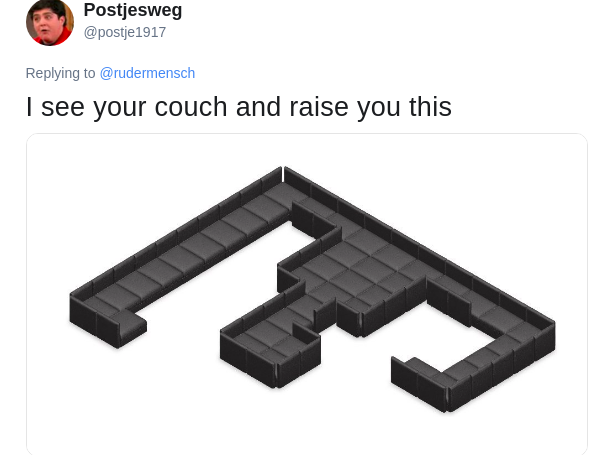 Other people got real avant-garde with their designs. What is a "sofa" really? It's just a place to rest, right? So why not just put a bunch of Ottomans together and arrange them independently in a room? Why not put a bunch of mattresses in a room, for ultimate comfort?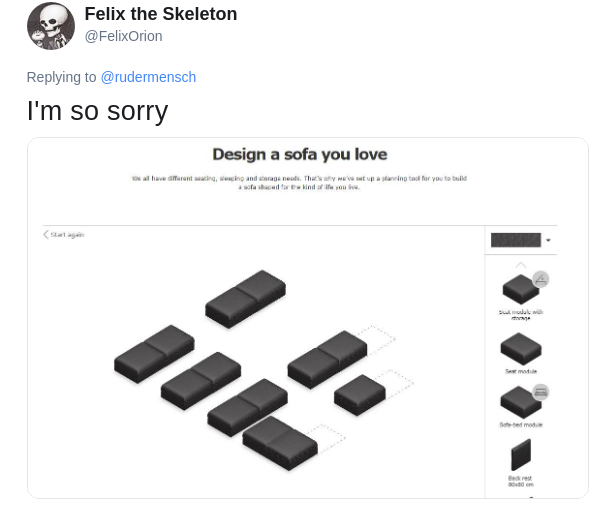 Nothing's more comfortable than your own bed, right? So give people a ton of beds. No lie though, when I was younger I always wondered why people just didn't put a bunch of mattresses in their home. They're so much better than couches.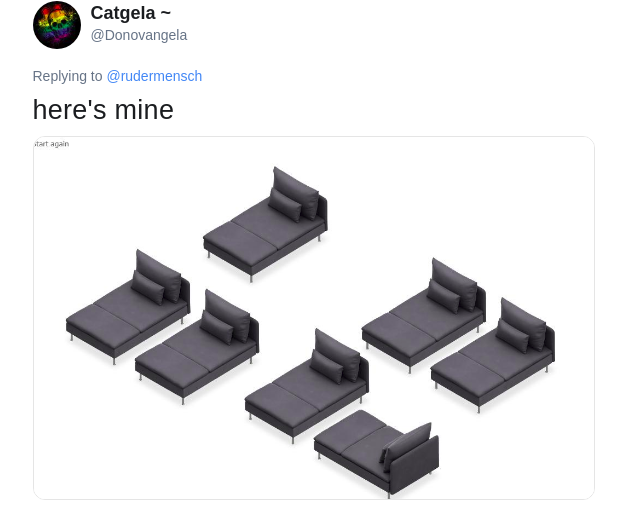 Others pointed out that a lot of the couch designs looked like they were cut straight out of Minecraft.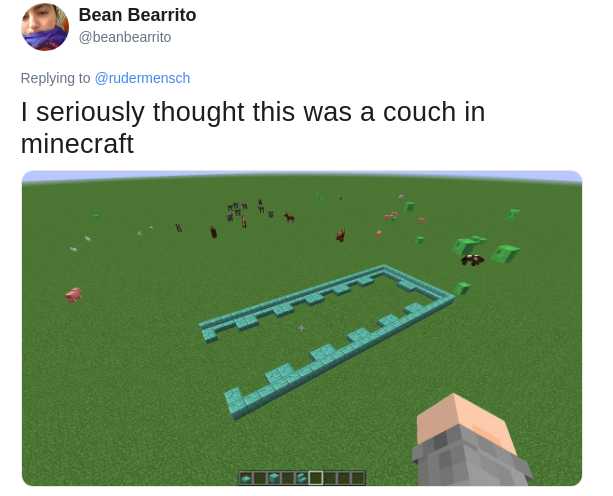 This moat, "couchopticon" design could function as a great-set up for group party games. Or if someone loses at Mafia they have to sit in the island of shame for a pre-ordained amount of time.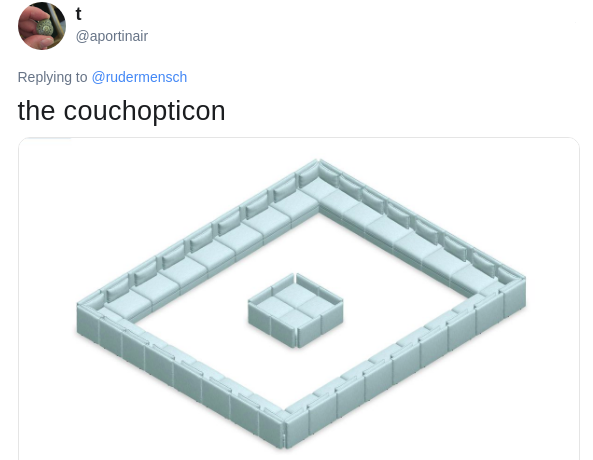 Everyone was getting a real kick out of sharing the ridiculous designs. As silly as they are, think of all the great, late-night talks with friends you could have on these things.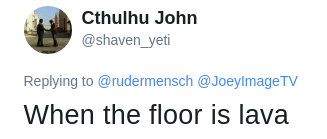 If you want to take a crack at creating your own couch and sharing it with the rest of the web, head to IKEA.com and go nuts. Remember, the sillier the better; don't come at us with any of that practical stuff, you hear?