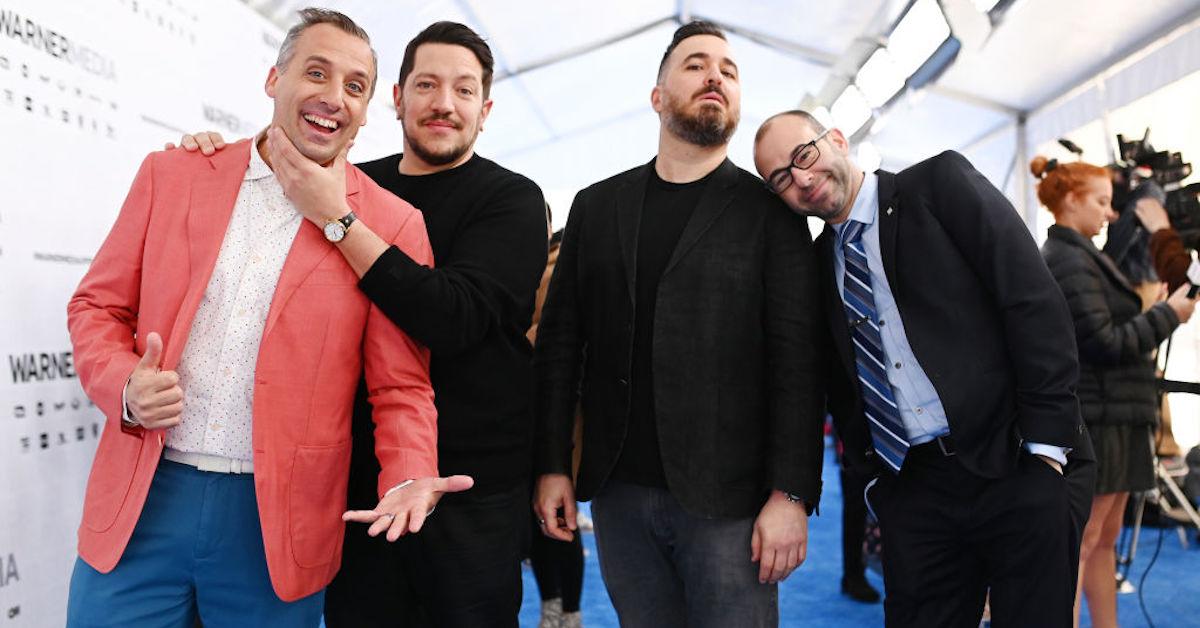 Who Are the Very Patient Wives of the 'Impractical Jokers'?
Everyone loves a good joke, and the quartet of friends that host truTV's Impractical Jokers is no exception. Shot around the city of New York, the series takes the concept of a typical prank show and turns it upside down.
On Impractical Jokers, it's the hosts who are the butts of the jokes, not unsuspecting civilians.
Article continues below advertisement
Whether you love them or hate them, the Impractical Jokers have seen a meteoric rise since the debut of their show in 2011 and with their very first movie, Impractical Jokers: The Movie, they're bigger than ever.
But what about the personal lives of these merry pranksters? Who are the Impractical Jokers' wives, girlfriends, or significant others?
Joe Gatto
Joe and his wife Bessy have been married since September 2013 and welcomed their first child together, daughter Milana, two years later. They had their second baby, son Remington, in 2017.
In January 2022, Joe announced that he and Bessy had decided to separate. She is a part-time actress who's appeared on Impractical Jokers and Jokers Wild and also manages her husband's social media accounts. Bessy is a proud vegan who advocates for animal rights with her husband.
Article continues below advertisement
Both Joe and Bessy are supporters of the "Adopt, Don't Shop" movement that encourages people to adopt pets from shelters rather than purchase them from breeders.
Together, the couple shared a pack of nine dogs with adorable Italian names: Spumoni, Biscotti, Tartufo, Napoleon, Cannoli, Struffoli, Ganache, Panna, and Cotta.
Sal Vulcano
Fans are always flirting with Staten Island native Sal Vulcano on Impractical Jokers, so it may come as a bit of a shock to learn that Sal is actually single.
Sal appears to be a lot more secretive about his dating life than his co-stars, and it seems that the comedian hasn't dated anyone since the show started in 2011.
Article continues below advertisement
In 2014, Sal said he was gay on an episode of Daytime Talk Show With Sally Jessy and immediately after his announcement, fellow castmate James Murray also opened up about being gay.
Sal then shocked his fans when he stated that he wasn't actually gay and that he just said he was to support James.
"It feels great that my best friend James has come out of the closet. That's the reason I brought him here today. You see, I am not gay, but I knew if I said I was gay, he'd admit that he was gay."
However, it later turned out that James wasn't gay either. Being gay is so hilarious, after all.
Article continues below advertisement
James "Murr" Murray
As stated above, James Murray is not gay.
In 2019, James proposed to his girlfriend Melyssa Davies outside of the home the couple had just bought together in New Jersey.
"I set up a picnic and champagne and a Scrabble board. I took her there to sign 'documents' [about the house] — there were no documents to sign," Murray told People. "And thank God she said yes."
Melyssa, who had just graduated from nursing school, was absolutely shocked and had no idea the proposal was coming. But the proposal wasn't her only surprise.
On the last Impractical Jokers tour, James had secretly been filming his many fans asking Melyssa to marry him. "It's literally fans from all across America, including Comic-Con, which is 20,000 people in one shot, asking Melyssa to marry me."
Article continues below advertisement
Melyssa and James tied the knot on Sept. 25, 2020. Technically, she's James' second wife as he was married to Sal's sister, Jenna Vulcano, in 2014 as a punishment on Impractical Jokers. Luckily for everyone involved, James and Jenna annulled that marriage the following day.
Brian "Q" Quinn
Brian's relationship status is unclear. All signs seem to point to him being single right now, but true fans of Impractical Jokers will remember that Brian mentioned that his first girlfriend had spent some time in prison and that she was the sister of a Hollywood A-lister.
Although Brian never mentioned her by name, fans did some sleuthing and figured out that Brian was possibly referring to Leah Remini's half-sister Elizabeth. Although there's been no official confirmation, the details line up.
Elizabeth was arrested in 2005 for cocaine trafficking and she's related to the King of Queens star.