Leaked Videos From Texas Prison Allegedly Show Truly Awful Food — Officials Respond
Inmates incarcerated in a Texas prison have released videos via social media allegedly showing their inhumane treatment, and in particular the food.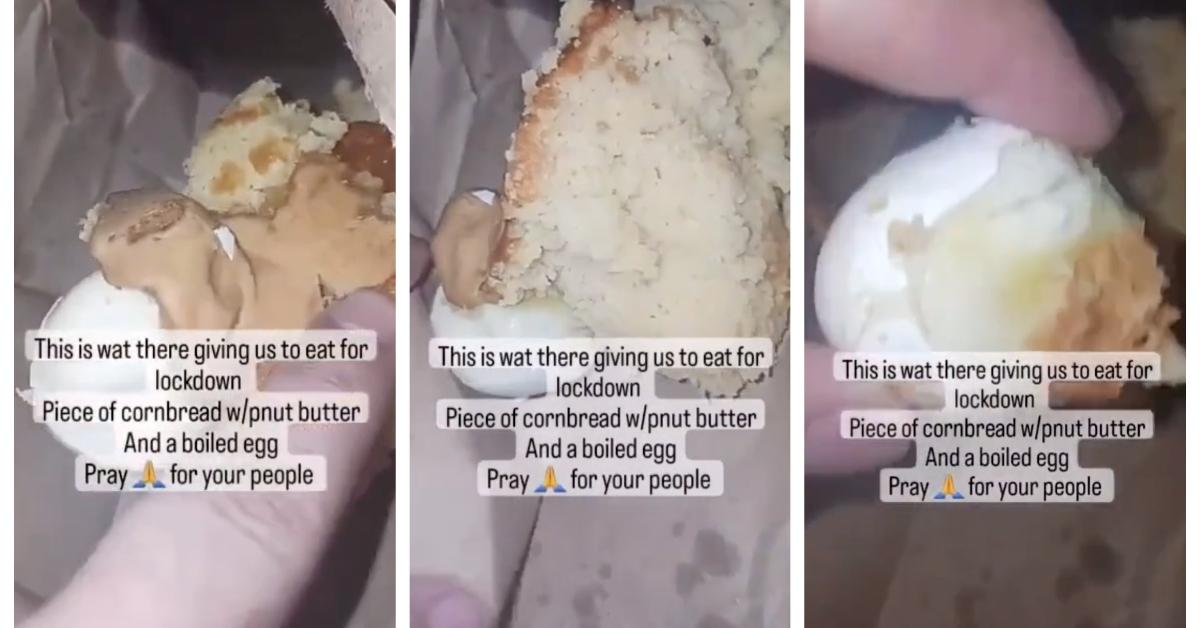 I once spent a weekend in Philadelphia where I visited Eastern State Penitentiary. The prison, which opened in 1829, sits in the middle of the city — or should I say, the city sprouted up around it. It's one of the most informative, interesting museums I've ever been to. If you're into an audio tour narrated by Steve Buscemi, this is the place for you. Also, the museum doesn't pull any punches when it comes to transparency regarding everything the prison did wrong in its 142-year reign.
Article continues below advertisement
What stood out about this facility when it first opened its doors was the emphasis on solitary confinement. Its designers believed that almost zero human contact would cure what ailed these criminals. While that didn't last, the mistreatment of incarcerated individuals remains. In September 2023, inmates from a Texas prison leaked TikToks allegedly depicting the inhumane treatment they've endured — in particular the poor food situation. Here's what we know.
Article continues below advertisement
An inmate incarcerated in a Texas prison sends out videos of their terrible food.
"This is what they're giving us to eat in lockdown," reads text over a TikTok of what appears to be food. Apparently this inmate was given a piece of bread with peanut butter, as well as a boiled egg. "Pray for your people," he says at the end.
Article continues below advertisement
There are several TikToks showing how absolutely disgusting the food is within these prisons. In one, viewers are shown two items wrapped in a paper bag and plastic bag respectively. Inside the paper bag is piece of salami between two pancakes. The plastic bag contains a peanut butter and jelly sandwich but the peanut butter has seen better days.
Article continues below advertisement
The Texas Department of Criminal Justice is on lockdown.
According to ABC News 13, the "Texas Department of Criminal Justice seized hundreds of weapons and drugs and nearly 35 gallons of alcohol as part of a systemwide lockdown and search of all prison facilities." The search began Sept. 13, 2023 and is attempting to address a "rise in dangerous contraband and drug-related homicides."
Article continues below advertisement
Because of the lockdown, inmates were unable to contact people on the outside while staff were also subject intense searches. So far the TDCJ has confiscated "five water bottles full of a liquid substance that tested positive for K2, upon preliminary testing," along with "$376 as well as 196 cellphones and 274 weapons, which were 'generally pieces of sharpened metal with fashioned handle,'" per ABC News 13.
Texas Prison Community Advocates Board Member Jessica Dickerson told the San Antonio Current that "during a lockdown, prisoners can only leave their cells three times weekly to shower. Since mess halls are closed, prisoners are given 'Johnny sacks,' bagged lunches usually comprised of inedible food."
Article continues below advertisement
The Texas Department of Criminal Justice denies these allegations.
Distractify reached out to the TDCJ regarding the TikToks and they promptly denied their accuracy. "These videos do not represent the food provided to our inmate population," they said. "TDCJ has staff across the state monitoring the quality and quantity of food. During the lockdown, meals are provided three times a day, with one of the meals being a hot meal."
Article continues below advertisement
The statement also added that items from the commissary were included in the sacks twice a week. Things like "electrolytes, chips, peppermints, etc. ..." Strangely, they pointed out the fact that the images and video are from "contraband cell phones, which are the types of items we searching for." An illegal phone is still a phone though.
Someone running the @tdcj_afterhrs TikTok must have gotten wind of the statement because they dropped another in response. "I'm so sick of the statements from the TDCJ saying they're serving nutritional meals," read a caption over more footage of repugnant meals. "I wish I could post this straight into the comment section of one of their fake posts," per a Facebook follower. The criminal justice system loves evidence, and videos are pretty strong evidence.