Guy Wants Election to Be Over So People Can Go Back to Admiring Him on Instagram
One man is getting dragged online for saying the reason he wants the election to be over and done with is so his Instagram account's about him again.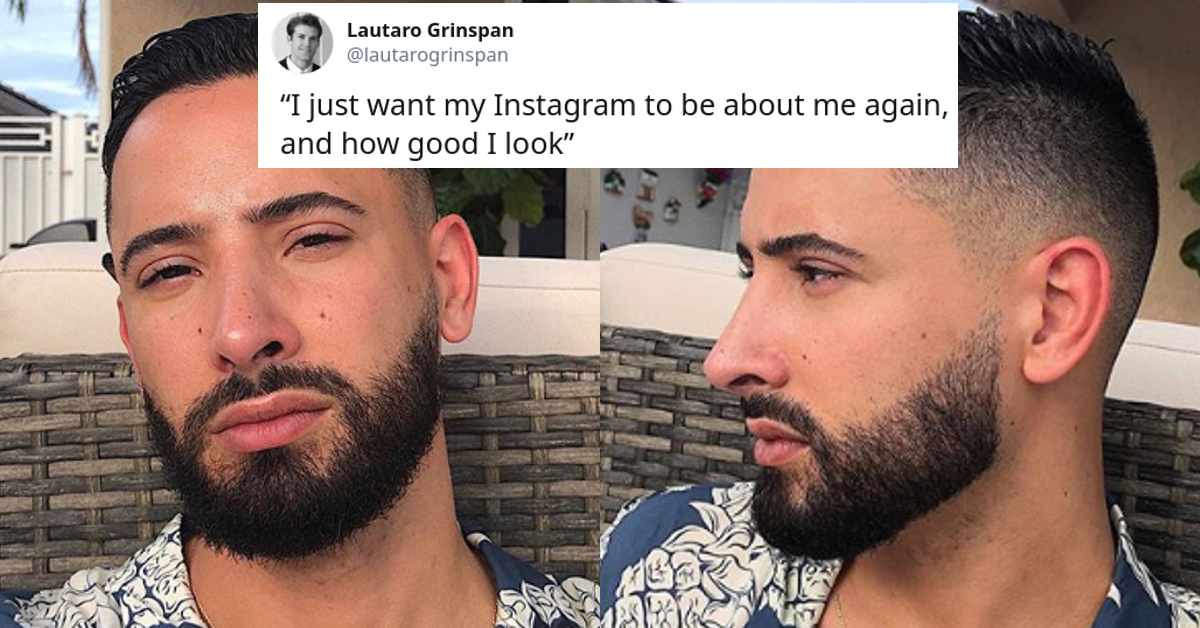 There are a lot of reasons people want the 2020 Presidential Election to be over and done with. Saturday Night Live definitely wants to know how much more mileage they can get out of Trump monologues, and Conservative outlets are probably piecing together theories on how all of the nation's problems are linked to Joe Biden, and more Liberal agencies are re-buffing their Anti-Christ Trump theories.
Article continues below advertisement
And then there are people who are concerned about the direction that America's going to be taking. If we suddenly transported ourselves back to November 7, 2016 and showed society how quickly Donald Trump took the lead against Hillary Clinton, and how close the current 2020 Presidential race, is, they'd probably be shocked.
After his victory in 2016, politics has been played much, much differently, with more and more people becoming politically aware in the wake of his inauguration. This could be directly attributed to folks genuinely worrying about the state of our union, but for one Instagram user, 28-year-old Alex Garcia from Miami, he can't wait for the election to be over, but his reasoning isn't exactly political.
Article continues below advertisement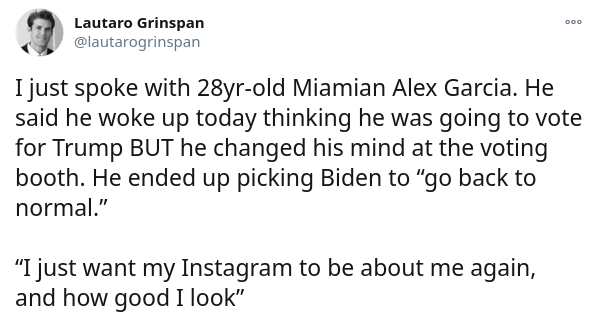 Alex doesn't seem all too concerned with whether or not Trump's going to get four more years, or Biden and Kamala Harris will be effectively running the country. The Sunshine State native said, "I just want my Instagram to be about me again, and how good I look."
He said that he voted for Biden to "go back to normal."
Article continues below advertisement
While there was indeed a surge in political interest after Trump took the White House, there is a lot of evidence to indicate that starker lines were drawn between Conservative and Liberal die-hards during Bush and Obama's White House tenures. Many attribute this to the rise in popularity of various social media platforms and the explosive growth of personal internet usage, and it all came to a head in the 2016 election.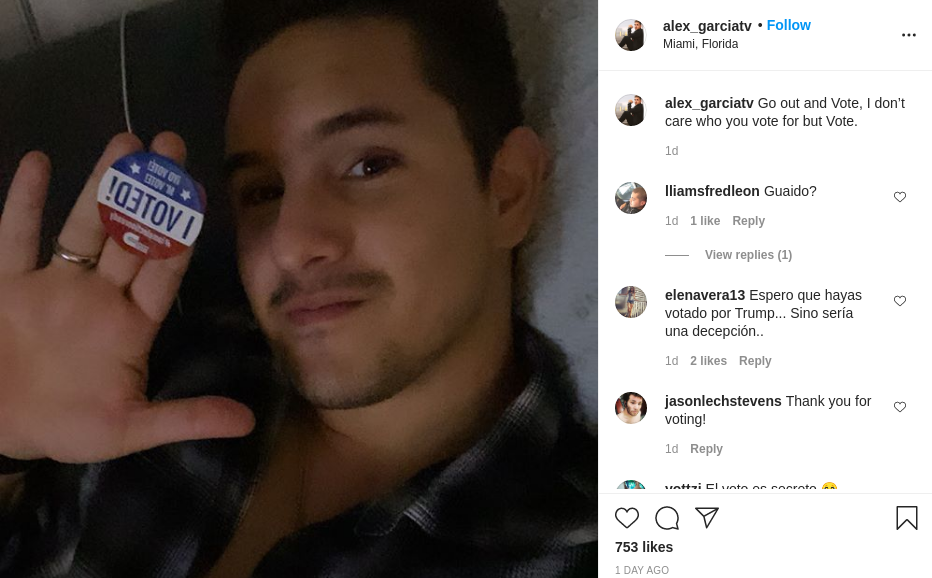 Article continues below advertisement
But back to the matter at hand: Alex Garcia's comment that his desire to vote for Biden was spurred on by his desire for his Instagram account to be about him and not Trump-inspired politics.
There were some folks who absolutely loved the fact Alex was so candid about why he ultimately decided to vote Blue in the 2020 election.
Article continues below advertisement
But then there were, of course, tons of other individuals who didn't really like the fact that someone was basing their political decisions on getting internet points for their narcissism.
Article continues below advertisement
Others alluded to it being the "Floridian" nature of the state's voters. They highlighted an individual who went on record in 2016 who pretty much just voted for Donald Trump for the lulz.
Article continues below advertisement
Article continues below advertisement
Then there were tons of Biden supporters who didn't really care as to why Alex was voting for the DNC, just that they were casting a ballot against Donald Trump and helping to usher a Democrat into the White House. Isn't bipartisan politics fun?
Article continues below advertisement
Then there were some pretty sound arguments supporting what Alex said as not so insane, why shouldn't someone focus on a more "personal pursuit" instead of engaging in political arguments that ultimately lead nowhere?
Article continues below advertisement
Alex clarified what he said in an interview with BuzzFeed:
"Back in the day, Instagram was a place to have fun. I think [the reporter] misunderstood that. I had the feeling that this was the right thing to do. I'm going to vote every time I can, in every situation where my voice can be heard," he said, reflecting on how becoming a parent has changed his outlook on voting.
Article continues below advertisement
Also, the fact that he immigrated from Venezuela, he relishes in his ability to vote, "There are a lot of people [in the USA] who aren't able to vote. I'm an immigrant and I have the chance to vote in this great country."
As for all of the attention he's getting online for the quote? He seems to be taking it all in stride.