You Have an Internal Narrator in Your Head or Non-Verbal Thoughts, According to Science
Twenty-six percent of the human population actually thinks in terms of words, while most of us are more in tune to other sensory experiences.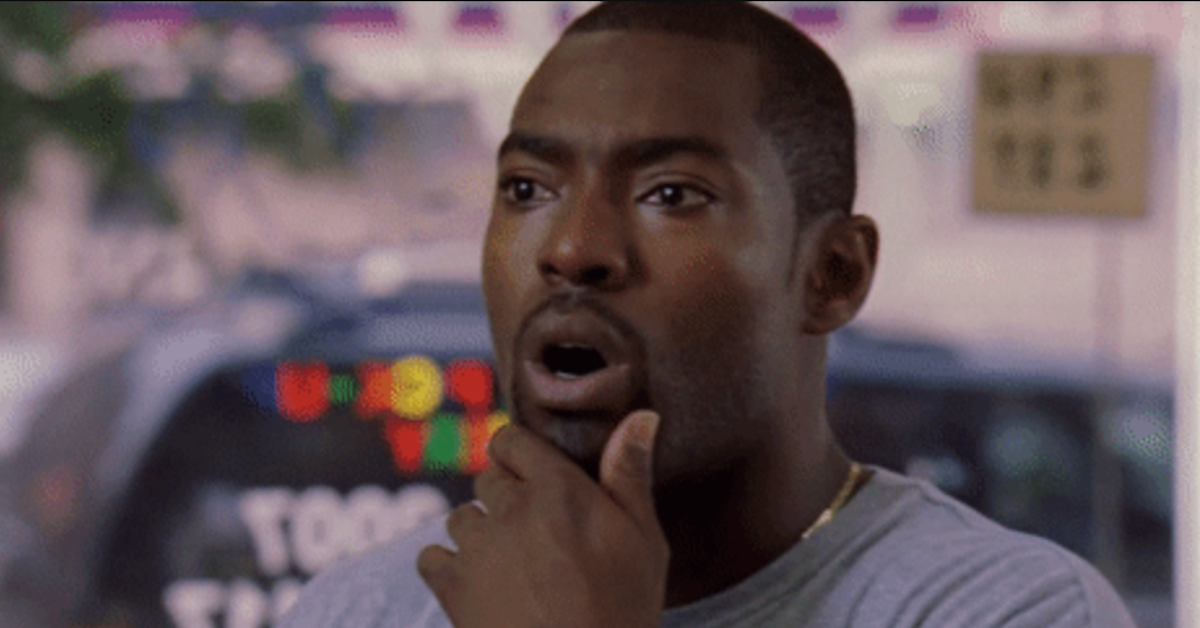 When Twitter user @KylePlantEmoji started a Twitter thread about the internal monologues people have in their heads, it piqued a lot of people's interests.
We've all seen movies with narrators, like Adaptation where the main character is going through their all of their thoughts and intentions, making the audience privy to whatever they think about any given situation.
And if that seems weird to you, well, apparently people actually live this way..
Article continues below advertisement
As you can probably tell, that idea seems absolutely crazy to me; having a voice constantly going off in your head is nuts. But to folks who have that internal monologue, those who don't have words going on in their brain all of the time seems bonkers.
In fact, 26 percent of the human population thinks in terms of words, and to hear some people talk about this phenomenon on social media, it's a constant voice that they can't shut off.
Russell T. Hurlburt, who is a professor of psychology at the University of Nevada, has studied this phenomenon at length. And he deems it the "Pristine Inner Experience." When his findings were first published online, people started going wild on social media and started a greater conversation of folks going, "Wait, what?!"
Article continues below advertisement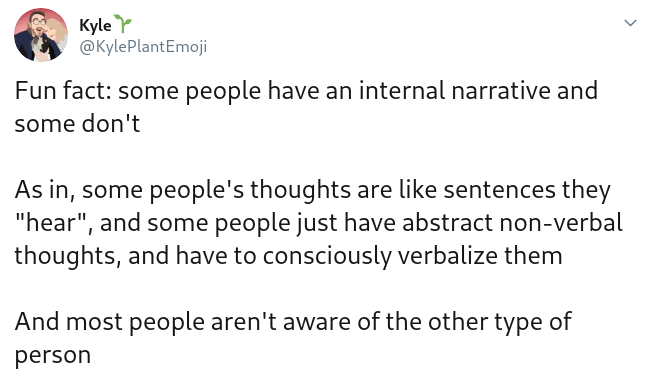 Which is totally understandable. Imagine going your entire life thinking that everyone else around you processes information and forms thoughts, speech, and emotions in a manner that's entirely different from your own. The point of Dr. Hurlburt's research is a fascinating. "I'm trying for the n+1th time to make the point to scientific psychology that inner speech is not as common as we think it is," he told Dazed.
Article continues below advertisement
He continued, "Almost all research about inner speech says there is a lot of it. I think it is all mistaken."
So while there are a lot of people who believe that they think in words or have an "inner voice" it's more of a visceral feeling that they then need to express.
Getting to the bottom of this important distinction wasn't without its hurdles, mainly because we express all of our thoughts and feelings with speech.

Article continues below advertisement
So surely the conception of our thoughts must start with a certain level of verbalization, right? This is simply not the case, according to Dr. Hurlburt's research.
But before delving further into those studies, ask yourself, do you have an actual "inner voice" in your head? Or do you have to actually put whatever is going on in your mind into words? What could be any other explanation for getting tongue-tied?
That's not to say that people who have an inner voice suffer from a disconnect of their mind from their tongue — that's possible as well. But for those of us who do believe we have a "voice" guiding all of our daily verbal interactions, is that really the case?
Personally, I've never had a James Joyce novel playing through my head. It's a hodgepodge of visceral emotions and certain sensory experiences that I need to process and spew out of my big mouth.
Article continues below advertisement

For the 26 percent of the population that experiences the "Pristine Inner Experience", they're pretty shocked that others don't have a never-ending narrator inside their heads. But it seems like there's a disconnect from the way the majority of the popular (according to Dr. Hurlburt's research) who latch on more to colors, symbols, signs, and other sensations.
Article continues below advertisement
For instance: An "inner narrator" thinker will have a voice telling them "that time at the lake was very cold and getting out of the water was the first thing on my mind, but I stayed in because my bathing suit fell off and I was kicking my legs around trying to find it."
For non-narrating thinkers, they'd remember the feeling of the cold, the texture of the water, the shape of the amorphous fabric of their swimwear and the embarrassment of being found naked in the lake.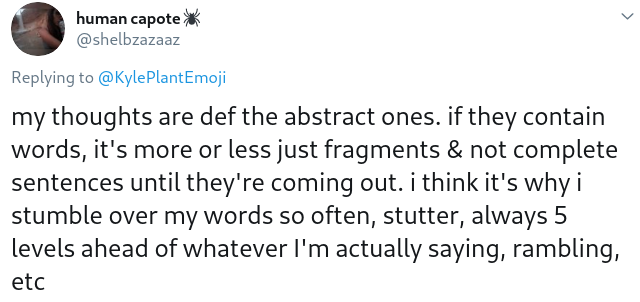 So which kind of thinker are you? Do you have a never-ending internal monologue? Or are you more steeped in sensory experiences?