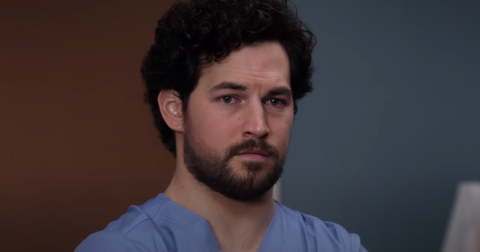 Is DeLuca Dead on 'Grey's Anatomy'? This Fan Theory Offers Compelling Evidence
By Michelle Stein

Feb. 23 2021, Updated 11:09 a.m. ET
The long-awaited Season 17 of Grey's Anatomy is officially underway and with it, fans are witnessing the novel coronavirus (COVID-19) pandemic unfold through the eyes of the doctors at Grey-Sloan Memorial Hospital. Among the ongoing secondary storylines, Andrew DeLuca has been struggling with the highs and lows of bipolar disorder; his friends and colleagues even staged an intervention.
However, a convincing fan theory poses the question: Is DeLuca actually dead?
Article continues below advertisement
Is DeLuca dead on 'Grey's Anatomy'?
No, you didn't miss some huge moment where DeLuca was hit by a car or randomly murdered.
However, a fan theory suggests the general surgery attending might have died by suicide because he didn't seek help following the mental health intervention. And instead of showing the tragedy and its aftermath in a straightforward way, the show has opted to have DeLuca portrayed as a ghost of sorts since.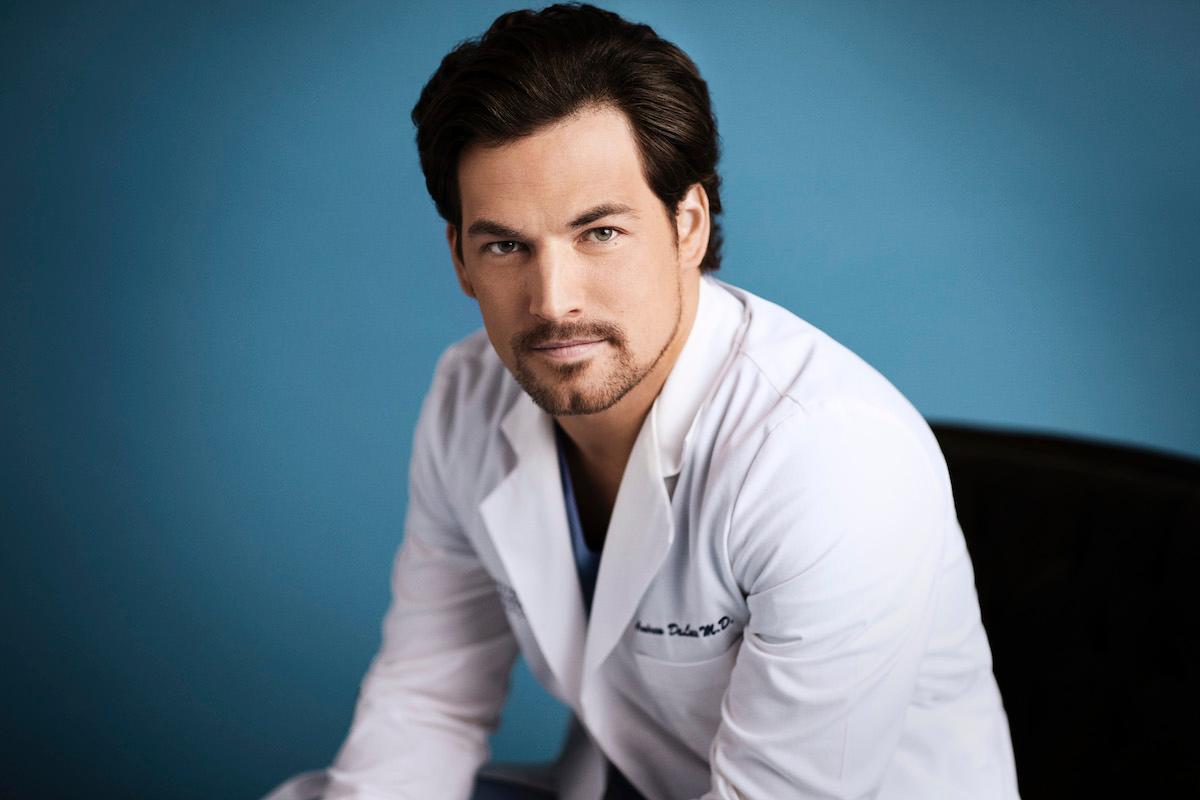 Article continues below advertisement
Here's the evidence that DeLuca might actually be dead, according to one fan theory.
"Deluca last season was struggling with his mental health specifically bipolar disorder and the flashbacks show him really struggling until his breaking point. But we don't see him get help," a Twitter user named Allie writes. "Then in the first episode Bailey tells Richard that Deluca is no longer a resident at Grey Sloan (weird he didn't know that but he was gone (?))."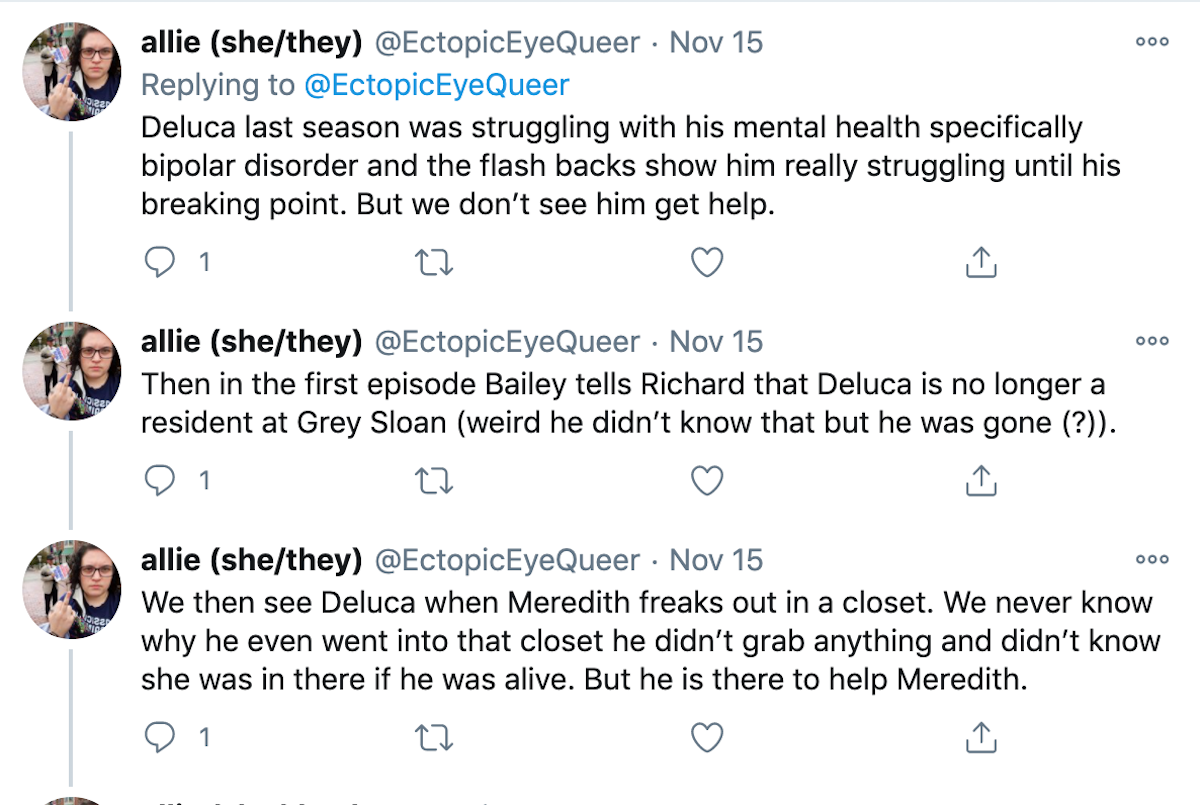 Article continues below advertisement
The Twitter user continues, "We then see Deluca when Meredith freaks out in a closet. We never know why he even went into that closet he didn't grab anything and didn't know she was in there if he was alive. But he is there to help Meredith."
Support for the theory that DeLuca is dead keeps piling up from there.
"Meredith gets mad asking where he's been and that if he doesn't answer his phone how is anyone supposed to know he is alive. Leaving me wondering if he was dead (possible suicide) I wonder if she found out when he didn't answer the phone."
Article continues below advertisement
DeLuca's scrubs in the first two episodes of Season 17 are also suspect.
"Weirdly Deluca is in attending scrubs so if he isn't dead he got a promotion (?) which is strange and weird that his mentor Richard wouldn't have known. But also I think Richard would know he was dead," the Twitter user wrote.
Article continues below advertisement
"THEN Deluca told Meredith he was at home sleeping and didn't hear his phone which seems sus. Seeing as Meredith hasn't been home in 2 weeks and Bailey is staying in a hotel. So why is Deluca at home."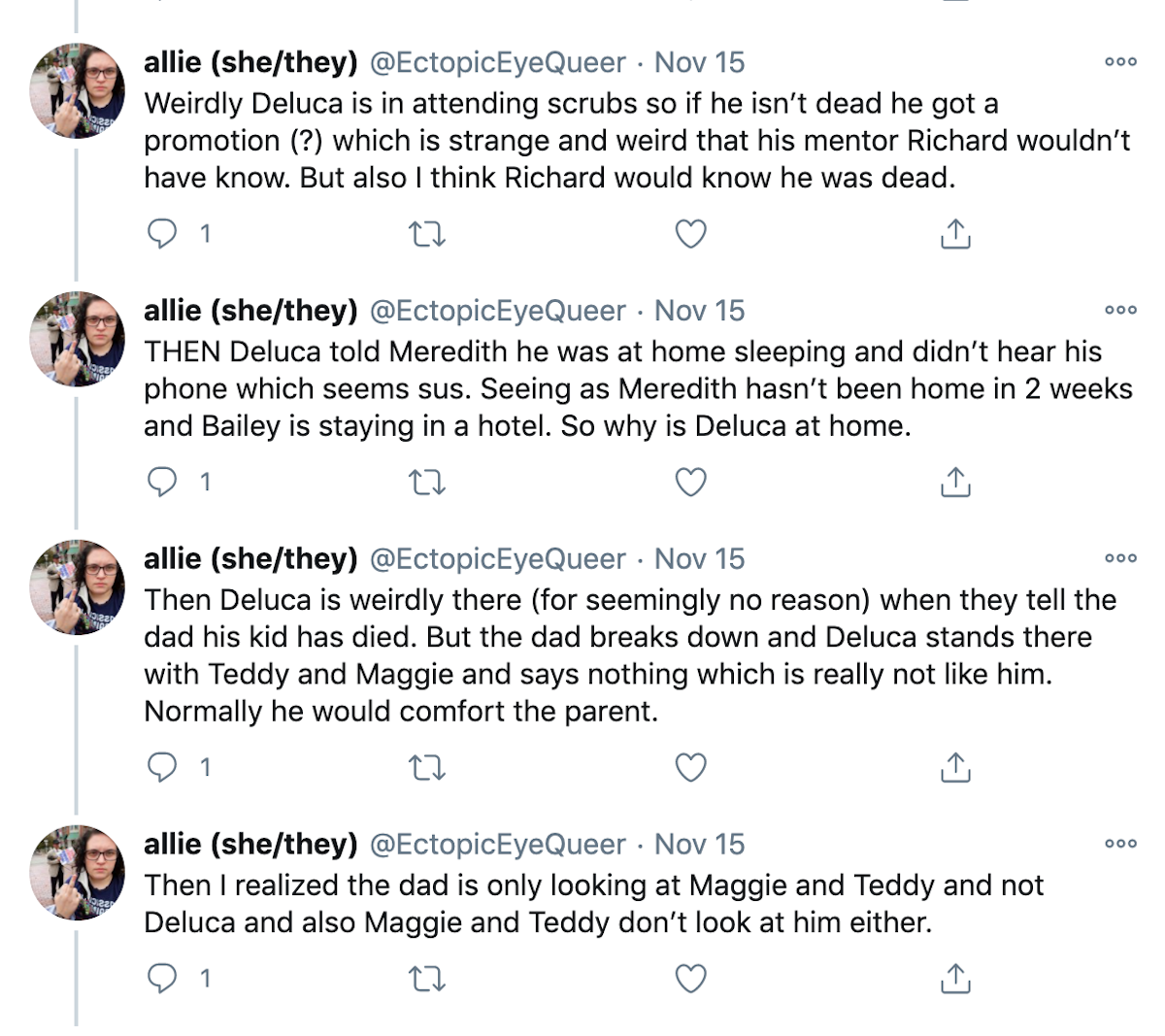 Article continues below advertisement
The observant Grey's Anatomy fan also pointed out that although DeLuca has been in a number of scenes with patients and doctors, they don't seem to be interacting with him directly.
"Then Deluca is weirdly there (for seemingly no reason) when they tell the dad his kid has died," she explains. "But the dad breaks down and Deluca stands there with Teddy and Maggie and says nothing which is really not like him. Normally he would comfort the parent."
She adds, "Then I realized the dad is only looking at Maggie and Teddy and not Deluca and also Maggie and Teddy don't look at him either."
Article continues below advertisement
But wait, there's more.
"Then Deluca goes over to Meredith at the end in full PPE when she wakes up from sleeping and says he's there to tap her out (what has he been doing all day then?!)," the fan with the theory points out. "Then she leaves and prompt[ly] falls unconscious in the parking lot where she sees Derek."
Article continues below advertisement
And why does DeLuca keep showing up right before/after someone dies? (Granted, he is a doctor; but it seems to have happened more than usual at the beginning of Season 17.)
"COVID patient died before the closet/ER. Child died before the ER telling father. Then he saw Meredith right before she was found unresponsive in the parking lot," the Twitter user writes.
She continues, "I'm wondering if Deluca is a hallucination. We also don't see Carina at all during this episode so she may be grieving because aren't they all hands on board?"
Article continues below advertisement
The Twitter user concludes by acknowledging, "I'm not saying this is concrete but it is at least wet cement with the possibility of drying and I just need answers from @shondarhimes and @KristaVernoff and maybe @EllenPompeo."
It looks like fans will just have to tune into the rest of Season 17 to find out, for sure, whether there's any truth to this convincing fan theory that DeLuca is dead.
Grey's Anatomy airs Thursdays at 9 p.m EST on ABC.