Is DeLuca From 'Grey's Anatomy' Bipolar? The Evidence Is Stacking Up
Andrew DeLuca has been behaving so impulsively and erratically, that 'Grey's Anatomy' fans can't help but wonder: Is DeLuca bipolar?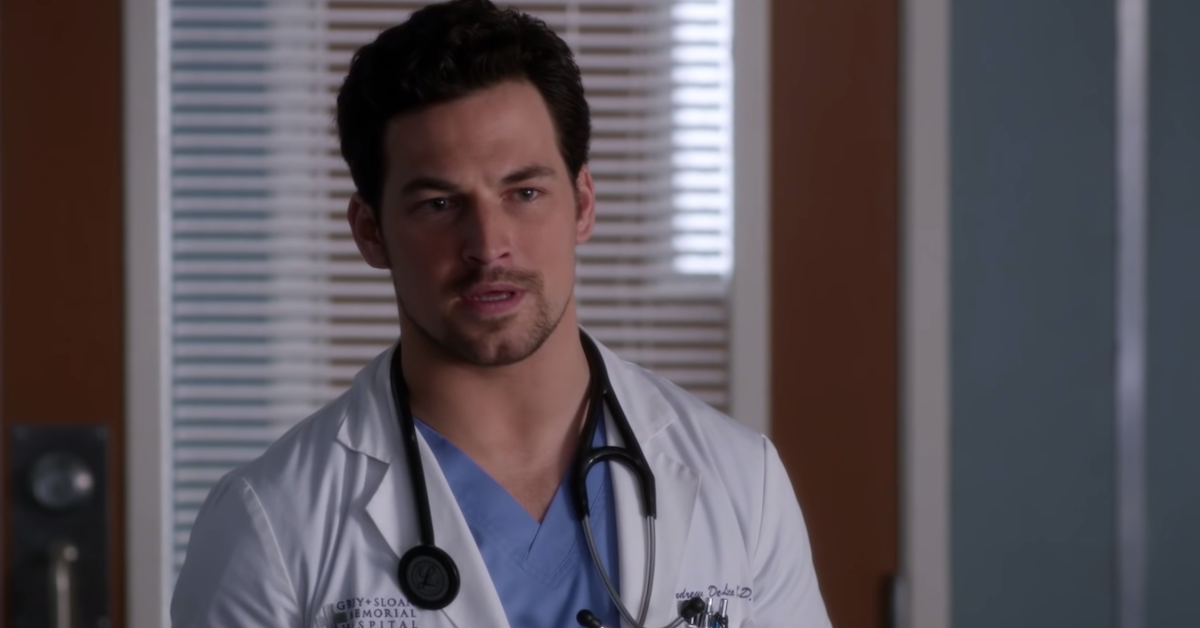 If you're a Grey's Anatomy fan, then you've probably had the same response to pretty much anything Dr. Andrew DeLuca (Giacomo Gianniotti) has done in during the second half of Season 16: "WTF, DeLuca?!" The once level-headed surgical resident has gone off the rails — professionally, personally, and otherwise. And his strange, impulsive behavior has led viewers to wonder: Is DeLuca bipolar?
Article continues below advertisement
DeLuca was obsessed with a mystery case — and made bad decisions. But is he actually bipolar?
On the episode titled, "Save the Last Dance for Me," DeLuca became obsessed with figuring out the cause of his patient Suzanne's (Sarah Rafferty) symptoms. Which isn't a bad thing, by any means. Except after he enlisted the help of Dr. Riley (Shoshannah Stern) from UCSF, DeLuca was so committed to solving Suzanne's medical mystery that he worked around the clock — without sleeping or eating.
In "A Diagnosis" — which aired on Feb. 20 — Meredith (Ellen Pompeo) took over Suzanne's case, much to DeLuca's dismay. At the last minute, he and Dr. Riley finally figured out what's wrong with Suzanne. Andrew proceeded to bust into the OR and inject his patient with a steroid without bothering to explain himself to Meredith.
Article continues below advertisement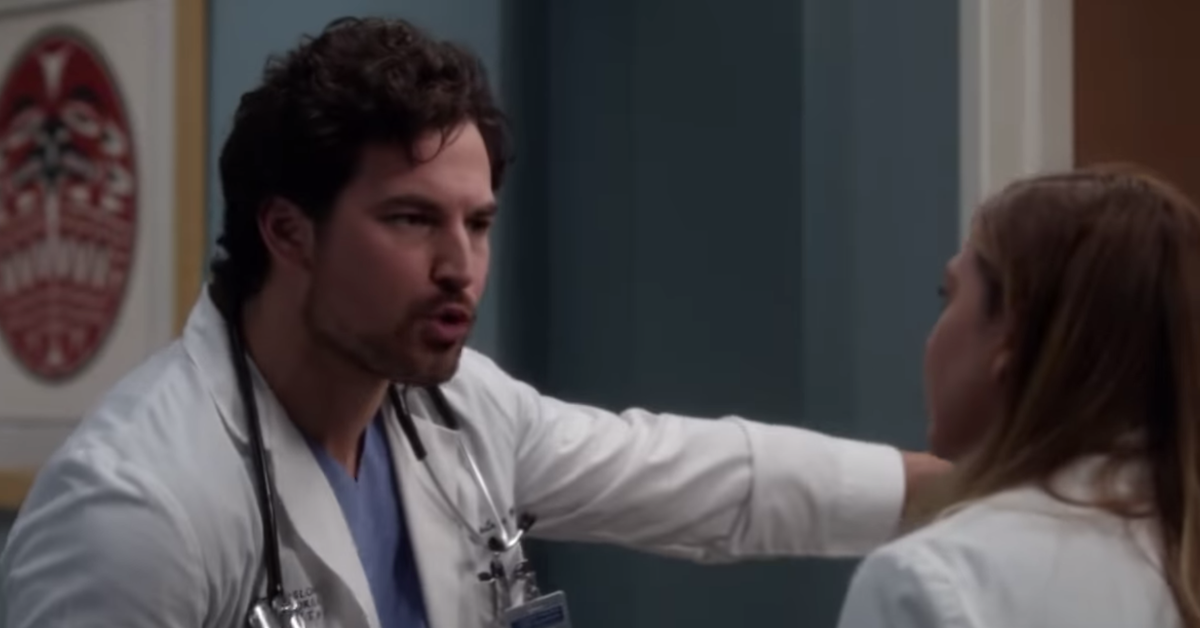 Luckily for everyone involved, DeLuca was right and Suzanne was saved. But Meredith didn't hesitate to remind him that things could have played out very differently.
"Okay, listen, you saved her life. No one is trying to take that away from you," Meredith reassured him. "All I'm saying is you could have taken a moment to just tell me what you were giving her. Because at that time, you were not in the right state of mind to be making life-or-death decisions."
Article continues below advertisement
"Right decisions. Life-saving decisions, Mer!" he raged.
"Andrew, you're not sleeping, you're not eating," Meredith insisted. "You are not acting like yourself ... Andrew, listen to yourself. You sound like your father." And she wasn't wrong.
Article continues below advertisement
DeLuca went out in a blizzard — and almost lost his hands to frostbite.
During "Snowblind," which aired on Feb. 27, DeLuca volunteered to trudge six miles through in a blizzard to retrieve a liver from another hospital for a patient. He did so without stopping to consider the consequences — or even bother putting on gloves.
Spoiler alert: That was a big mistake. Because when he showed up hours later with the liver, his hands were black and needed to be treated for severe frostbite.
Article continues below advertisement
Now, DeLuca isn't allowed to operate until a counselor signs off.
The signs that DeLuca may have bipolar disorder continued to stack up during "Life on Mars?" which aired on March 12. Because of his actions, DeLuca was forced to see a counselor — and he wasn't allowed to operate until she signed off on it.
"Look, our patients were at extreme risk, all right," he told the counselor during a session. "And I keep coming back to the fact that if I'd behaved differently they'd be dead. And that's all it was, just passion for the work. I'm trying to save lives. It's not some manic whatever."
Article continues below advertisement
"I didn't say manic," the counselor replied. "Are you experiencing symptoms of mania?"
"No," DeLuca quickly replied, to which she rattled off, "Agitation, inflated confidence, rambling, increased sex drive."
"No. None of that," he insisted. "I've just, I've had a very stressful couple of weeks. That's all."
Hmmm. We're not so sure.
Article continues below advertisement
DeLuca creepily hit on Jo.
It was super disturbing when DeLuca proceeded to hit on Jo (Camilla Luddington) — who is freshly single herself, after Alex (Justin Chambers) ran off to live with Izzy (Katherine Heigl) and their two children.
"So Alex. Crazy right? Sorry about that. But on the plus side, we are both free now. So we could make the best out of a bad situation, take away each other's pain? Come on. You're beautiful. You're brilliant. Where's he? No where. He doesn't respect you. You think Meredith respects me? I think he's a complete idiot ..."
Jo promptly cut him off by throwing her drink in his face. (Hello, heightened sex drive and rambling!) And you know what? He totally deserved it.
"You are not okay. You are not yourself," she warned DeLuca. "Listen to people when they tell you that. Get help before it's too late."
Article continues below advertisement
The promo for 'Give a Little Bit' is concerning.
In promo for the March 19 episode titled "Give a Little Bit," a "code violet" is called at the hospital. As Meredith explains, "It means somebody is getting violent with hospital staff."
"We're all just going to back up," Dr. Bailey (Chandra Wilson) instructs as the camera pans over DeLuca, reaching his hands in the air and slowly backing away from a patient in a wheelchair.
Article continues below advertisement
The promo cuts off with Meredith declaring, "This is not how this ends."
It appears DeLuca did something physical with a patient, but what was it? Did he hit someone? Did someone attack him? WHAT is going on?
Article continues below advertisement
'Grey's Anatomy's showrunner hinted at a mental health storyline.
In January, showrunner for Grey's Anatomy, Krista Vernoff, teased to TV Line that the back half of Season 16 will feature a "really painful" storyline about "mental health." Considering DeLuca's manic episodes, we wouldn't be surprised if some serious sh*t goes down in "Give a Little Bit."
It'll be interesting to see whether DeLuca eventually gets a definite diagnosis of bipolar disorder. In the meantime, one thing's for sure: There's definitely something serious going on with him.
Be sure to catch Grey's Anatomy at 9 p.m. Thursdays on ABC.