Dude Perfect Has Been Trying to Prove Their Tricks Are Real for Years
Is Dude Perfect real? The YouTube sports conglomerate is one of the most popular channels on the site, but viewers don't know if the videos are fake.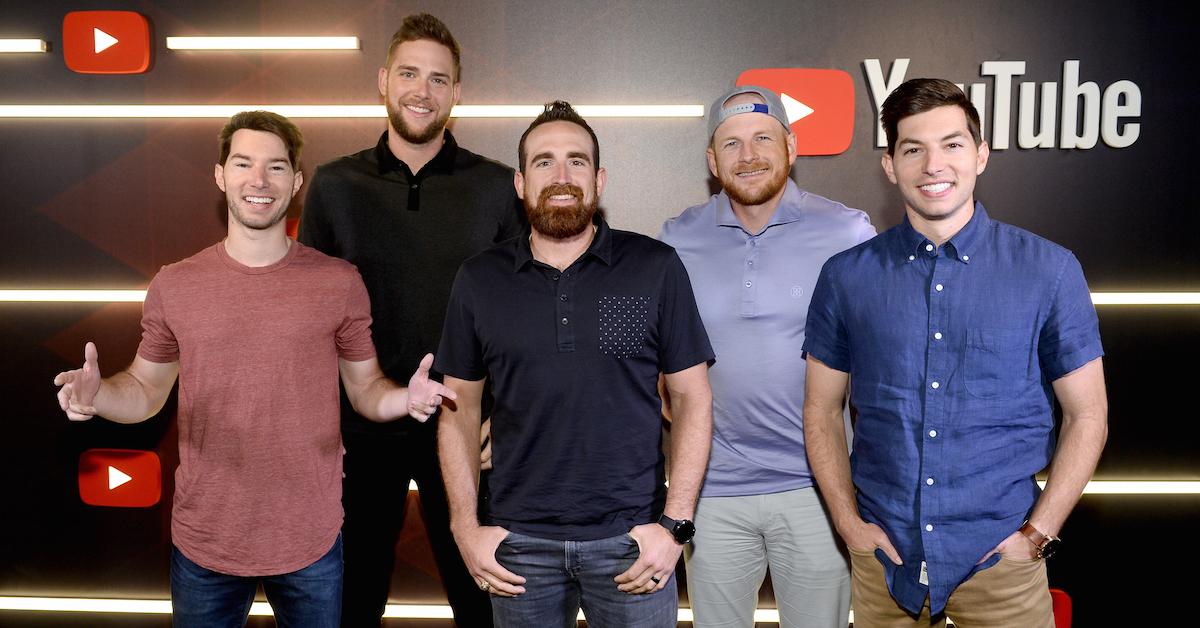 With more than 50.6 million subscribers, Dude Perfect is the 12th most popular YouTube channel in the world. Founded by five friends from Texas A&M in 2009 and known for their intricate (and hard to believe) trick shot and stunt videos, Dude Perfect has a YouTube niche that few can compete with.
Article continues below advertisement
In the years since their channel first took off in popularity, the guys behind Dude Perfect have been called out for potentially faking the stunts in their videos. Many viewers have wondered if sharp editing and cutaway shots have created an illusion that has been able to fool the masses.
Is Dude Perfect real? Find out more about the origins of the group below, and how the Dude Perfect members have quashed the speculation that their channel is promoting fake stunts.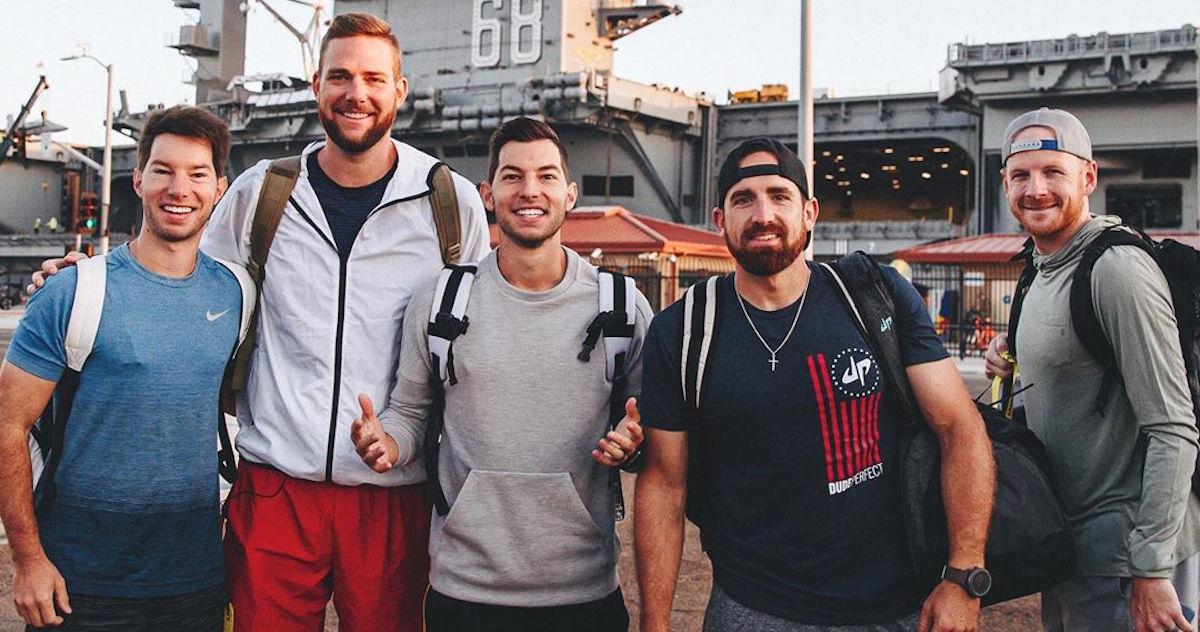 Article continues below advertisement
What is Dude Perfect?
Dude Perfect is an entertainment group that is based in Frisco, Tex., that began with trick shot videos. The five members of Dude Perfect are twins Cory and Coby Cotton, Cody Jones, Garrett Hilbert, and Tyler Toney. While the five were roommates at Texas A&M, they would bet sandwiches on whether or not they could sink difficult basketball shots. Eventually, they decided to record their competitions, and the Dude Perfect channel was born.
Their initial videos got a few hundred thousand views, and the group soon had a presence on their university campus. Because Texas A&M has such a huge sports following, the Dude Perfect guys would sometimes perform their tricks at games, and more people were exposed to the channel.
The group appeared on ESPN's E:60 for a segment on the Texas A&M football stadium. After Tyler broke a record for the quickest shot conversion, the clip went viral and it later appeared on multiple other ESPN programs.
Article continues below advertisement
Following their first big viral video, the group soon worked with top athletes, including Aaron Rodgers, Tyreke Evans, Chris Paul, Russell Wilson, Serena Williams, and Drew Brees, for endorsement deals. They also did segments with Paul Rudd, Tim McGraw, and Luke Bryan.
Article continues below advertisement
These various collaborations exposed more people to the Dude Perfect channel. The Dude Perfect guys eventually released several gaming apps, and Cory published a book about their success and business strategy. They also did a TV show called The Dude Perfect Show about their lives and creating videos. It lasted for three seasons.
They've shattered several Guinness World Records, including for the longest Lego walk barefoot, for the biggest distance traveled on exercise balls, and for the longest basketball shot ever.
The Dude Perfect conglomerate has an estimated worth of $20 million. Nowadays, the videos have also expanded into series and the guys have gone on tour to show their tricks off live.
A documentary about their career and their touring experience is set to debut on YouTube on May 11, 2020.
Article continues below advertisement
Is Dude Perfect real?
With videos including making a basketball shot by dropping the ball off a skyscraper, and traveling nearly 300 feet across a series of exercise balls, there are many who have doubted the validity of the Dude Perfect videos over the years. In 2015, ABC's Nightline did an investigative piece about whether or not the videos are real.
Correspondent Juju Chang sat down with the Dude Perfect men to learn more about their channel.
Article continues below advertisement
"Everyone is convinced that you guys are sneakily getting these trick shots, and that this couldn't possibly be real," Juju said.
"We kind of take that as a compliment because you've got to be really smart to be able to do that. We don't have that kind of capability," Garrett responded.
Though the group insists that they don't alter the footage, they aren't showing the dozens of fails that occur before the shot is scored or the record is broken.
Plus, the group devotes their full-time focus on their YouTube channel and trick shot career, meaning, they have plenty of time to film take after take to get the right shot.
The members explained that their infamous Slingshot video took multiple days of tries before they finally achieved their intended result.
Though there will always be skeptics when it comes to the Dude Perfect videos, for now, nobody has found concrete evidence that the group's videos are fake.