'Paper Girls' Star Fina Strazza Breaks Down KJ's Relationship With Mac in Prime Video Series (EXCLUSIVE)
KJ Brandman learns in 'Paper Girls' that she may have some complicated feelings for women. Is she gay? Actress Fina Strazza comments.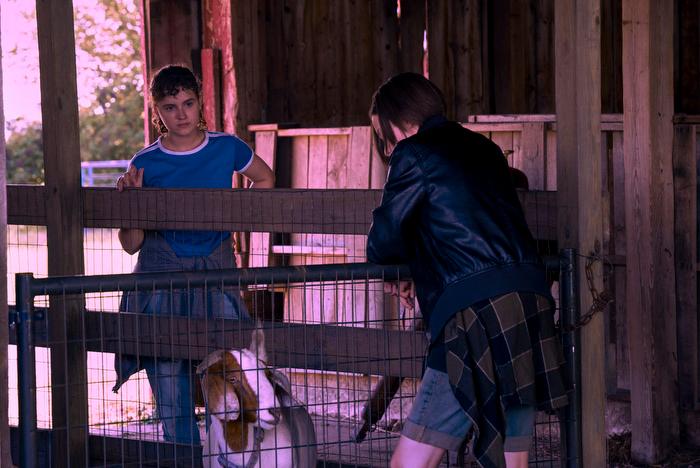 Spoiler alert: This article contains spoilers for Season 1 of Paper Girls.
The sci-fi comic book series Paper Girls has been adapted for the small screen with a new series from Prime Video. The show, which goes by the same name as the comics, follows four girls who find themselves caught in the middle of a time war after their morning paper route goes awry.
Article continues below advertisement
Throughout the season, the girls learn to come to terms with a lot of their own desires and aspirations in life — and KJ Brandman learns some of the feelings she's been repressing may not be as shameful as she thinks they are.
Is KJ gay in Paper Girls? Actresses Fina Strazza (who plays KJ) and Sofia Rosinsky (who plays Mac Coyle) opened up exclusively with Distractify about their dynamic.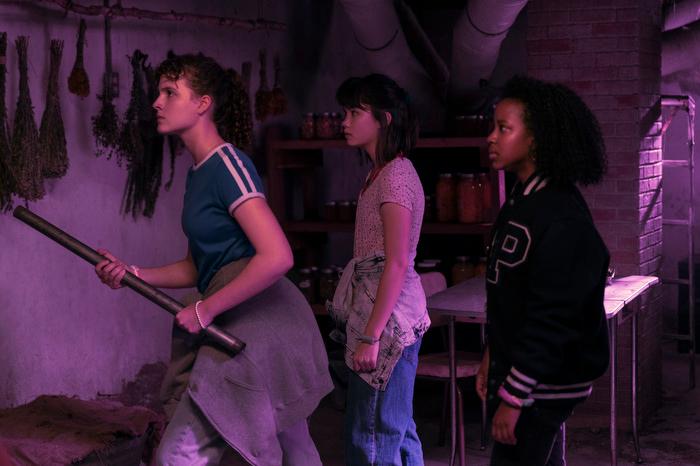 Article continues below advertisement
KJ sees herself dating women when she travels to the future.
When the girls initially travel to 2019, KJ makes it a point to not look for her future self and see where she is, afraid that she turned out just how her mother hoped she would.
"[KJ] is sort of reluctant to see how she's turned out because she thinks that she's going to be disappointed," Fina told us. "She had been raised to be forced into this box that she doesn't want to be in."
When the girls travel to 1999, they head to KJ's house thinking no one would be home, soon finding out that her parents are hosting a massive party. Reluctant to go inside and take a peek at her college-aged self, KJ finds out that she is a film student in the future, and is dating a girl.
Article continues below advertisement
Completely shocked by this information about her adult love life, adolescent KJ decides to keep quiet and not tell her fellow paper girls about her future relationship and queer identity.
"KJ has always known there's something that is different about her, and she's like, 'I know I don't fit in exactly, and I don't know what it is, but I know there's something,'" Fina explained to us. "And so I think that when she finds out [she's gay], it's shocking, but she kind of knew it was coming, I think."
Article continues below advertisement
Throughout the season, we watch her slowly come to terms with her sexuality and better understand her feelings for women. While she doesn't disclose this to any of the other girls, we see her slowly begin to accept it.
"When she finds out that her life didn't necessarily turn out the way her mother wanted, I think it gives her a new outlook and a new sense of security with herself. And you can see that confidence shift throughout the season," Fina said.
Do KJ and Mac get together in 'Paper Girls'?
In the comics, KJ and Mac do develop feelings for one another, which sparks a romance between the two. While the series has not yet explored a romantic dynamic between the two, the show has teased a connection between KJ and Mac.
KJ may have a little crush on Mac, which is what prompts her and Mac to travel to the future together to find a cure for Mac's future cancer diagnosis. Conversely, KJ is someone that Mac confides in about her home life issues and her terminal prognosis.
Article continues below advertisement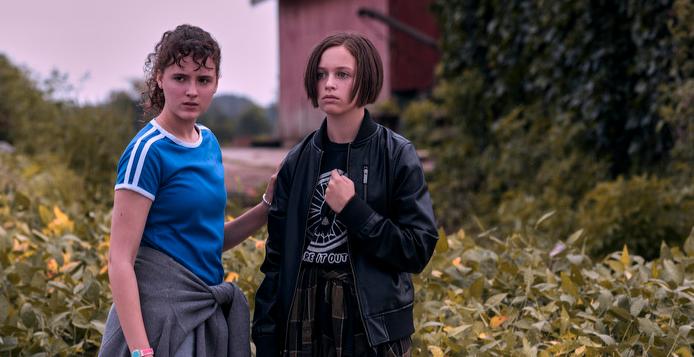 "I really love [their relationship]," Sofia told us of Mac's affection for KJ. "It's very touching to see the way that KJ cares for her and how Mac is actually starting to let herself be a little bit more vulnerable around her."
The two are most certainly not a couple at the end of Season 1, but it's clear there's something brewing between them, and if the series is renewed for a second season, we're likely to see their relationship unfold even more.
"I think that KJ's relationship with all the girls will be explored if we get the chance to explore it more," Fina teased.
Season 1 of Paper Girls is now available to stream exclusively on Amazon Prime Video.