Liv Tyler Left '9-1-1: Lone Star' After Season 1 — Is Rob Lowe Following Suit?
It's always a bummer when a fan favorite on a show ends up departing, especially when the departure seems sudden. In the case of Liv Tyler's exit from 9-1-1: Lone Star, all it took was one season for her to leave the series. While the COVID-19 pandemic had a lot to do with that (making travel between the U.S. and London difficult), some fans got to thinking that Rob Lowe might also be leaving the popular spinoff series.
Article continues below advertisement
Is Rob Lowe leaving '9-1-1: Lone Star'?
It seems unlikely that Rob is planning to leave. After all, 9-1-1: Lone Star is a family affair. Rob's son, John Owen Lowe, has been writing the show since the first season and recently signed on as a story editor.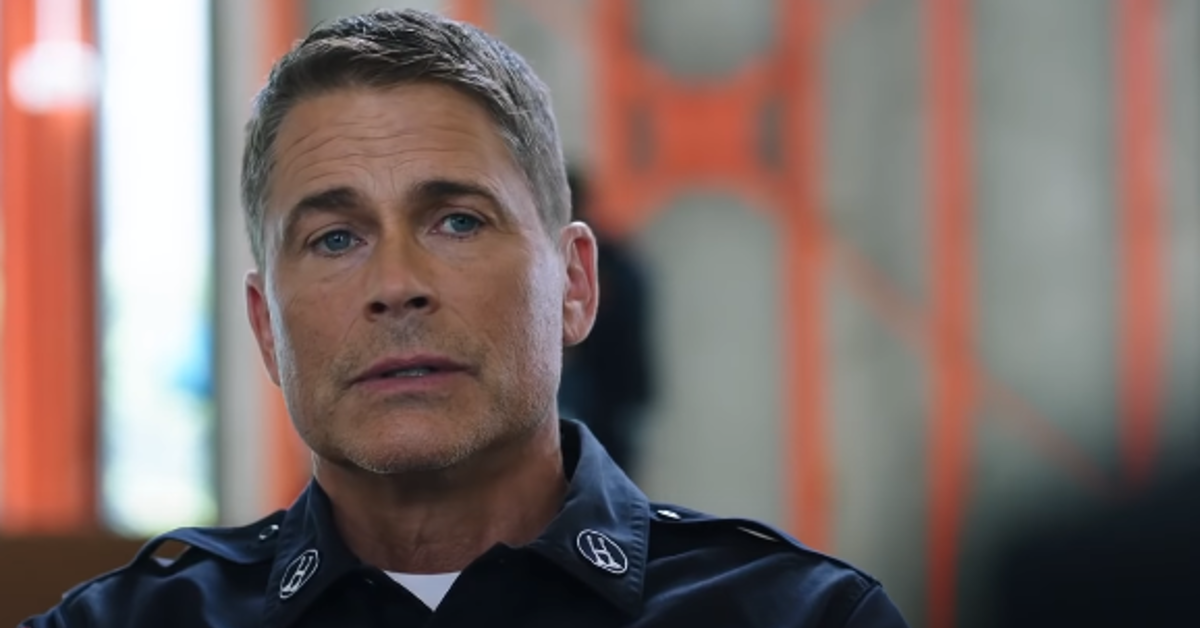 Article continues below advertisement
However, fans suspected they might leave 9-1-1 Lone Star together after Rob and John Owen announced their Netflix project, Unstable. The sitcom puts the father-son duo in front of the camera, as Rob plays John Owen's "very successful, wildly eccentric father" and owner of a "cutting-edge biotech research company," per TV Line.
Rob's character will also work tirelessly to save his introverted son from "disaster," with laughs. Unstable was inspired by Rob and John Owen's social media dynamic, which involved John Owen trolling his dad with "viral" posts. While the show allows them to continue collaborating, audiences can rest assured that their schedule won't interfere with their 9-1-1 duties. Instead, Rob and John Owen will reportedly write for and film both shows simultaneously.
Article continues below advertisement
Although Rob isn't leaving 9-1-1, he did have a rough sophomore season. In Season 2, Episode 12, "The Big Heat," Rob's character Owen uses a dispatch app to listen in on emergency calls while he was already supposed to be resting from a lung injury, and the captain finds himself in grave danger. Upon reporting to a call without anyone's permission, he performed a rescue at the fire, the cause of which, he believed, was arson.
Article continues below advertisement
To prove it, he recreated the scene successfully, but he also found himself at the site of another arson-related incident, where the arsonist bashed him over the head and left him in the burning building. Owen survived the ordeal, but became the No. 1 suspect in the arson case.
Fortunately, Owen managed to clear his name in the Season 2 finale.
Is Rob Lowe's brother, Chad Lowe, on '9-1-1 Lone Star'?
Rob's brother, Chad Lowe, directed an episode of 9-1-1 Lone Star in May 2021 called "Slow Burn." The following year, Chad joined Rob in front of the cameras for a guest spot on the show. Owen meets his half-brother, Robert Strand (played by Chad), for the first time while visiting their father during the episode. Chad shared how excited he was to finally act alongside his brother again.
Article continues below advertisement
"Obviously, Rob jumped at it and thought it was a brilliant and inspired idea, and I, of course, was thrilled and felt it was a long time coming," he told TVLine about the episode. I think Rob and I both felt it was a long time coming because it's the first time truly we've ever acted in anything together, but for a very small moment in a movie he did called Oxford Blues, where I came in in the last moment and shot a scene that they needed to help explain something in the plot of that film.
"I did two hours work, and I think I'm onscreen in that movie for about four or five seconds, but I don't really consider that, nor does he consider that us really working together," Chad continued. "This is the first time that Rob and I have ever acted in anything together."
Article continues below advertisement
In an interview with all three Lowes, John Owen discussed wanting to write darker scenes for his dad in the future. Plus, Rob praised getting the chance to work with his son. Overall, it certainly sounds like the Lowes would like to keep working together.
You can catch new episodes of 9-1-1: Lone Star on FOX at 9 p.m. EST on Mondays.