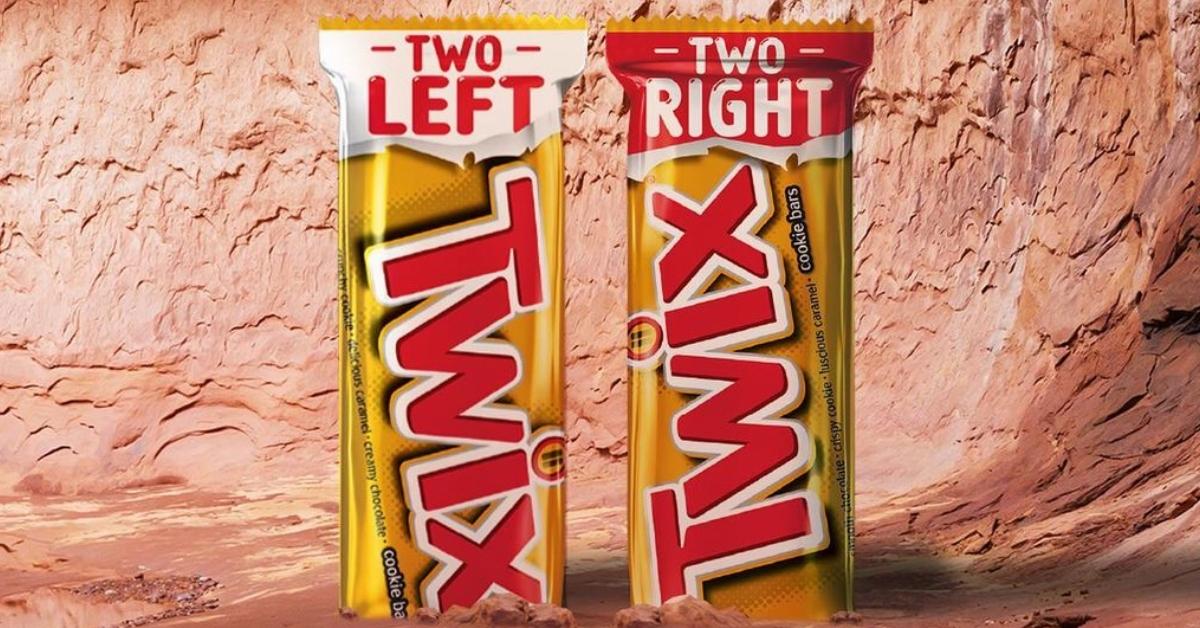 If You Think Left Twix and Right Twix Taste the Same, You Are Sorely Mistaken
Ah, the Great Twix Divide.
One of the most prominent candy conspiracies of today has to be the left Twix and right Twix debate. For the last few years, the theory that left and right Twix bars look and taste different has been making the rounds on social media, leaving many users dumbfounded.
Back in 2012, the beloved chocolate bar went through a bit of a revamp. For the last nine years, an extended campaign introduced specially marked packaging, labeling some Twix as Left packs and others as Right packs.
Article continues below advertisement
While it seems silly that the movement is still going, many find it an interesting topic to debate. If you're around someone and they start a conversation off with, "Do you consider yourself a left Twix or right Twix kind of person?" Please, never leave them. Keep them around forever.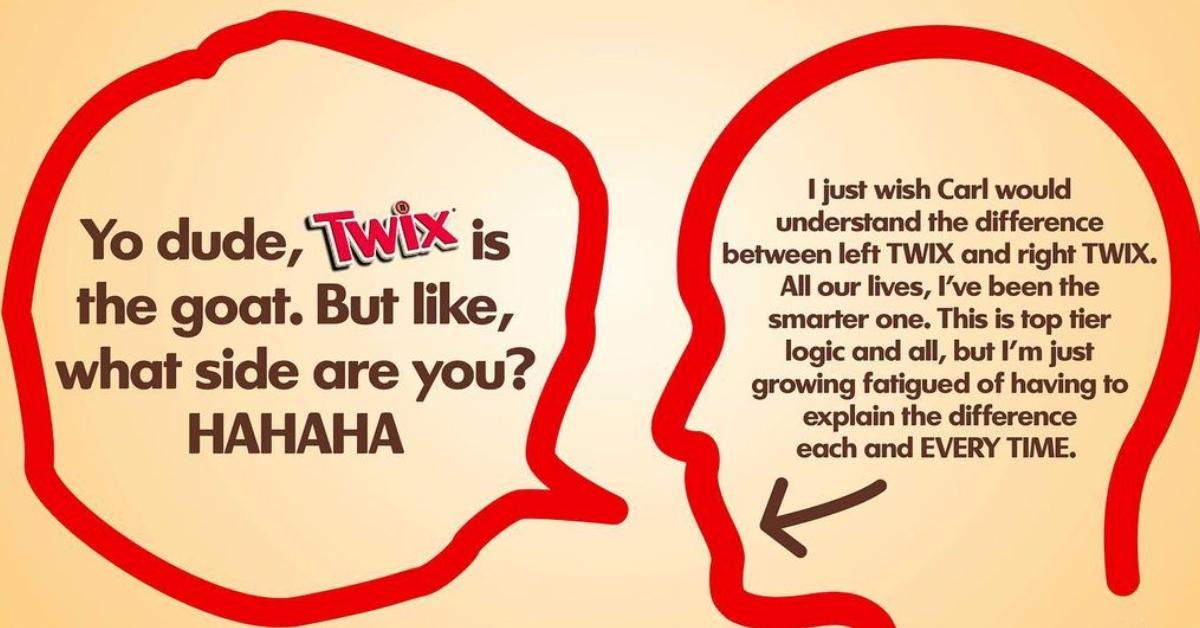 Article continues below advertisement
On the other hand, millions of individuals worldwide couldn't care less about the campaign and declare no difference between the left and right bars. However, we happen to believe there's a distinction between the two. So, is there a difference between a left Twix and a right Twix? Let's find out.
Is there a difference between left Twix and right Twix bars?
Four years ago, someone in the NoStupidQuestions subreddit asked if the bars were different. While one user wrote, "They're completely identical. It's just an advertising campaign," another responded, "Wrong. Left Twix is clearly superior with us smooth chocolate flowed over the creamy caramel and crunchy cookie."
We hope you enjoyed that debate as much as we did.
Article continues below advertisement
Now, let's get down to business. We were intrigued by the concept of there being a difference, so we did some research. According to Recipe Maker, "In the right Twix factory, caramel flows on the cookie, while in the left Twix factory, caramel cascades onto the cookie. There's a distinct difference in the coating process."
Article continues below advertisement
If you're still wary of the truth, the publication continued, "The distinction [between the two] can be found on the label, as the right Twix is cloaked in chocolate with cascaded caramel, and the left side is enrobed in chocolate with drizzled caramel."
Though neither manufacturer can deny the similarities between the left and right Twix, the campaign is an ongoing discourse that's left consumers in disarray.
Article continues below advertisement
Twix consumers are divided: Do they support left Twix or right Twix?
For the last nine years, the Twix community has been in shambles. Are they #TeamLeftTwix or #TeamRightTwix?
Members of #TeamLeftTwix have declared their side, and they're sharing their thoughts on social media.
One user on Twitter wrote, "I know it's a dumb marketing scheme, and they are the same... but if you eat right Twix, you are wrong. #TeamLeftTwix." Another user debated their decision for a long time, but they finally made their consensus: "Okay guys... It's taken me a while to get here, but I've finally chosen a side. I'm on..... #TeamLeftTwix! Woo, it's nice to get that out."
Article continues below advertisement
As for #TeamRightTwix, one Twitter user shared, "I don't mean to get too political on here, but I have to say it — I'm #TeamRightTwix, and I always have been." And finally, one last user expressed why they think right Twix is superior.
"I don't want to be that person... but my left Twix bar was broken, and my right Twix bar was perfect. #TeamRightTwix."
So, which side are you on? Left Twix or Right Twix?