TikTok Users Think the App Is Secretly Publishing Drafts Without Permission
Is TikTok leaking drafts? Some TikTok users are convinced that the video-sharing app is leaking videos from people's Drafts without permission. What's actually going on?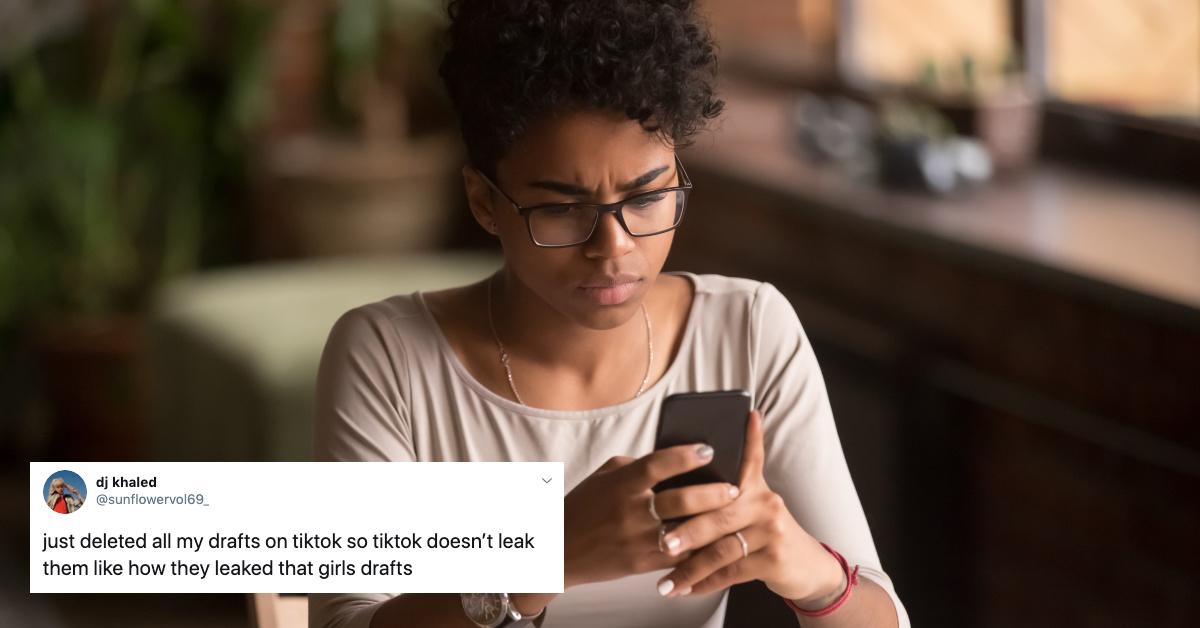 When you're filming a TikTok video — whether it's your response to the latest dance challenge making the rounds or a lip-sync to a popular audio clip — you don't always get it right the first time. There are other times you're working on a video that requires some extra time for fancy editing. Or maybe you've recorded something and aren't quite sure you're ready to share it with the world yet. Luckily, TikTok allows you to save the videos you record in your Drafts folder.
Article continues below advertisement
But after reading about the possible TikTok draft leak, you might want to rethink whether you save anything in your Drafts folder. Some TikTok users are convinced that the video-sharing app is leaking people's drafts without their consent. Is it true? Is TikTok leaking drafts?
Article continues below advertisement
Is TikTok leaking drafts?
This isn't the first time a rumor has gone around about TikTok leaking people's drafts. Back in June of 2020, the rumors were tied to a video featuring a young girl doing some TikTok dance moves. While there's nothing inherently strange about that (TikTok dance moves probably account for a solid 70 percent of all TikTok content, right?), people were freaked out when they noticed that there was no account name attached to the video.
Usually, you can tap on the username of the person whose video you're watching to be taken to their profile. In this case, however, there was no username — just an "@" sign. When users tapped on it, they were taken to their own account page rather than the creator's. As you might expect, people started panicking.
Article continues below advertisement
Eventually, the video was deleted and the rumored drafts leak faded to the back of everyone's mind.
But eventually, the rumor started going around once again. People are once again posting that TikTok leaked their drafts — although there doesn't appear to be any solid evidence that the drafts leak is actually happening. We're not sure if you knew this, but sometimes people make things up on the internet in order to get a reaction. We're not saying that's what's happening here, but we're not not saying it, either.
Article continues below advertisement
Can you delete your TikTok drafts?
If the rumors of the TikTok draft leak (unfounded though they may be) have you feeling a bit nervous, there's one surefire way to guarantee that your drafts will not be seen by anyone: Delete them.
Article continues below advertisement
In order to do this, simply access your Drafts folder, tap the "Select" button in the upper right-hand corner, select the drafts you want to get rid of, then tap "Delete" at the bottom of the screen. You'll get a pop-up message confirming that you want to delete the videos in question — keep in mind that once you confirm, you won't be able to retrieve the drafts.
Once you complete these steps, you can rest assured knowing your drafts will never be viewed by anyone (including you). Time to breathe a sigh of relief and get back to scrolling through your FYP.