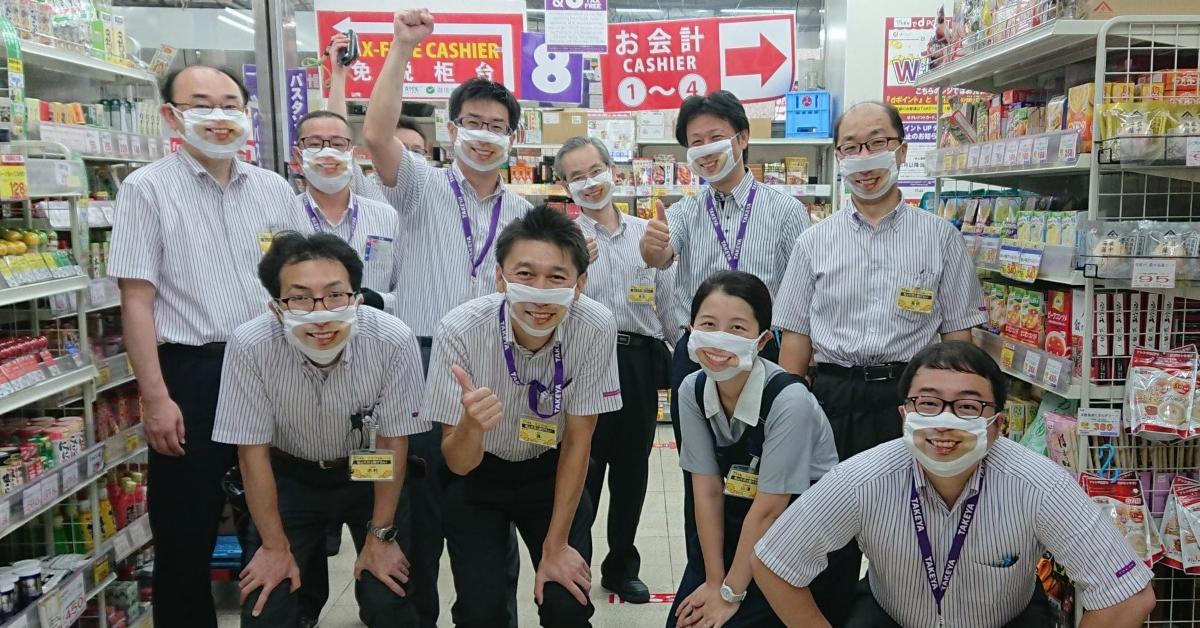 Japanese Store Employees Wear 'Smile Masks' to Make Them Seem Friendlier
One unintended side effect of wearing masks all the time in public is that it's harder to politely greet people because a full half of your face is covered! You often can't tell if someone is smiling or grimacing behind that piece of cloth.
Article continues below advertisement
One store in Japan has come up with a way to make sure everyone knows their employees are always cheery. They call them "smile masks," and, well, that's exactly what they are. The employees of Takeya have been wearing masks that display a picture of a smile — a male smile for male employees and a female smile for the women who work there.
Article continues below advertisement
And you can't deny that it totally works! If I walked into a store after seeing only masked people all day and I saw that cheery man smiling back at me, my mood would instantly be lifted!
The store is calling it the "Smile Campaign" and the goal is simple: to "deliver a smile through the masks." On the store's website, the company writes that since wearing masks has become the standard, it's been much harder for employees to deliver the cheery disposition they were once known for.
Article continues below advertisement
The masks were designed by the employees themselves to make people laugh and bring a little bit of joy to the store environment. It's just one smile each for men and women, so it is a little strange to see lots of different people with the exact same smile, but in my opinion, that's a little less uncanny valley-ish than if everyone had the bottom half of their own face plastered on a face mask.
Article continues below advertisement
The only unfortunate thing is that if employees are having a bad day, it will still seem like they're smiling on the outside. Although maybe the joy the masks bring is enough to pull anyone out of a bad mood. I wouldn't be surprised if that was the case!
In fact, Kotaku reports that Takeya has said that "even though you cannot see it, staff end up smiling more while wearing these masks." I believe it.
Article continues below advertisement
The smile mask campaign was such a smashing success that Takeya started selling the masks to anyone who wanted to buy them! The female mask design sold out super quickly, and the male mask design is in danger of running out soon. Evidently, people love the idea of the smile mask.
Article continues below advertisement
Sure, some people think that the masks are kind of creepy, but overall, the feedback has been super positive. And while the store was focused on making the shopping experience better for their customers, it seems that the smile mask has had an unexpected effect on employees as well.
I mean, just imagine trying not to smile when a customer sees your smile mask and reacts with laughter and total delight. You wouldn't be able to keep a straight face. Takeya may have spurred the smile mask campaign, but I wouldn't be surprised if we soon see similar efforts in stores and other public spaces around the world.