You Probably Didn't Know That Jennifer Aniston's BFF Once Played a (Very Memorable) Guest Star on 'Friends'
Jennifer Aniston is a good friend in real life — just ask Andrea Bendewald!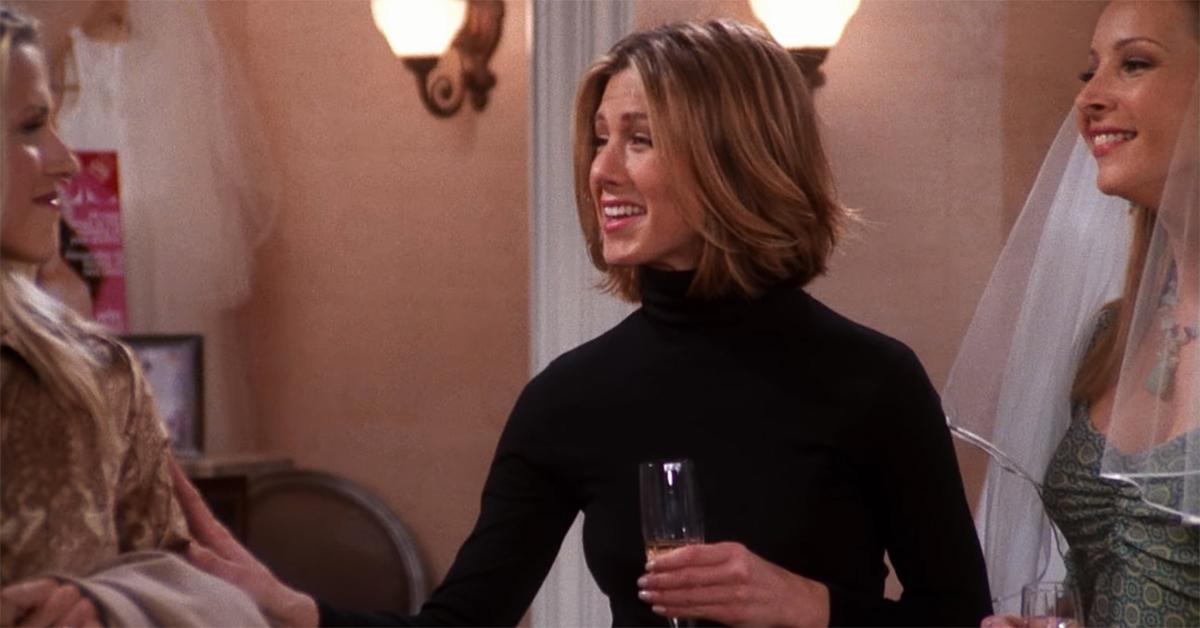 When Jennifer Aniston says she'll be there for you, she really, really means it. Just ask her real-life bestie Andrea Bendewald; if you're a Friends fan, chances are you already know Andrea — and probably don't even realize it.
Article continues below advertisement
You probably remember Season 7, Episode 17 — "The One With the Cheap Wedding Dress"; Monica meets a woman named Megan at a boutique where she picks out her wedding dress. Instead of buying the gown on the spot, she decides to go to a warehouse sale in Brooklyn to buy it on the cheap and even lets her new friend Megan in on the secret.
We probably don't have to tell you how the rest of the story goes (just in case we do, Megan and Monica fight over the dress Monica picked out, and Megan basically extorts Monica for the dress by booking the band, The Swing Kings, that Chandler wanted for their big day).
Article continues below advertisement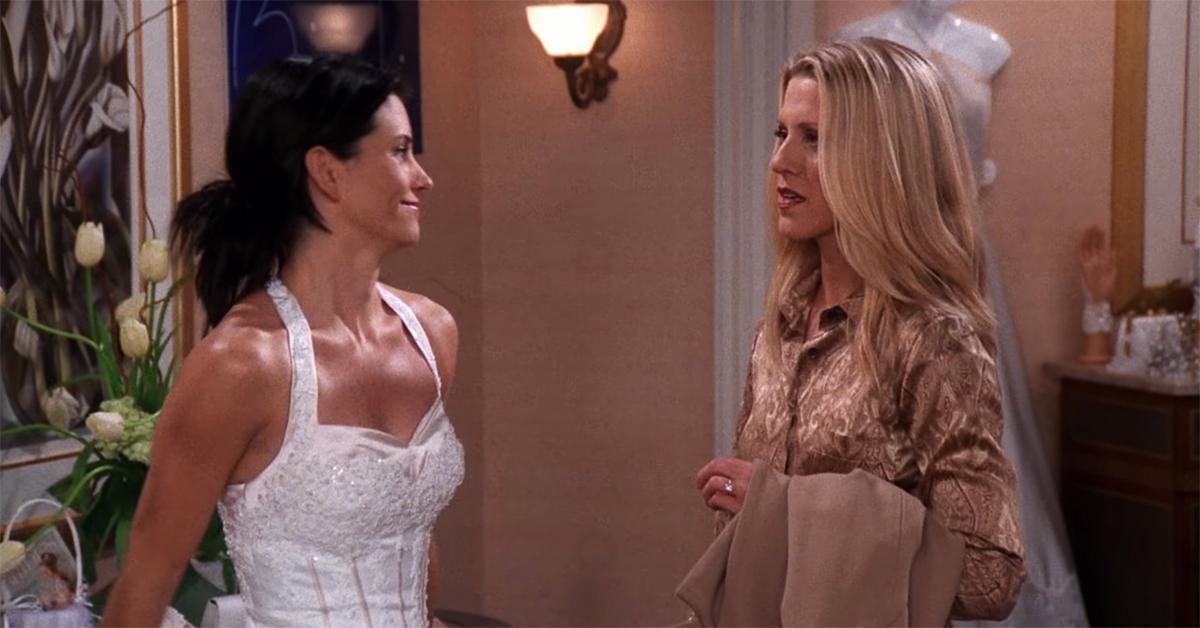 But what you probably don't know is that Monica's on-screen nemesis is played by Jen's real-life BFF Andrea Bendewald. Much like her character, Andrea definitely knows a lot about weddings: She was one of just two bridesmaids at Jen's first wedding in 2000, and the following year, Jen returned the favor and served as matron of honor when Andrea tied the knot.
Article continues below advertisement
Jen paid homage to their long-term on her new Instagram page (which, if you're a Friends fan and don't already follow, you definitely should). In honor of Halloween and Throwback Thursday, the 50-year-old shared a pic of the two of them (Jen is dressed as a witch, though we're not totally clear on Andrea's costume) and wrote, "TBT Halloween at 16 and 17, NYC. 35 years of friendship with this special one."
Article continues below advertisement
Of course, it didn't take long for the Friends fans — even the famous ones — to come out of the woodwork and share their shock and excitement that the TV bridezilla is actually Jen's bestie (and totally the best, as far as we can tell).
Jessie James Decker commented, "I'm still upset she tried to take Monica's dream wedding dress and use the 'Swing Kings' as bait." We can't believe it either, Jessie. Though as the ladies behind Comments By Celebs pointedly said, at least Carcass was still available!
Article continues below advertisement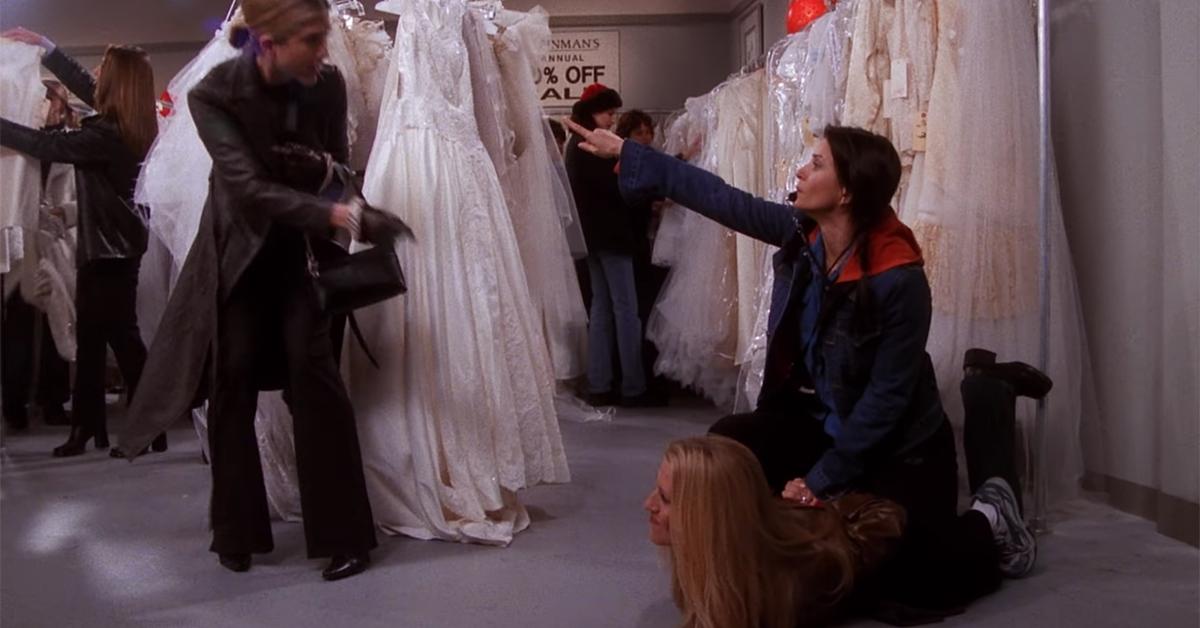 The two BFFs will be sharing the screen again soon, as Andrea has a recurring role on Jennifer's newest project, The Morning Show. The mother-of-two made it clear just how much she values her decades-long friendship with a heartfelt Instagram post just a few weeks ago.
"So happy for Jen and all she has accomplished! She just keeps getting better and better! 30 years of acting and entertaining! Incredible!," she gushed. "35 years of friendship. Blessed. Grateful. I am proud of our circle, of our tradition of circling. It's kept us strong, sane, and connected. Kristin [Hahn] and Jen are brilliant and beautiful friends, producing together and creating meaningful work. Women supporting women, cheering one another to their highest heights, and making the world a better place!"
Seriously, what's better than amazing friends?!