Jennifer Lopez Introduced Daughter Emme Muñiz on Stage Using They/Them Pronouns
Jennifer Lopez's daughter Emme has seemingly transitioned from she/her to they/them pronouns. Here's what J.Lo said about her daughter's transition.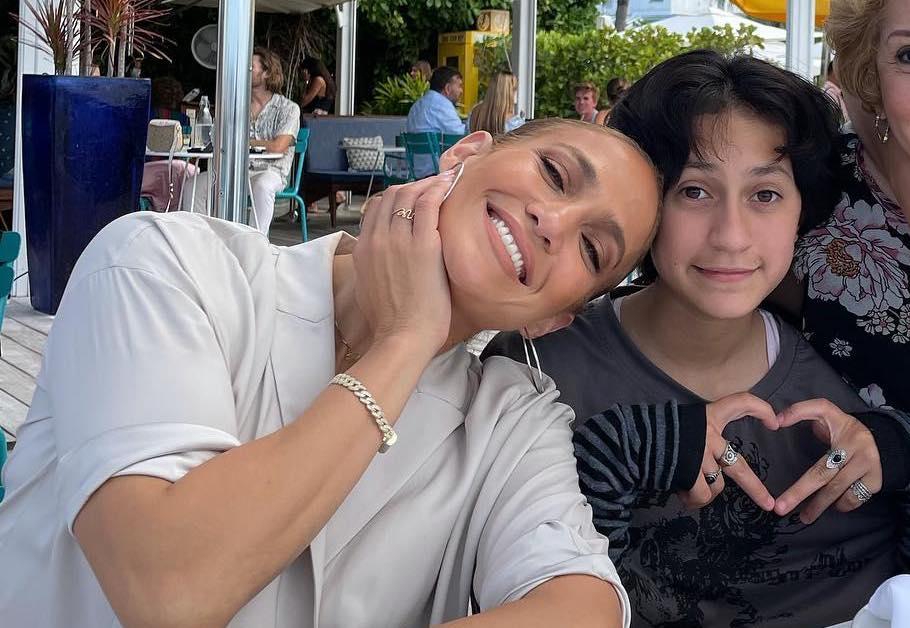 The Gist:
Jennifer Lopez gave birth to twins Maximilian David Muñiz and Emme Maribel Muñiz on Feb. 22, 2008.
In 2022, Jennifer Lopez's daughter Emme transitioned from using she/her to they/them pronouns.
In February 2023, Emme and their twin brother Max celebrated their 15th birthday.
Article continues below advertisement
Although Jennifer Lopez and Marc Anthony made it a point to keep their twins out of the spotlight when they were younger, fans have been delighted to see more of Max and Emme Muñiz in recent years.
Emme joined her pop star mama on stage during her "It's My Party" world tour in 2019 and at the Super Bowl halftime show in 2020.
By mid-2022, fans were discussing J.Lo's daughter's transition from using she/her pronouns to they/them pronouns. Keep reading to learn more.
Article continues below advertisement
Jennifer Lopez introduced Emme with they/them pronouns in June 2022.
On June 16, 2022, J.Lo performed at the sixth annual Los Angeles Dodgers Foundation's Blue Diamond Gala at Dodger Stadium — and fans took notice of the way she announced Emme joining her on stage.
Article continues below advertisement
"(The last time) we performed together was in a big stadium like this, and I ask them to sing with me all the time but they won't," Jennifer said, teasing the audience about the identity of the performer who would be joining her.
"So this is a very special occasion, because they're very, very busy and booked and pricey," J.Lo continued. "They cost me when they come out, but they're worth every single penny because they're my favorite duet partner of all time. So if you would indulge me."
That's when 15-year-old Emme (she was 14 at the time) took the stage, rocking a pink oversized shirt and shorts, along with a black hat and boots.
Article continues below advertisement
In a TikTok video of the intro, users understood Jennifer's use of they/their pronouns as a way of announcing Emme's transition to identifying as nonbinary. "'They' is how Emme identifies," one person commented. "This was J.Lo sharing that information. It's beautiful to see her supporting her child."
Others pointed out that Emme's microphone sported a rainbow, which served as further proof that she identifies as nonbinary. "I assumed she used 'they' to keep the surprise until they came out on stage … but the 🌈 mic changed my mind 🥰."
Article continues below advertisement
Another TikTok user wrote: "It's so obvious she is speaking only about Emme, just pay attention to Emme's microphone ❤🧡💛💚💙💜."
So far, J.Lo has not publicly commented on the speculation/her child's gender identity.
The performance itself was pretty touching, too. Here's a snippet from their rendition of Christina Perri's ballad "A Thousand Years."
Article continues below advertisement
Many think Emme's evolving style is further proof of Jennifer Lopez's daughter's transition.
In a video Jennifer posted via Instagram in September 2019 (which has since been taken down), Max's beautiful voice is showcased with Emme accompanying their brother on ukulele. Unsurprisingly, both Max and Emme are great singers. (Their parents are J.Lo and Marc Anthony, after all.) Emme's aesthetic/style during this time was traditionally "feminine," and they sported a longer hairstyle.
Article continues below advertisement
By November 2020, Emme traded in their long tresses for a new bob hairstyle. A series of photos from Mother's Day 2021 shows Emme's hair even shorter with an edgier aesthetic.
Article continues below advertisement
Emme has experimented with many different looks in recent years — such as the one below featuring green hair and a "granny-chic" style.
Although J.Lo has not confirmed or denied that Emme now identifies as nonbinary, it's clear that she supports her child no matter what. And we're totally here for it.
If you or someone you know is a member of the gay, lesbian, bisexual, transgender, queer, and questioning community and need support, the LGBT National Help Center provides free and confidential resources.