Jimmy Butler From the Miami Heat Is Rocking a New Hairstyle — Again
Jimmy Butler from the Miami Heat stepped out in October 2023 rocking black polished nails and permed hair. Here's how he described his new look.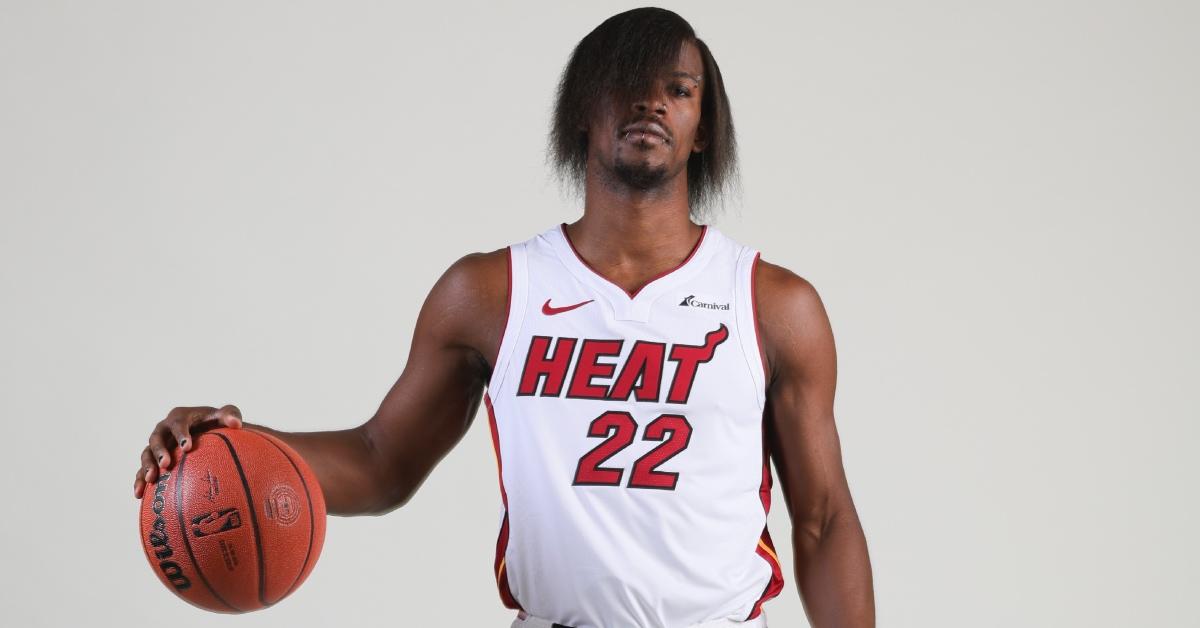 The Gist:
Jimmy Butler is a six-time NBA All-Star who has played for the Miami Heat since 2019.
Like Michael Jordan, who many believe is Jimmy's biological father, Jimmy played for the Chicago Bulls from 2011 to 2017.
Jimmy Butler's stats may be remarkable, but his hair has been getting most of the attention lately.
Article continues below advertisement
There are tons of professional basketball players who have clout-worthy careers. Jimmy Butler happens to be one of those individuals. He's part of the Miami Heat, making waves as their power forward and small forward. Jimmy is respected and beloved by basketball fans who can appreciate his passion and skill set.
Jimmy knows how to keep his head in the game whenever he's on the basketball court with his teammates. Right now, though, the conversation about Jimmy has less to do with his basketball stardom (and whether or not he's related to the Michael Jordan) and more to do with his new hair. What's up with Jimmy's new look?
Article continues below advertisement
Jimmy Butler began experimenting with new hairstyles in 2022.
Was there a reason Jimmy decided to switch up his entire appearance in 2022? As seen in a video posted to the NBA's official Twitter, he said he was simply having a good time by messing around with his fans.
He said, "I'm just messing with stuff to make the internet mad. That was my goal this summer and it worked." He further shut down the rumors about having fake hair sewn in when he said, "I don't have any extensions. I don't know what you're talking about. I'm trying out a lot of new looks. Y'all like my baby face assassin look? It's kind of cute, isn't it? I really don't know. I ain't even thought about it."
In addition to Jimmy's new hair, he also shaved his beard off.
Article continues below advertisement
That was the first time fans saw him without facial hair in a very long time. The internet seemed to have be divided about his hairstyle decision. One person wrote, "Looks mad goofy."
Another person added, "These comments have proven he's made his point, y'all all in here talking about him so he had enough effect on you to comment so it doesn't matter what you say, you're in the comments talking about his look like he wanted lol and y'all think y'all clowning him."
Article continues below advertisement
A third user, on Twitter wrote, "Help this man. He needs a stylist, a barber, and a girl."
One of Jimmy's fans clapped back by saying, "He's got all three though? He made you mad too, didn't he?"
Article continues below advertisement
Jimmy Butler showcased another new hairstyle in 2023, this time a perm.
In October 2023, we saw yet another side to Jimmy, his "emotional state," as he put it, during a recent press conference. He further explained that his new look represents him being "one with [his] emotions."
Article continues below advertisement
Jimmy not only stepped out in public sporting black polished nails, but also permed hair that nearly touched the tops of his shoulders. Naturally, Jimmy's new hair sparked a response from social media, and, of course, the media in general.
While some began to seriously question Jimmy's intention, others used his new "do" as inspiration for memes.
Article continues below advertisement
Here's what else is going on with Jimmy Butler right now.
Jimmy's hair is certainly making a statement among basketball lovers right now, but it isn't the only update he's got going on. According to Sports Illustrated, Jimmy believes that he's in the prime of his career. In fact, the NBA player reposted a photo of him gracing the cover of the magazine's 2023/2024 NBA Season Preview Issue.
He said, "I'm comfortable. I've got a good group around that allows me to just hoop and not worry about nothing on any given day. I've got shooters. We've got defenders around me and also some good players. Prime or not, I think that I am."
Over Time Heroics says the Miami Heat went through some highs and lows throughout their last professional season. Jimmy was obviously there with his team, doing his best to help the Heat succeed throughout that time.