Job Posting Asking for Licensed Medical Doctors Advertises $5/HR Pay Rate, Gets Blasted Online
A job posting requesting virtual doctors with a valid MD certification caused quite the ruckus on Reddit.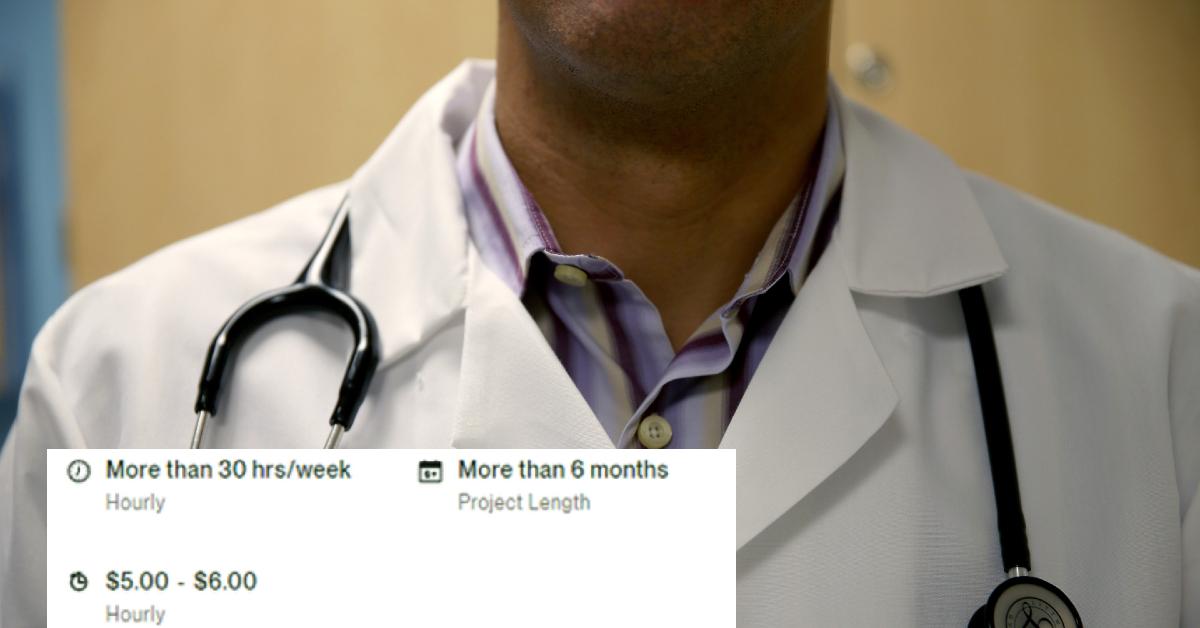 Article continues below advertisement
Three years later, an article published by Fast Company seems to suggest that these figures jumped, writing that more than half of U.S. workers thought they weren't earning nearly as much as they believe they should.
And with the United States hitting record-high inflation numbers, and those rates outpacing the average salary increase, it's safe to assume that more and more workers think that they're getting hosed come payday.
And while there are some folks who would urge those worried about not making enough money to live to embrace asceticism in certain aspects of their lives, there are some pretty egregious examples of low-balling salary offers that are way too difficult to ignore.
Article continues below advertisement
Something that was plain to see in a Reddit post uploaded by user @PetiteInvestor, which featured a screengrab of a job posting asking for someone to fill a virtual Medical Doctor position.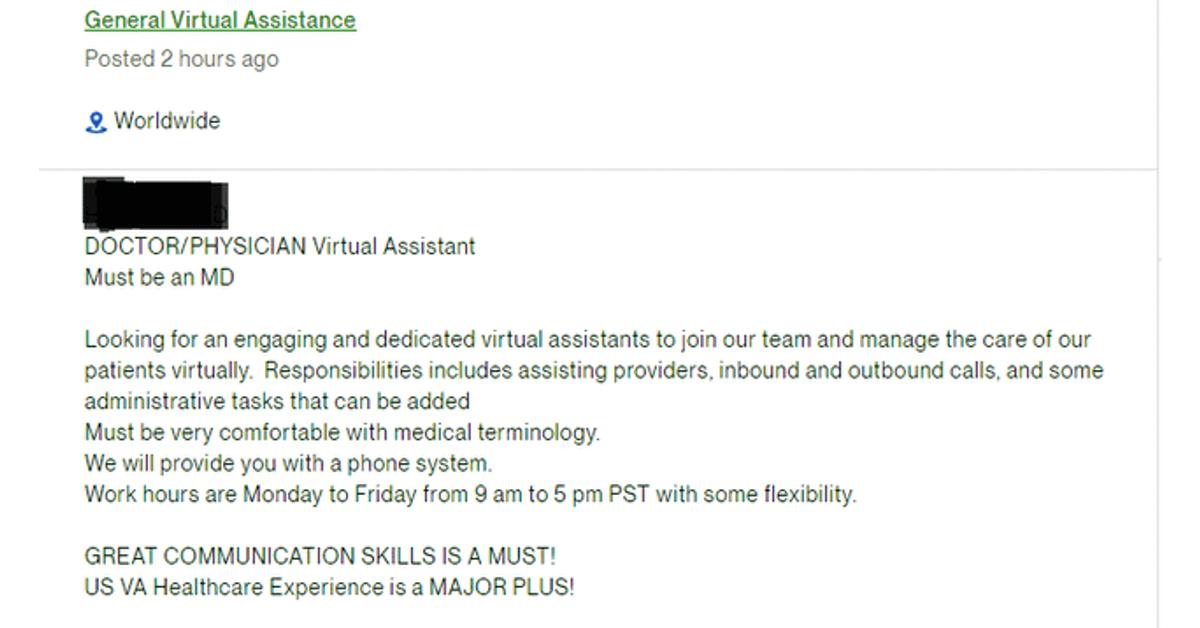 Article continues below advertisement
The job posting reads: "DOCTOR/PHYSICIAN Virtual Assistant" and adds "MUST BE MD"
At first, the description reads like something that wouldn't look out of the ordinary in any job ad, minus some grammatical errors: "Looking for an engaging and dedicated virtual assistant to join our team and manage the care of our patients virtually."
Judging from the asks of applicants, it would seem that there are a number of responsibilities associated with the virtual MD position which "includes assisting providers, inbound and outbound calls, and some administrative tasks that can be added"
Article continues below advertisement
The job posting also states applicants "Must be very comfortable with medical terminology," which seems like a given because they are asking for certified Medical Doctors after all, adding that job seekers will be provided with a phone system and that they are expected to work Monday through Friday between the hours of 9 am to 5 pm on Pacific Standard time.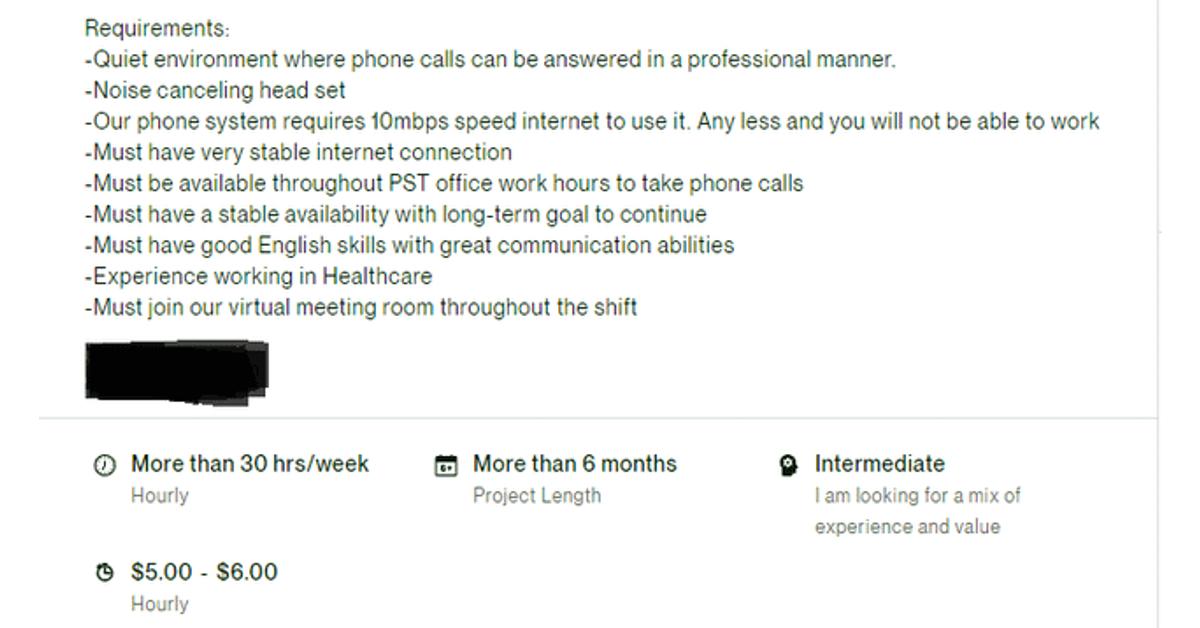 Article continues below advertisement
Additionally, those who are interested in the job need to have a quiet place in which they can provide remote medical advice, along with a "noise canceling headset" and a 10mbps internet, stable internet connection.
Additionally, they only want individuals who are interested in working "long term" at the job and insist, again, they they have experience working in Healthcare. Again, because the business is requesting its applicants are Medical Doctors.
Article continues below advertisement
Towards the end of the screen-capped posting, the proposed salary is listed as $5-$6 per hour to keep a full-time Medical Doctor on the phone and ready to answer calls.

Article continues below advertisement
So to recap: this business wants a telecommuting doctor to also handle administrative tasks, interface with healthcare service providers and presumably book a slew of appointments, all while providing accurate health assessments on the folks they're talking with on the phone.
According to GlassDoor, the average salary for a Medical Doctor in the United States ranges anywhere from $99,000-$310,000 per year.
Article continues below advertisement
By comparison, someone earning $6 per hour, full-time, at 40 hours a week, is only earning $12,480 a year. So, about 8 times less than what the lowest-paid Medical Doctor's salary would be.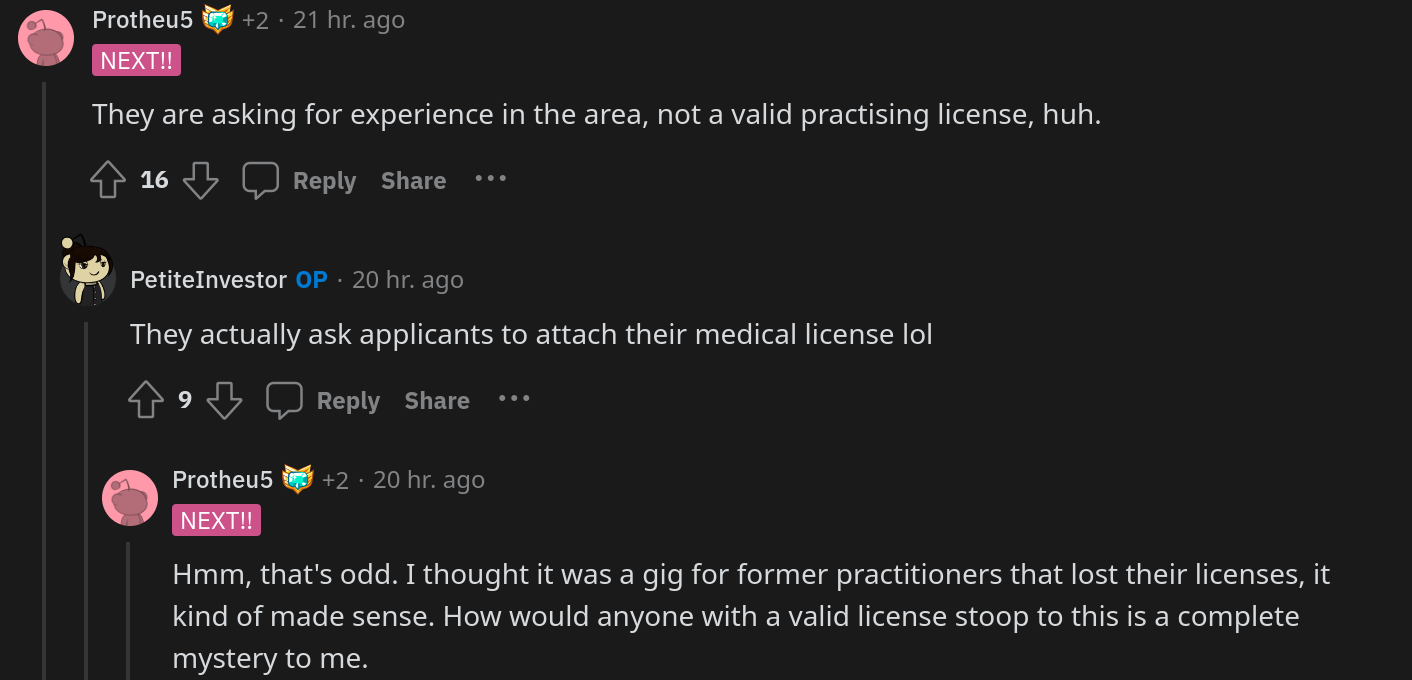 Article continues below advertisement
Redditors who saw the post were shocked at the proposed salary range, with one quipping: "An ai assistant would decline this laughable rate"
Someone else speculated that there was probably one demographic of doctors who would even entertain this job posting: "The only people I would think that would accept that are homeless doctors who lost their license to practice and have and have a crack habit."
Article continues below advertisement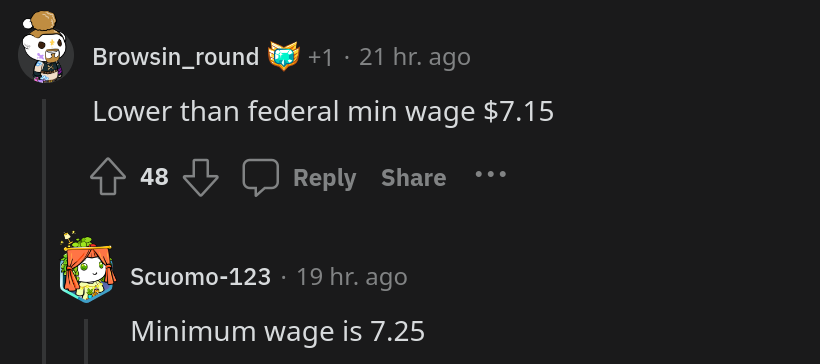 Although someone else thought that the hourly rate input was probably incorrect: "They had to of meant 50 to 60 an hour I hope," OP wrote that this wasn't the case: "Not a typo, unfortunately."