John Cusack of All People Has Become a Hero in the George Floyd Protests
People are praising actor John Cusack's coverage of the George Floyd protests, saying it's better than any major news organization.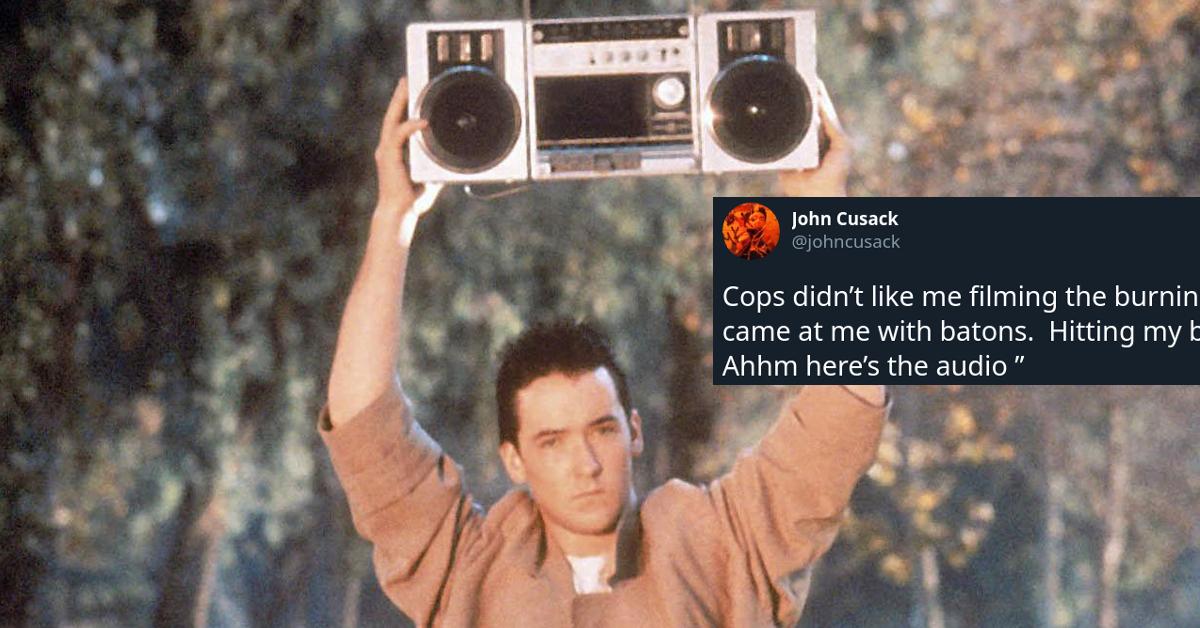 The death of George Floyd is yet another tragic and controversial chapter in the public campaigns against police brutality and the Black Lives Matter movement.
The shocking video which features Minneapolis police officer Derek Chauvin putting his knee into the nape of the 46-year-old who implored him for air has caused outrage all over the world.
The outrage has turned into action, with throngs of individuals protesting across America for police reform, including John Cusack.
Article continues below advertisement
Yes, the leading man and number one choice for romantic comedies in the '80s, the same John Cusack that managed to creep everyone out in The Paperboy and coordinate a police-prisoner collaboration to take down John Malkovich in Con Air, that John Cusack.
And while I could go on and on about J.C.'s film career, and that awesome photo of him riding with Johnny Depp and Hunter S. Thompson in a convertible, he's actually making headlines for the work he's doing behind the camera these days.
A smartphone camera, that is. John Cusack has been actively protesting the murder of George Floyd in Chicago and is documenting the engagements of activists who are taking part. His coverage is being praised for its un-biased nature; he has captured both scenes of peaceful protests and unity among community members, along with scenes of violence and carnage that have arisen in the wake of George's murder.
Article continues below advertisement
Many episodic bouts of violence punctuated the protests occurring in Chicago. Individuals have burned flags, thrown glass bottles in the direction of officers to help police the gatherings, climbed on top of a transit bus, scaled light poles, and even overturned a few Chicago PD vehicles.
John had whipped out his phone to record a burning cruiser, when officers accosted him to stop filming, wielding their batons, which they used to strike the actor's bike.
Article continues below advertisement
Mayor Lori Lightfoot has condemned the behavior of some protesters who are wielding hammers, bats, pipes, and a variety of other objects to destroy both public and private property.
She went on record saying she was "disgusted" and was there to "call you out for your recklessness" when addressing the violent activists directly.
"I've seen protesters hurl projectiles at our police department ..."
Article continues below advertisement
Lori continued, "bottles of water, urine, and Lord knows what else. I want to express my disappointment and, really, my total disgust at the number of others who came to today's protests armed for all-out battle."
She didn't pull any punches in her description of the protesters, either, calling the ones "who came armed with weapons ... criminals."
And while she says "we can have zero tolerance for people who came prepared for a fight and tried to initiate and provoke our police department," Lori has effectively ruled out the city's need for bringing in the National Guard to monitor the protests.
Still, some are critical of Chicago PD's response to the activists.
Article continues below advertisement
Article continues below advertisement
John has said that in addition to being accosted by police officers with batons, he's been "hit by pepper spray."
Throngs of people have been praising John's involvement in documenting the activity of protesters, with others highlighting his treatment as an example of excessive force by officers.
Article continues below advertisement
Others just used John's passion for capturing the events as they unfold live as an opportunity to make some pretty great and appropriate memes.
Article continues below advertisement
Article continues below advertisement
John writes that the protests are spirited and that the mobilization of groups in Chicago seeking justice for Floyd's death don't seem like they'll end anytime soon. "Would be very surprised if this is a one or two day event," Cusack tweeted.
John has also been openly critical toward President Trump recently, which, unsurprisingly, has ushered in a slew of critical comments and pretty disgusting allegations from Donald STANS on Twitter.
Article continues below advertisement
The actor seems mobilized by the protests and appears insistent on attending them further to provide more online coverage. Hopefully, though, he can avoid further physical confrontation in the future.