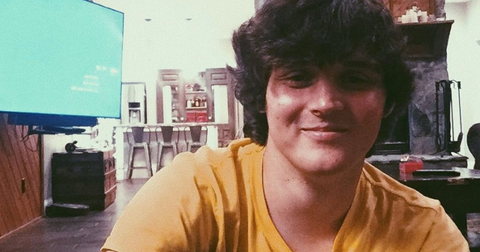 Everyone Thinks Johnny Cash's Grandson Is This TikTok Star, but the Truth Is Disappointing
By Gina Vaynshteyn

Updated
Apparently, people believe they've found Johnny Cash's grandson on TikTok. User @nashviellecash (Nash Cash) has almost 250,000 followers, and 5 million likes. He does look a little bit like Johnny Cash (and also like Green Day's Billie Joe Armstrong), and he can apparently sing. But is he truly the King of Country's grandson? We looked into it.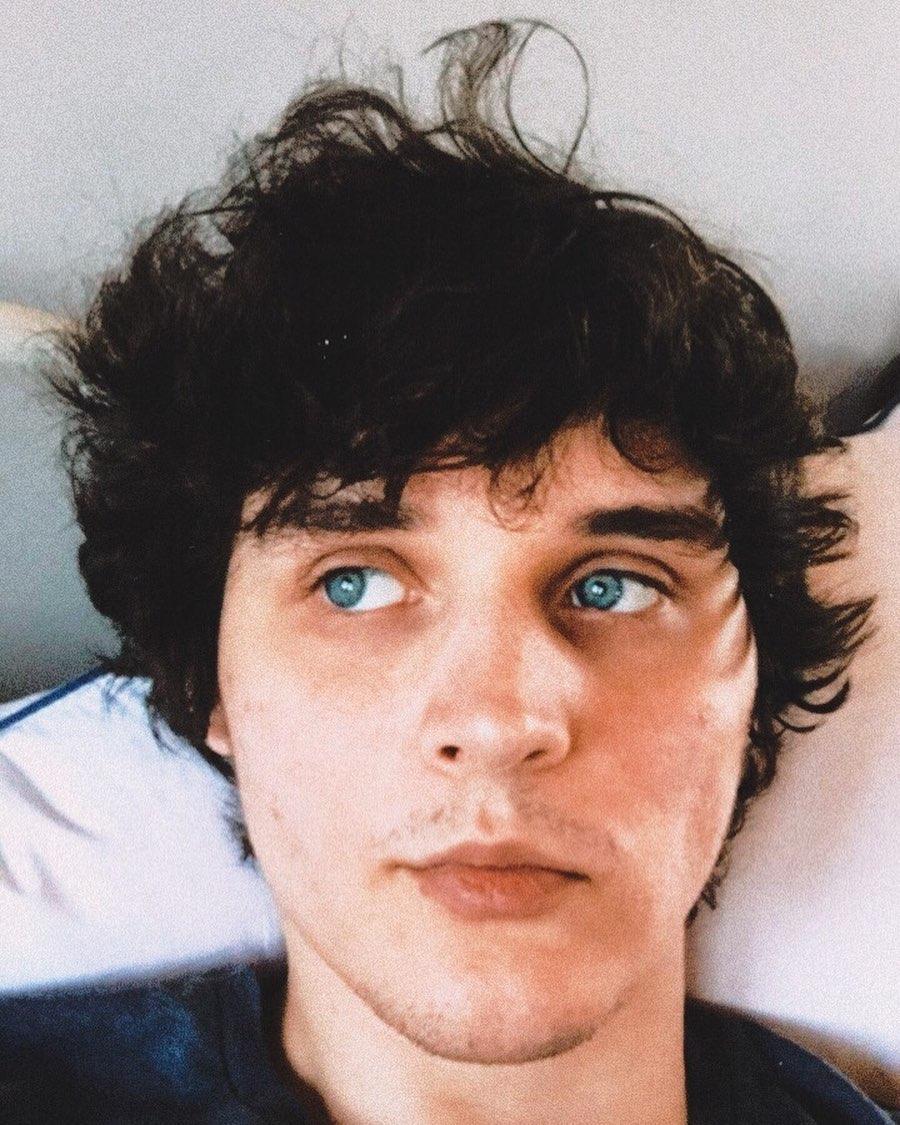 Is Nash Cash Johnny Cash's grandson?
Nash Cash isn't Johnny Cash's grandson — he's his grandson's friend. But he *does* hang out with the Cash-Carter family. The proof we have that ties Nash with the famous family is in an Instagram slideshow the TikTok star posted on March 9. In it, we see that he attended John Carter Cash's 50th birthday (John is Johnny Cash and June Carter's son, and Joe is John's son) and he wrote "Happy Birthday Old Man" and posted a selfie with John. Oh, and his real name seems to be Forrest. He goes by "Forrest Cashion" on Facebook, but "Cashion" might just be a play on "Cash."
Here's a Facebook photo of Joe Cash and Nash/Forrest.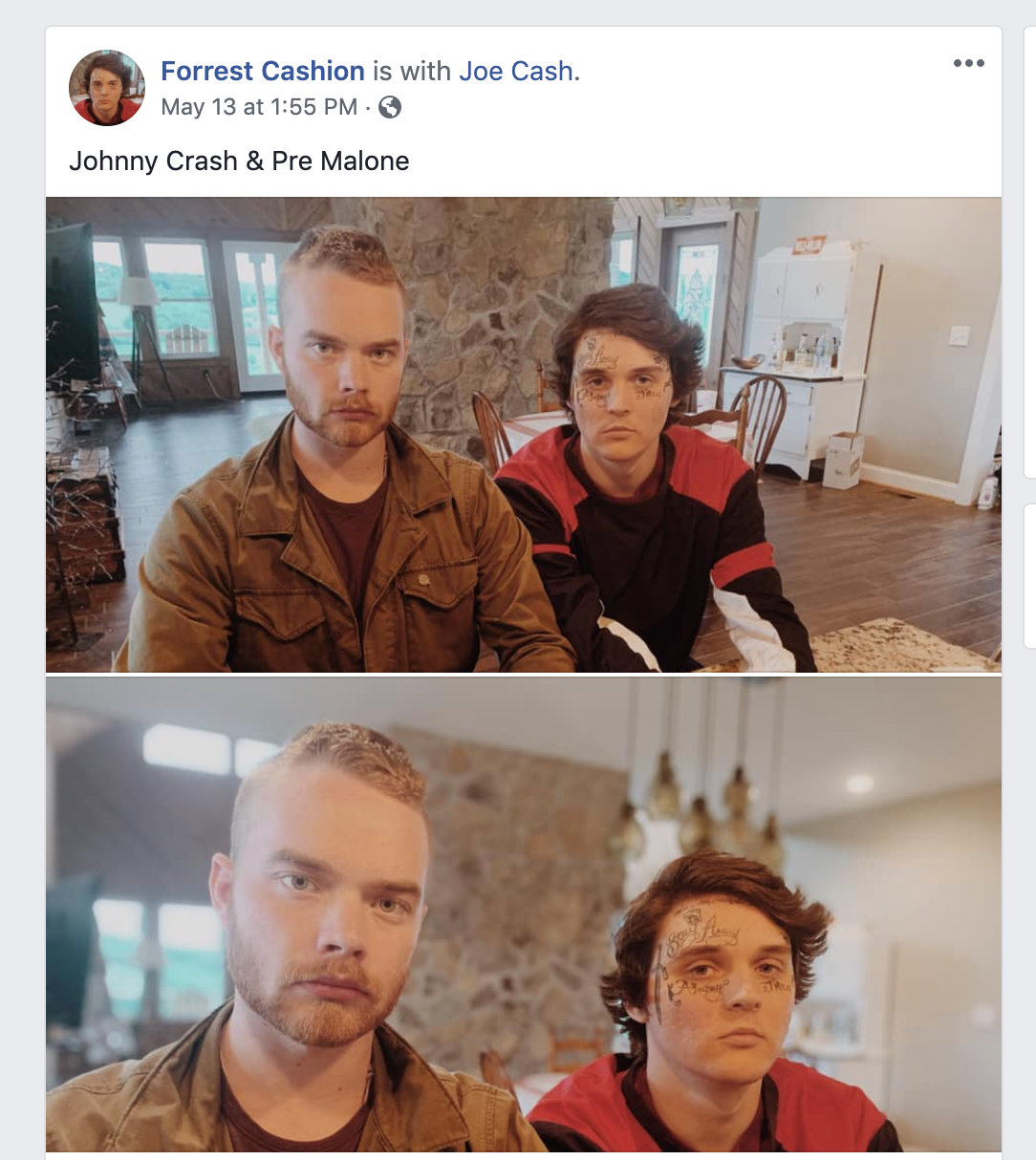 Here's what we do know about Nash Cash (according to the internet): He's an audio engineer, and he lives in Nashville, TN (hence, why he goes by "Nash").
It looks like he hangs out with the Cash-Carter family a lot (like at their family house, the Cash Cabin). Here's a photo he (maybe?) took that shows him chilling with THE Loretta Lynn. His dad might be a dentist (if Cashion is really Forrest's last name and if Terry Cashion is related to him), but we're not 100% sure.
Nash Cash mostly uploads clips of himself either lip-syncing music or covering famous songs. Probably because he looks a lot like Billie Joe Armstrong, he's posted a few TikToks of himself pretending to be him.
One TikTok features him dressed up as Billie Joe and singing his version of "Wake Me Up When September Ends," but he's replaced "September" with 2020 and rewrote the song to reflect how terrible the year as been, COVID-19 and police brutality and all.
"And if you're gonna call my arms strong, make sure you put Billie Joe in front of it," he says in one video, and started singing lyrics to "Brain Stew."
Other TikTok videos involve Nash responding to comments, like this one from _danman___ asking him to sing The Beatles' "Oh, Darling!" "but just the screaming part." The videos are mostly bizarre yet quintessentially very on brand for TikTok. He seems to be famous for the possibility that he's related to Johnny Cash (he's not) and that his videos are weirdly catchy, even if they don't make sense to anyone who is older than 27.
People on Twitter still think Nash is Johnny Cash's son.
Which is probably what Nash/Forrest is going for. But it really looks like Nash/Forrest is *not* Johnny's grandson, sorry!!
the face that johnny cash's grandson is tiktok famous doesn't sit right with me

— not gigi (@luigi__gi) May 19, 2020
BYE GUYS just found out johnny cash's grandson is on tiktok going to go devote all of my time to pursuing this until he is mine <3

— lily (@lilydougherty_) May 19, 2020
We're kind of obsessed that there's a dude on TikTok who looks a lot like Johnny Cash who happens to be his grandson's best friend. Oh, and he also looks like Billy Joe Armstrong (but is 100% not related to him, either). Keep doing you (or not you), Nash/Forrest.