Here's Why Jon Miller Is Getting Hate After the 2020 Oscars
BlazeTV host, Jon Miller, is getting hate after the Oscars after making a seemingly racist comment — here's a breakdown of the controversy.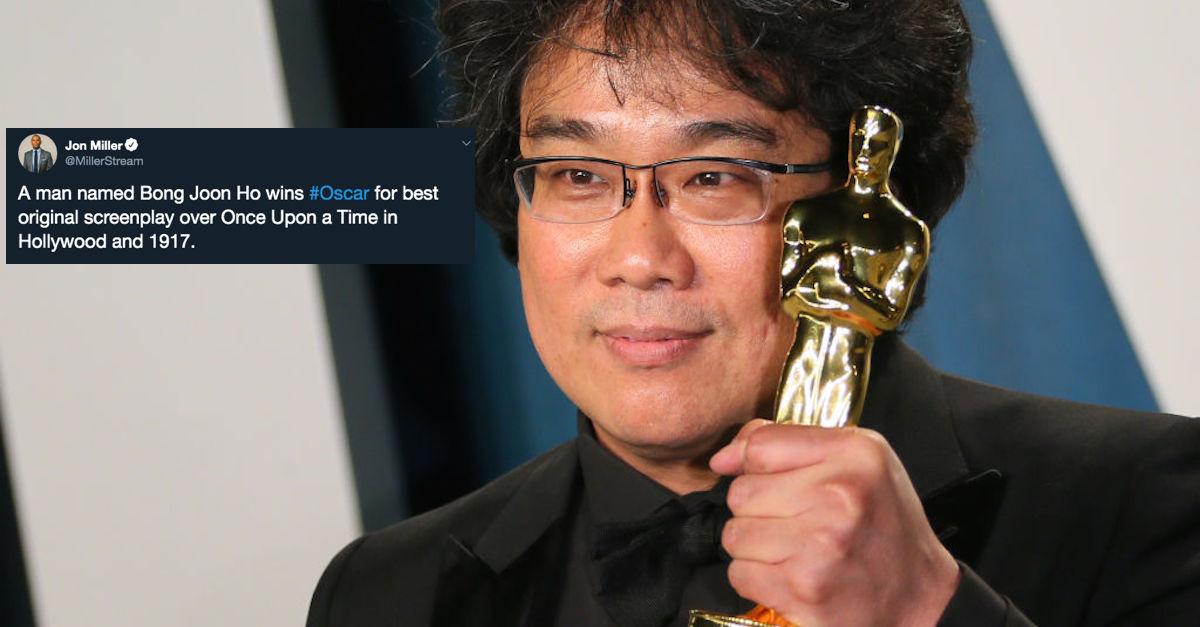 Almost anyone who watched the 2020 Oscar Awards in its entirety knows that Parasite basically swept the entire show. And while most would agree the South Korean film director, Bong Joon-ho, deserved each and every one of the four awards he received, it appears that one person wasn't on board... namely, BlazeTV's Jon Miller.
Article continues below advertisement
The conservative media company's host is currently under fire for making a slew of offensive comments. And if you aren't entirely aware of what went down, here's a total breakdown of the Jon Miller controversy, post-Oscars.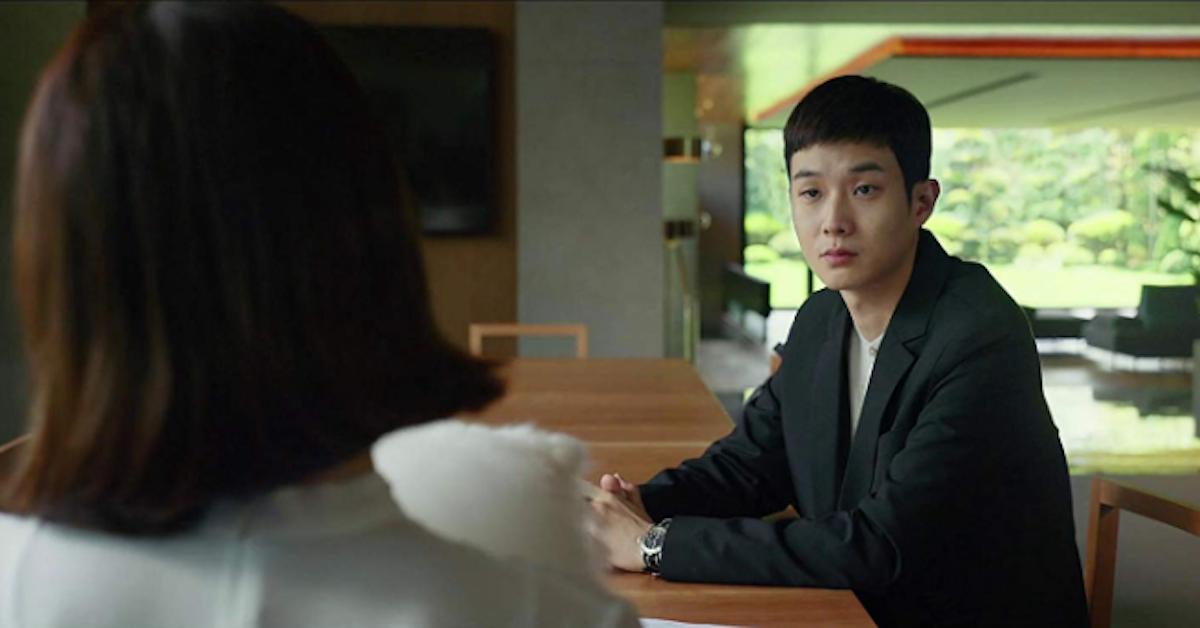 Article continues below advertisement
It all started when Bong made his Best Original Screenplay acceptance speech.
After Bong was awarded for Best Original Screenplay, the cinematographer took the stage to make his speech. Starting out in English, he said, "thank you. Great honor," before continuing in Korean. His translator proceeded to interpret what he was saying in English, for English-speaking viewers and audience members to understand his sentiments.
In Bong's acceptance speech, per Rev.com, the award-winning director said: "Writing a script is always such a lonely process. We never write to represent our countries... I thank my wife for always being an inspiration to me. I thank all the actors who are here with me today for bringing this film to life. Thank you." It was heart-warming, well-said, and to-the-point — everything a solid acceptance speech needs, in my opinion.
Article continues below advertisement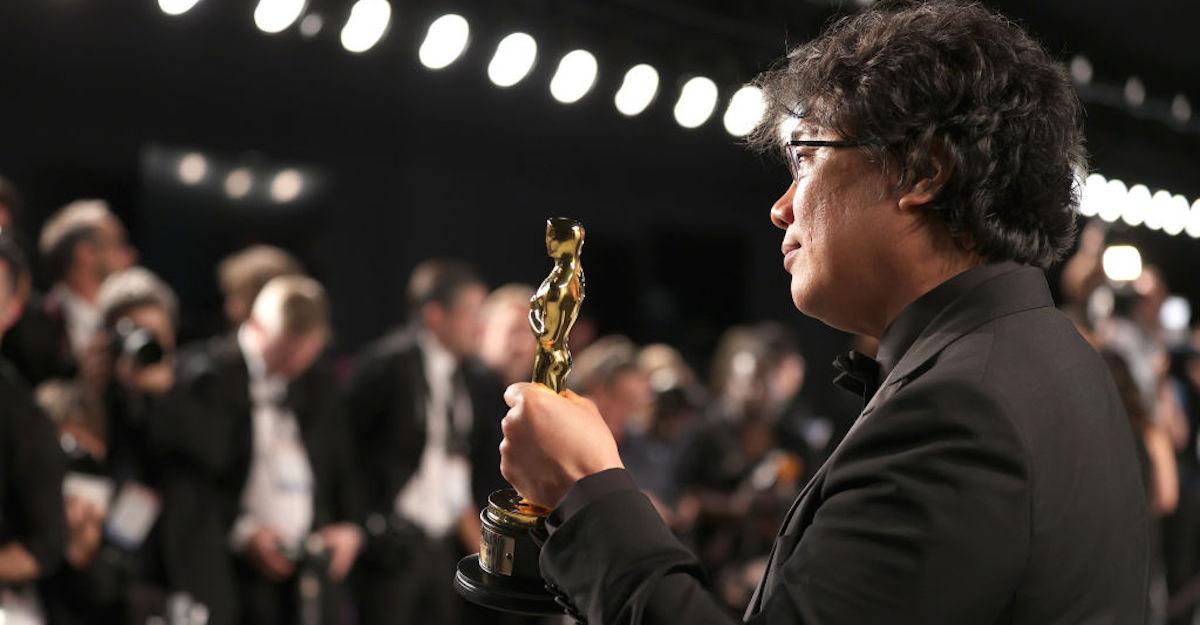 Cheering erupted after Bong's humble speech, but it seems like one person wasn't happy about it.
And while many agreed that Bong's speech was eloquent and humble, Jon was apparently unenthused. In a tweet the talkshow host posted during the award show, he expressed umbrage toward the fact that Bong was a) named Bong, b) won a (well-deserved) award outside of Best Foreign Film, and c) gave his speech in his native language, Korean.
Article continues below advertisement
Evoking the vibe of an angry, inebriated uncle at a family event, the tweet read: "A man named Bong Joon Ho wins #Oscar for best original screenplay over Once Upon a Time in Hollywood and 1917. Acceptance speech was: 'GREAT HONOR. THANK YOU.' Then he proceeds to give the rest of his speech in Korean. These people are the destruction of America." See the original post, below.
Article continues below advertisement
After posting the tweet, he received major backlash.
Several notable celebs, from Chrissy Teigen to Piers Morgan, responded to Jon's insensitive sentiment, and understandably, they weren't happy. First off, why does someone's race or nationality deem them unfit to win an Oscar (or four!), and why does it matter if English wasn't their first language?
Additionally, did Jon even see the movie? The film, which simultaneousl ygrazed the categories of black comedy, dramedy, and social commentary, was absolutely remarkable. and if you some how are unable to sit through a movie with subtitles, you should really consider expanding your horizons. Here's what some angry notable names had to say about Jon's unnecessary comment, below:
Article continues below advertisement
Article continues below advertisement
Article continues below advertisement
... And then he started to backpedal.
After receiving a tremendous amount of (well-deserved) backlash, the host started to backpedal, complaining his tweet was being misinterpreted, and that it had meant something deeper about "people who stoke the flames of class warfare." What did noting Bong's name mean, and why did he bring up the fact his speech was in Korean?
Article continues below advertisement
"These people" are obviously not Koreans but those in Hollywood awarding a foreign film that stokes flames of class warfare over 2 films I thought were more deserving simply to show how woke they are.That should be clear from the rest of what I tweeted about tonight's production," he said in the tweet. See the original tweet, below.
Jon Miller's closed-minded opinions were not warmly welcomed, and further commentary won't be necessary until he sits down and watches Parasite for himself. Now if you'd excuse me, I'm about to sit through a much-needed Bong Joon-ho movie marathon — let's enjoy everything this Oscar winner has to offer.