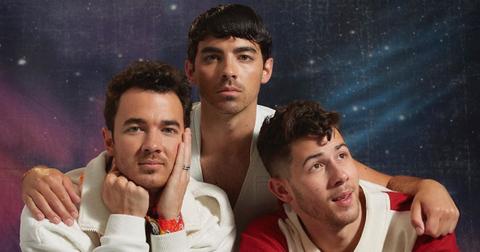 Jonas Brothers' Hilarious Cover Photo Prompts Fans to Share Their Awkward Family Photos
By Amber Garrett

Updated
The Jonas Brothers reunion is probably one of the most flawlessly executed band reunions in music history, don't @ me. First, work through the issues that made you break up in the first place and come back to each other. Then, record an album that captures the essence that brought you your fan base while also demonstrating that you've grown and evolved with your audience.
Then, after announcing your tour, making an appearance on SNL to prove you've still got it, and slaying the Met Gala red carpet, do a brilliant cover photo shoot and feature story like the one Paper magazine dropped yesterday.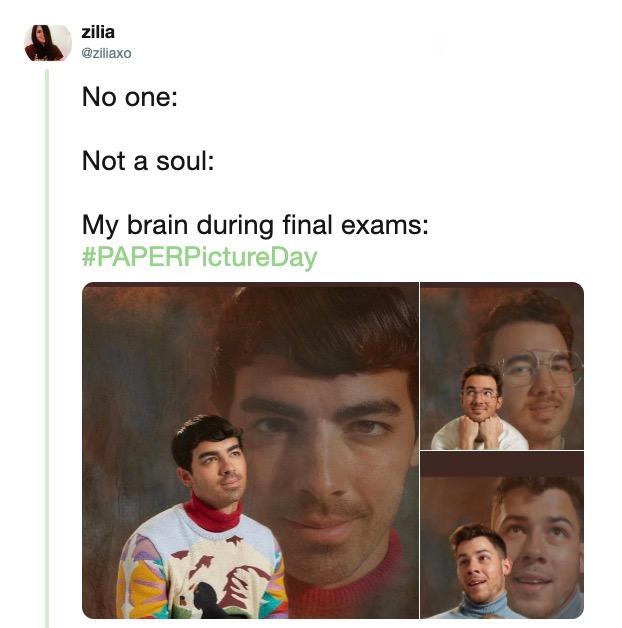 Instead of fighting the fact that nostalgia is a big driver for the former Disney stars' resurgence, they're fully leaning in. Instead of trying to tell fans, "we're serious adults now, please appreciate our artistry," they're being playful, fun, and cheeky. Nick said it best. "We take what we do seriously, but we don't take ourselves seriously."
And their "Awkward Family Photos" themed shoot for Paper embodies that sentiment.
The fashion and pop culture mag entitled the cover story "Nowstalgia" and, in keeping with their tradition of breaking the internet, started the #PAPERpictureday hashtag to promote it.
The aesthetic perfectly captures the painfully awkward look of family photos from the '80s and '90s, back when you couldn't take a million digital images to get just the right shot. Instead, you'd wait weeks and weeks for the Sears Portrait Studio to send you a sheet where almost every proof seemed to show your in mid-sneeze while your baby sister was scream-crying.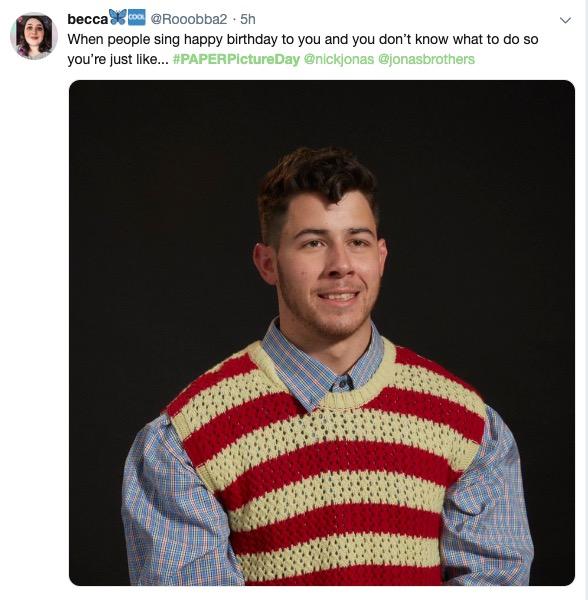 Fans immediately began captioning their favorite images to describe the feelings and situations they resemble. Also, please pause to really let this outfit sink in. The attention to detail is really amazing, from the sloppy half-tucked shirt collar to the chunky, handmade quality of the knit on that sweater vest. It really says "Grandma worked her arthritic fingers to the bone to make that for you and you will wear it on picture day."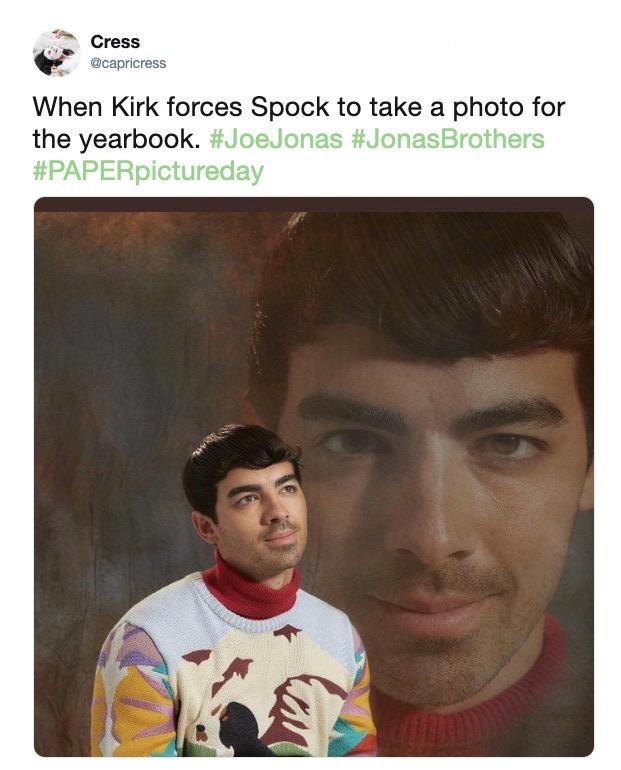 And the spread wouldn't truly capture the spirit of Awkward Family Photos without this double-exposure effect that was so popular in the pre-digital camera age of studio portraits that have inspired a ton of memes over the years.
The Jo Bros invited fans to share their own photos, and they didn't disappoint.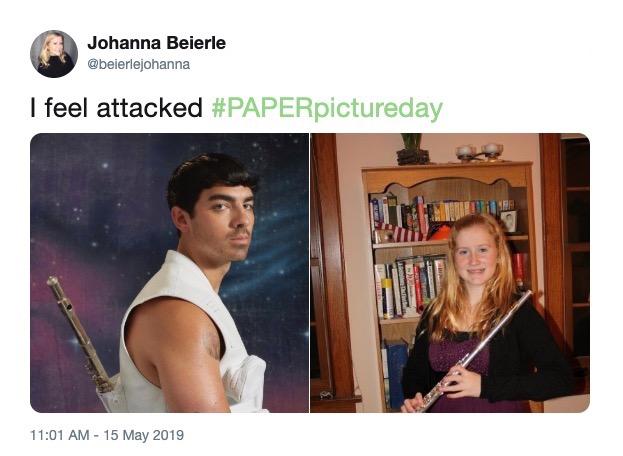 Several shared photos where they are eerily similar to the images the brothers are parodying. A lot of flautist and ferret enthusiasts were like, "why don't you just @ me next time, JoBros"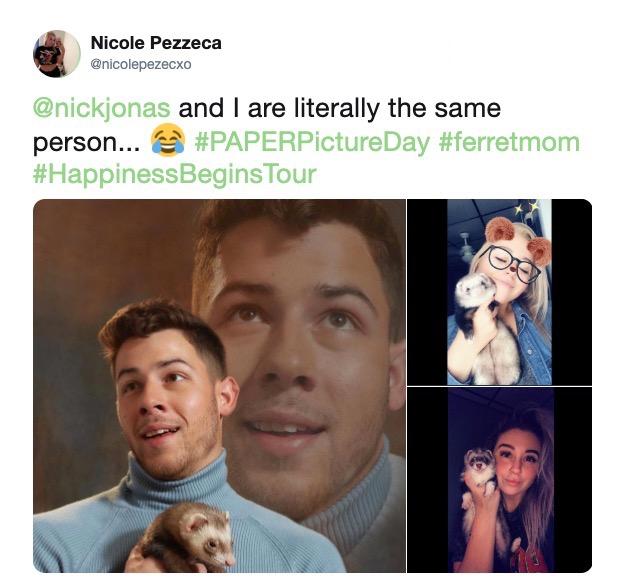 The hashtag inspired people to share some hilarious precious moments from the analog age, where nobody seemed to know where the camera is and the photographer was clearly phoning it in that day.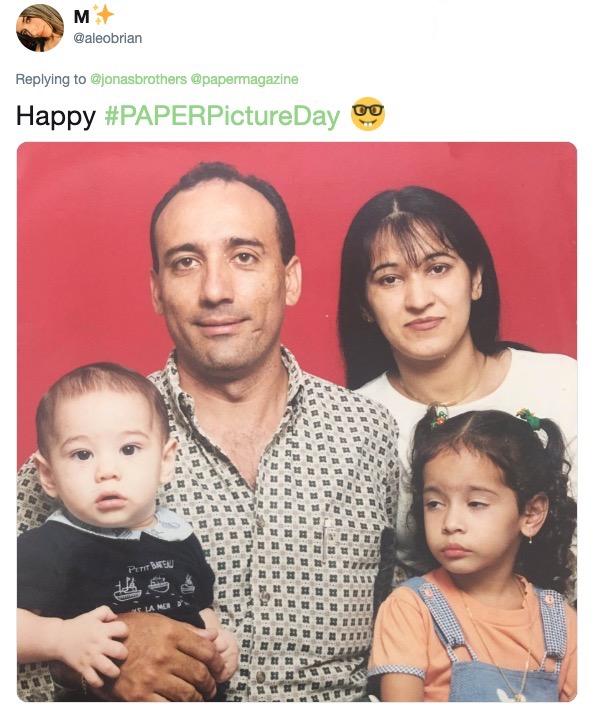 That girl on the right is a real mood, by the way.
People didn't keep their family pics contained to the four walls of Olan Mills, though. They showed off their bad 20th-century fashion and hair in all kinds of snapshots.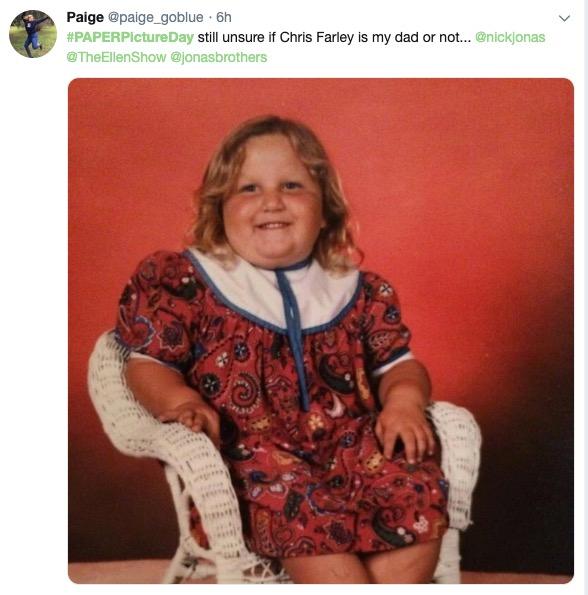 Fans had a lot of fun roasting their younger selves.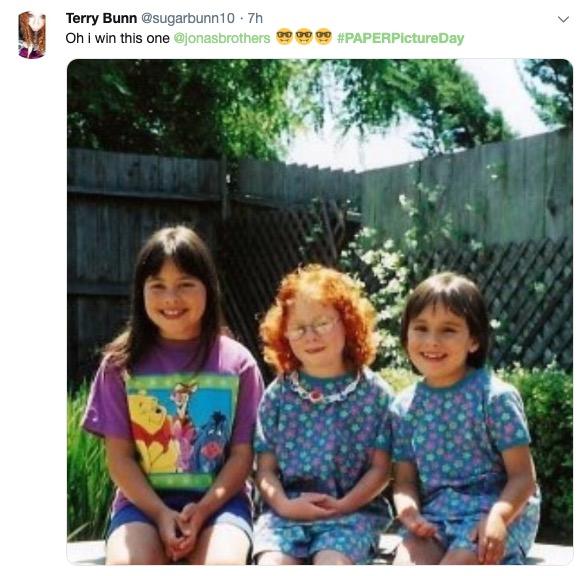 While some people clearly dug deep into their photo archives to find the best – by which I mean worst and most embarrassing — pics, others clearly didn't understand the assignment...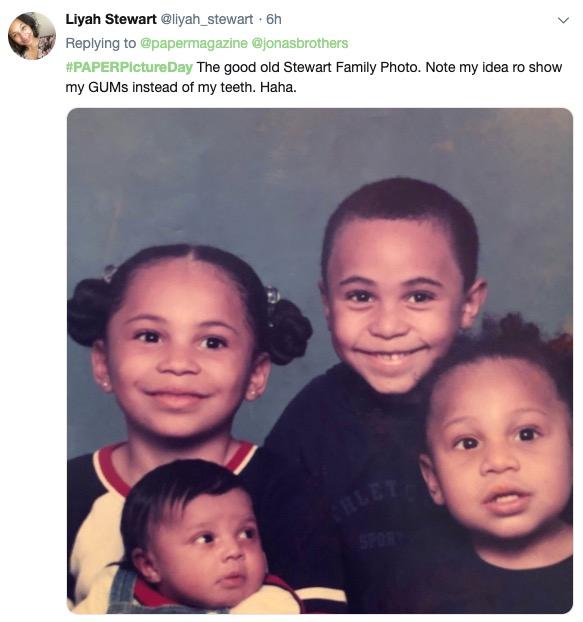 I mean, come on, all the kids in this portrait are adorable in any decade. Do better, ma'am!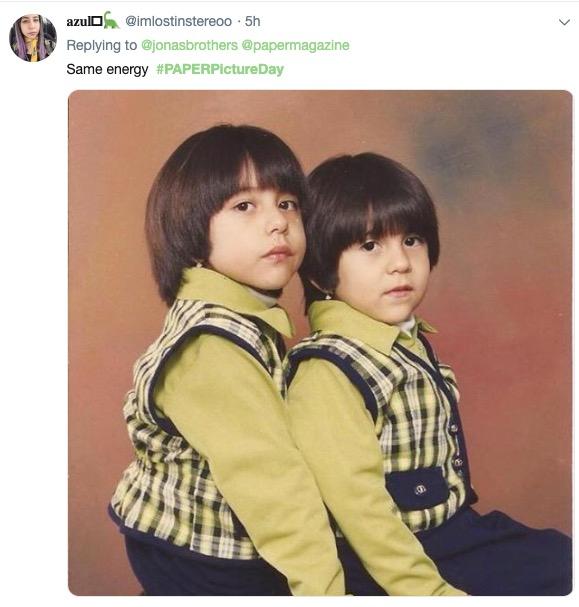 OK, that's more like it. Matching outfits — check. Matching, gender-neutral haircuts: got it. Soulless, The Shining-style death stares? Hat trick.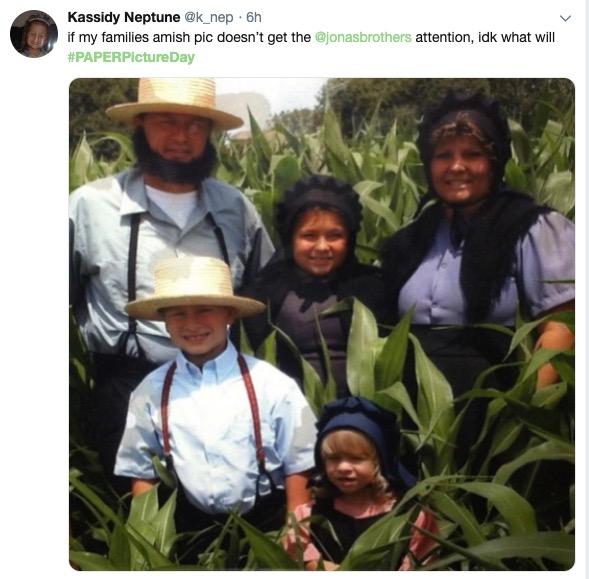 Actually, I may have spoken too soon. Also, it's unclear to me if this family is (was?) Amish or just doing a bit, since most Amish don't take kindly to photography.
Some folks also used the hashtag as an opportunity to prove their fandom runs deep.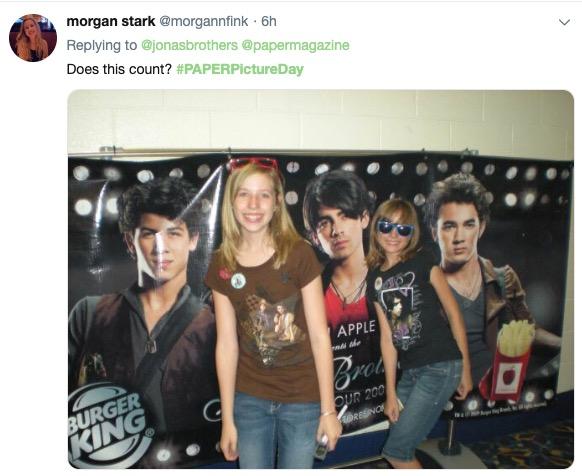 Yes, that definitely counts.
But I think my favorite fan photo is this grandma...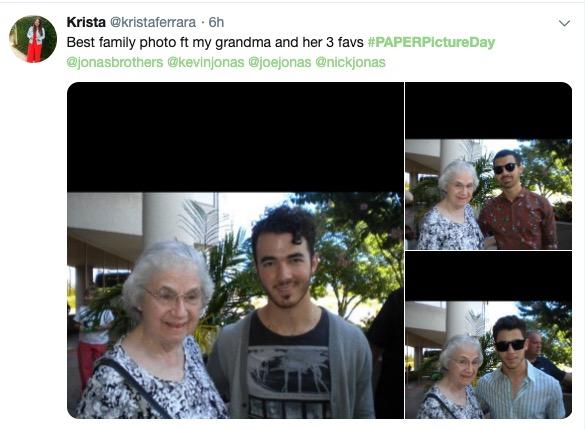 Honestly, if my grandma told me she loved the Jonas Brothers more than her actual grandkids, I'd get it.