In 2003, Melissa Catalan Watched Her Dad Get Arrested for a Crime He Didn't Commit
Where is Juan Catalan's daughter now? The Netflix documentary 'Long Shot' revolves around how Juan got arrested for a crime he didn't commit.
16-year-old Martha Puebla was shot dead outside her home in San Fernando Valley, Calif. on May 12, 2003, after testifying in a case concerning Vineland Boys gang member Jose Ledesma and co-defendant Mario Catalan.
The authorities chalked it up as gang crime. In August 2003, they arrested Juan Catalan, Mario's brother, for Puebla's murder. Long Shot captures Juan's terrifying case — showing how a lawyer, Todd Melnik, proved that Juan spent the night of the crime with his daughter.
Article continues below advertisement
It's uncertain where Juan Catalan's daughter is now.
Melissa Catalan was around 4 to 6 years old when her dad was taken away by the police. It's uncertain what has happened to her in the intermittent years. Likewise, it's unknown where she is now.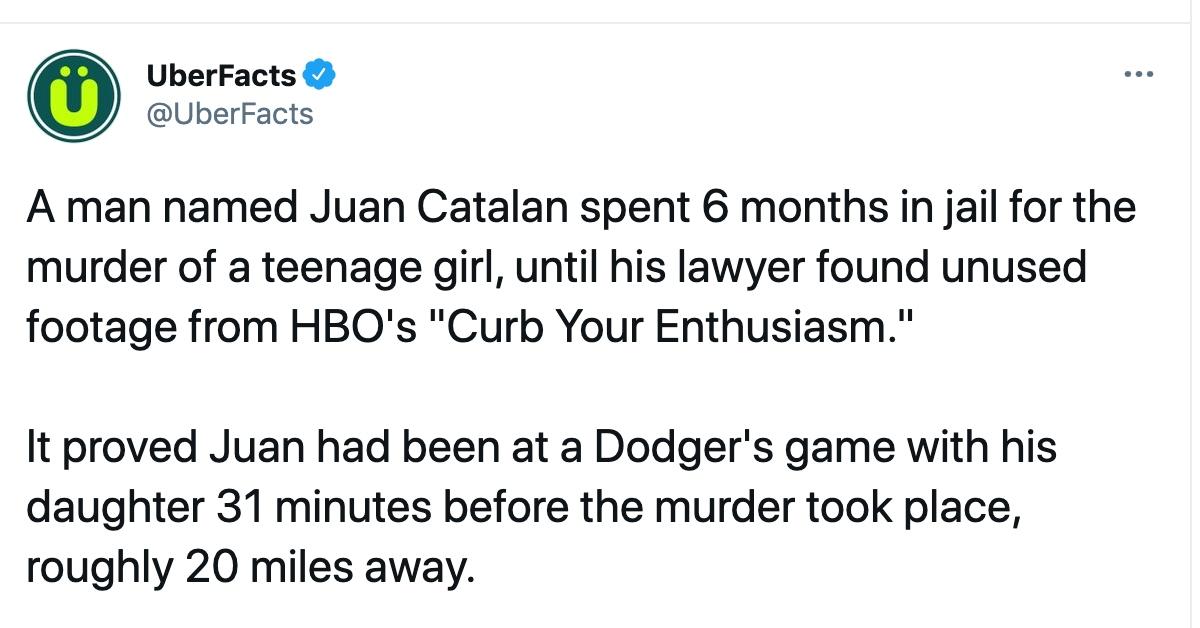 Article continues below advertisement
Juan Catalan was arrested, even though he produced ticket stubs proving his whereabouts.
"It was like any other day, but ... as soon as I opened the door I was completely surrounded by S.W.A.T. style ... My daughter, she looks up and she says ...'Dad!'" Juan explains in the trailer of Long Shot.
As Juan reveals, he didn't know how to explain to his daughter what was taking place. For a while, it was uncertain when he would be able to see her next — as the prospect of serving a prison sentence for a crime he didn't commit felt real at the time.
On May 12, 2003, Juan took his daughter to a Los Angeles Dodgers baseball game against the Atlanta Braves at their home stadium in Elysian Park, Los Angeles, Calif. The Dodgers lost that night — and the doom-laden event only marked the beginning of Juan's trials and tribulations.
Article continues below advertisement
In August 2003, the police arrested him outside his home — and for a while, it looked as though his life had changed irrevocably. Although Juan told the police that he and his daughter were at the baseball game on the night of Puebla's death — even producing the ticket stubs to prove it — his words fell on deaf ears.
Article continues below advertisement
Juan Catalan hired a successful defense lawyer, Todd Melnik.
According to New York Post, an eyewitness identified him as the killer in question, further decreasing his odds of ever being freed. In the end, Juan got in touch with a much-applauded lawyer, Todd. He set out to gather evidence no matter what.
"I subpoenaed the Dodger Vision tapes, which show shots of the crowd, and I also got the Fox Sports broadcast of the game. I knew where Juan was sitting, and in some of the shots I could tell that the seats were occupied, but you couldn't tell it was him sitting there," Todd told The New Yorker.
Article continues below advertisement
Todd ended up using a 'Curb Your Enthusiasm' episode as part of the legal defense.
As Juan managed to recall in one of his conversations with Todd, he and Melissa went to fetch a snack during a break. On the walk back to their seats, they were stopped by the members of a TV crew, who urged them not to disrupt the taping. In a stroke of luck, the crew member changed his or her mind, allowing Juan and Melissa to walk through. They were caught on camera.
Article continues below advertisement
Armed with the new knowledge, Todd acquired hours and hours' worth of footage shot for the Curb Your Enthusiasm episode, "The Carpool Lane," in the hope of spotting Juan. Juan promptly appeared in one of the frames.
"It did seem like kind of a lame story, but I told the lawyer, 'Go ahead, go crazy. Look at anything you want.' And we hooked him up with everything from the stadium, all the footage we shot that night," Larry David told The New Yorker.
"I'm there for maybe five minutes, and the lawyer screams out, 'There he is!'" Larry added.
Juan's case didn't come without further hurdles, but he was able to walk free in the end. In 2007, he was awarded $320,000 as a settlement in a civil lawsuit against the LAPD.