Justin Theroux's Obsession With His Dog Is Honestly Too Relatable
Justin Theroux and his dog have an unbreakable bond that's unlike any other — after adopting him last year, he's become a huge #adoptdontshop advocate.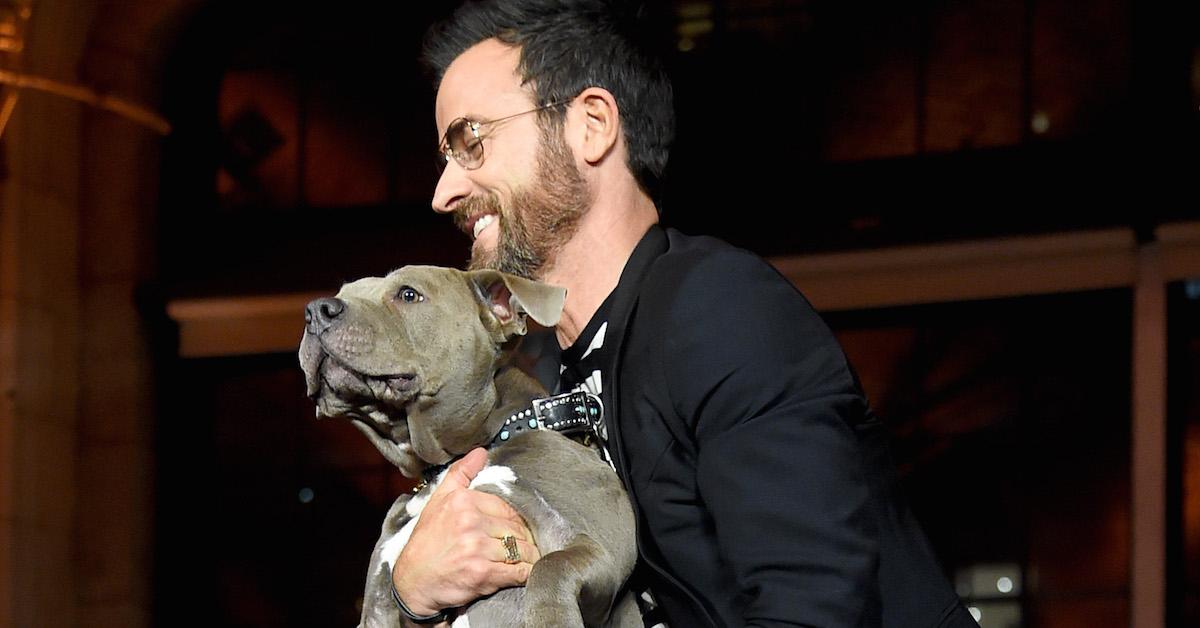 Justin Theroux's dog obsession is no secret — the actor, film producer, director, and screenwriter is head-over-heels in love with his beloved pupper, Kuma, whom he rescued just last year.
Really though, Justin is total #DogDadGoals. Once you see photos and videos of the adorable duo together, you'll totally see what I mean.
Article continues below advertisement
Justin Theroux adopted his dog Kuma last summer in June 2018.
Article continues below advertisement
Justin caught wind of Kuma while working with rescue non-profit, Austin Pets Alive!, and met Kuma in Houston. The pit wasn't ready to leave the shelter, but he kept tabs on her, and eventually, she was ready to go to her fur-ever home.
Most airlines won't fly pitbulls because of negative stigmas surrounding pit bulls, but Pilot N Paws, a non-profit that flies adopted pets to their new homes, offered Kuma a ride. Theroux met Kuma at the New York airport in tears, ready to begin his life with her.
Justin posted the above photo to Instagram, introducing Kuma to his followers, and thanking those who helped him during the adoption process.
He also made a point to encourage his followers to check out and support each of the non-profits. And, most importantly, he urged his audience to adopt, instead of shopping for pets.
Article continues below advertisement
Now, over a year later, Kuma and Justin are recreating scenes from Lady and the Tramp.
The photo of them sharing a plate of spaghetti is seriously adorable, though, so if you haven't already seen it, scroll down to see it, below.
Article continues below advertisement
Netflix tweeted a 90-second video in which Justin professes his love to Kuma.
Seriously — for the entire minute and a half video, the animal lover snuggles Kuma, tells viewers about her nicknames, talks about the amazing moments they spend together, and simply professes his love to her.
It's truly amazing, so take a moment to watch it, below.
Article continues below advertisement
Justin recently went to a shelter to cover four pups' adoption fees.
On Wednesday, Nov. 6, the actor took to Instagram to reveal that he and Kuma visited Ventura County Animal Services. And as a die-hard animal enthusiast, the Hollywood star just couldn't leave without doing something special for the puppers in need.
In the IG post, Justin revealed that he paid the adoption fees for four lucky dogs: Zumo, Shotti, a nameless pup he refers to as "No Name," and Stella.
He did it to encourage people to take the beloved pups home. He even tagged ex-partner, Jennifer Aniston, and another animal lover, Selena Gomez, urging them to adopt the free pups. So sweet!
Article continues below advertisement
Justin and Kuma are honestly #Goals — his undying love for her is truly amazing, and his activism for shelter dogs is seriously heart-warming.
Oh, and tagging Jen in his IG post? Seriously priceless.