Landscaper Removes Customer's Grass After Refusing to Pay Bill on Unwatered Lawn
A landscaper shows how she removed patches of grass she installed for a customer who refused to pay her company for their work.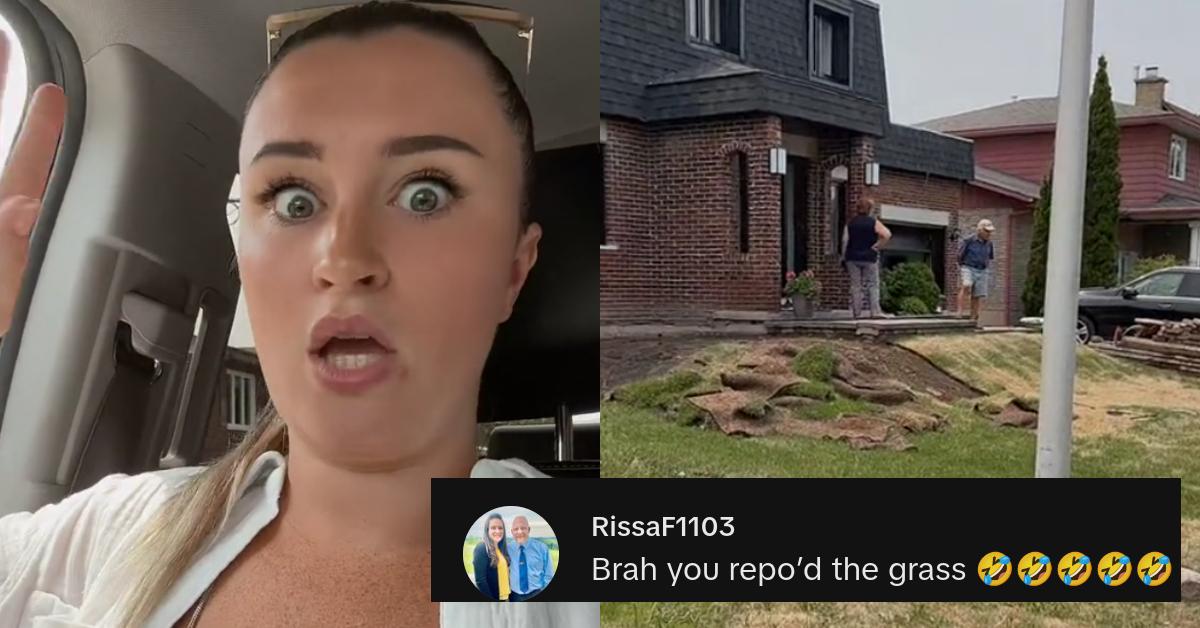 A landscaping business owner ripped the grass she laid out for a customer because she was refusing to pay for her services.
Katelynn (@kslicksix) vowed that she was "going home with [her] grass" following a payment dispute with a homeowner who wasn't happy with the fact that the grass turned yellow after the patches were installed on her lawn.
Article continues below advertisement
Katelynn explained that the customer requested the lawn be installed during a heat wave, and that other folks' lawns were yellowing as well. She also speculated that the customer in question didn't heed her advice to water the newly laid grass and properly care for it.
Her experience, which she captured in a two-minute and forty-three-second video on TikTok, garnered well over 135,000 likes and thousands of comments, many from folks who supported the business owner's reaction to the non-paying customer.
Article continues below advertisement
"I'm so p---- right now. My boyfriend and I own a landscaping company and we just did this job for this woman where we did her front and back grass. But she happened to want it done during the heat wave. So the grass has gone a bit yellow but it shouldn't have had she watered the way she was advised to."
Article continues below advertisement
Katelynn goes on with her story, "So she paid the first half because we asked for it upfront cause we needed to pay the men and supplies and stuff like that. And I was supposed to pick up the check on Saturday for the second half and she had a family emergency and she couldn't give up the check for that reason whatever."
The TikToker then reveals how the customer appeared to be queuing up how she was going to stiff her and her boyfriend on payment for the work they completed: "So then she was like oh Monday by 2 pm like I'll have the check this and that whatever so I show up and right away she starts, oh look at my grass."
Article continues below advertisement

Katelynn says that her client basically tried weaseling herself out of paying for their services due to her grass not looking as aesthetically pleasing as she would like, something that the TikToker says was effectively her own fault: "'I'm not paying for this nah, nah, nah,' but of course, she has the water out now. I'm like, but it wasn't I'm sure from the time we laid the grass."
Article continues below advertisement
"So basically I have one of our employees along with us to see like what, like where this is gonna go, so she's b----- oh I don't want you know it doesn't look good this and that I'm like yeah but you didn't water it you were advised on how to cater for your grass, you didn't do it, and I'm here to collect the check today you said it was Saturday, you're continuing to cause delays, like this isn't how this goes, so you're gonna have to pay."
Katelynn went on to say that the customer didn't seem too enthused that she was expected to fork over the money for the bill and continued to argue back against payment: "Oh I want a paper invoice I'm like I can you it by email. 'Oh I don't have a printer so email's not gonna work,' like everything I said to try and be cooperative, wasn't pleasing her."
Article continues below advertisement

Katelynn said that because the customer was refusing to pay them for their materials, because she first payment covered their labor, she ultimately decided to remove grass the homeowner was so dissatisfied with.
"So I look at my employee I'm like she's refusing to pay, so, the second half of what she owes us is what we paid for, our grass, so take off the grass."
Article continues below advertisement
It's at this point in the video that it becomes clear this was a fresh incident: Katelynn's clip transitions to her getting out of her vehicle as she directs her lens on the homeowner's lawn. Patches of yellow grass are upturned as a woman, presumably the client, stands at the top of her lawn hill.
"Let me show you. Here is what we've done so far this is what she was complaining about but if you look the neighbor's grass is just as yellow because of the heat wave so here we are taking off the grass. He's doing the backyard right now and I'll show you the final product."
Article continues below advertisement

Later in the video, which shows brown patches of dirt and Katelynn's employee removing the patches of grass that were installed on the reluctant-to-pay-customer's property, the TikToker points out how the homeowner is recording her during their dispute as well.
Article continues below advertisement
"Look she's video taping me even though she's the one refusing to pay. We've already called the police so that's so fun. Owning a business is so fun we're just gonna take this loss, take this L, so good. I just don't understand people, like, you didn't water your grass, during a heat wave, and it's like, you're gonna be like oh I'm not paying for this, look at it, look at that."

Article continues below advertisement
She went on to criticize the customer's response to seeing her grass turn yellow during a heat wave and not understand that she could simply water it due to the nature of how grass yellows and changes color upon receiving proper care, "Also it's like, live, so it's gonna come back, like you're just being difficult on purpose."
Katelynn provided several updates in three follow up videos which you can watch here, here, and here. In them, she continues to slam the lack of consideration from the customer, stating that she doesn't feel bad about tearing the grass up out of the lawn and that there were signs from the beginning of the job that intoned she would be a difficult client.
As an added kicker, it turns out that the client even asked one of her landscapers to plug her computer printer in, indicating that she was lying about not having a printer in order to print a physical copy of the emailed invoice. She also included screenshots of her text correspondence with the customer at the end of her fourth video, supporting the claims she made about the homeowner in her chronicle of their dispute.