"Parking Lot Karen" Claims Spot Belongs to Her, Demands Woman Moves — "You're In Public, Ma'am"
A grown up bully tried claiming that a spot in a public parking lot belonged to her, sparking a petty argument that someone recorded.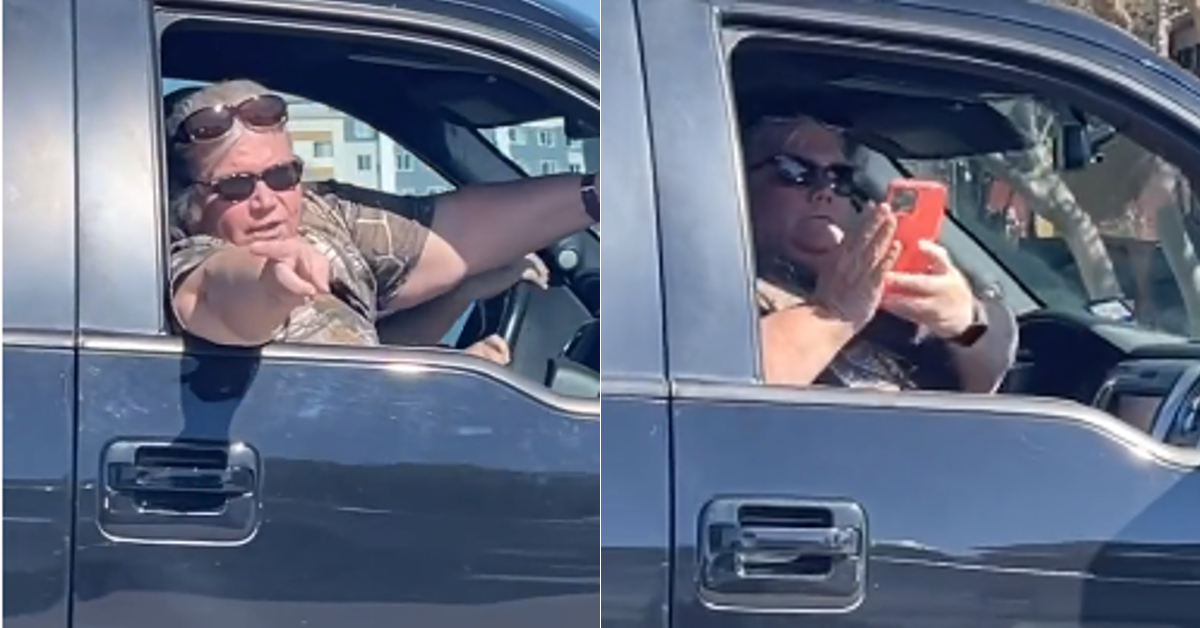 Human beings are capable of some extreme pettiness. Sure, there are recorded instances of animals engaging in some profoundly petty behavior themselves, but when it comes to our species, we can get into arguments over some really, really dumb things. Like when you castigate your significant other for hanging bags on door handles (guilty) or squeezing toothpaste out of the middle of a tube.
Article continues below advertisement
Usually, when folks blow up over small-scale things, it's probably because they haven't practiced being as passionate about things that actually matter to them (or should). Like not getting passionate enough to do the best you possibly can at your job and it eats away at you on a daily basis, you might find yourself getting in a fight with a Popeye's employee at a drive-thru in South Jersey.
Or you can be like this grown bully who claimed that a spot in a public parking lot actually belonged to them, and they threw a full-blown temper tantrum over it.
A viral TikTok uploaded by @myamyers01 shows a woman sitting in the passenger seat of a pick-up truck (a man is driving).
Article continues below advertisement
The irate woman in question is telling the TikTok-er that the parking spot belongs to her and asks OP if they'll move their car. The clip has a text overlay that reads: "Karen got mad because I parked in 'her spot.' She even tried to tell me to back up so they can park."
Article continues below advertisement
When the "Parking Karen" in question saw that she was being recorded, she appeared to get even more upset. "You can't take my picture without my authority."
To which the TikTok-er responds, "You're in the public. You're in the public, ma'am." OP went on to respond to the woman who says something that can't be heard on camera: "I'm not being rude. It's a parking spot."

Article continues below advertisement
Then the woman in the car brings out her cell phone to record the TikToker, which would've provided yet another angle of the extreme pettiness going on.
The video ends before there's any type of possible resolution between the two people who engaged in passive-aggressive cell phone recordings of one another.

Article continues below advertisement
Commenters seemed to take the uploader's side in the altercation: "It's crazy how these people get out in public and think the world revolves around them. Can you imagine if you had to live with them?"
Someone else mentioned a recurring theme among people who freak out in public.

Article continues below advertisement
"Why do Karen's always pull out their phone as if they're gonna do something after they yell at having their picture taken?" another commenter asked.
But there's one detail that had people cracking up: and it's the fact that she was wearing two pairs of sunglasses at the same time.
It seems that the real question is how humans got to a point where they're constantly looking to "out" others' behaviors with cell phones whenever the prospect of any type of legal action or public humiliation is at stake. It would just be a lot more efficient, probably, for folks to rock a pair of Google Glasses or keep a police bodycam on their person at all times.