Keanu Reeves Leads Stranded Plane Passengers on Epic Road Trip
When a flight from San Francisco to Burbank went awry, Keanu Reeves made the most of a less-than-ideal situation.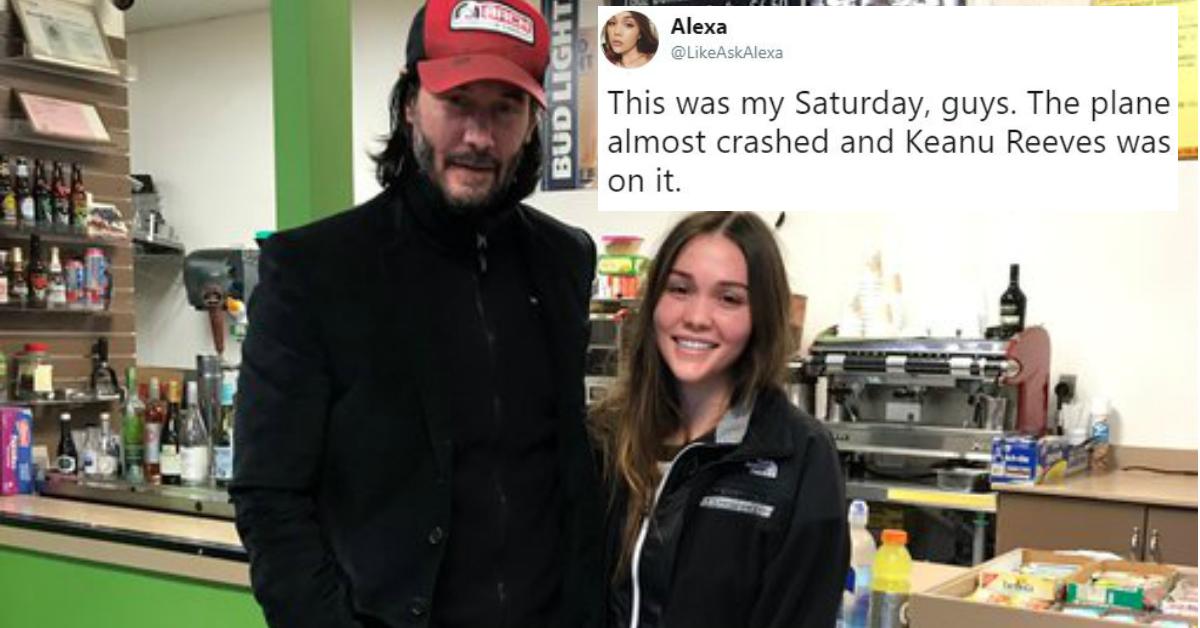 Keanu Reeves just keeps on adding to his legend of being a darn decent human being and his latest entry in the annals of "whoadom" involves an airplane and some star-struck passengers.
When you're a Hollywood star from a very young age, as we've seen with countless celebrities over the years, it's easy to become disengaged and generally unenthusiastic about life. How many rich and famous people have become super depressed despite having "everything?"
Article continues below advertisement
We're also seen plenty stars who are used to "the good life" give in to some pretty selfish and spoiled behaviors when encountering a situation that's less than ideal. Anyone remember the time Alec Baldwin was tossed from an airplane for refusing to stop playing Words With Friends on his iPad?
And that temper flared up just because the 30 Rock star was stuck at a gate, which understandably stinks for any airline passenger, but still, one can only imagine how he'd react to the news his plane was grounded due to exigent circumstances, as was the case for Keanu Reeves, who ended up getting stuck at an airport.
The John Wick star was on a United Airlines flight from San Francisco to Burbank when the aircraft needed to make an emergency landing in Bakersfield, about 100 miles away from the flight's final destination.
Article continues below advertisement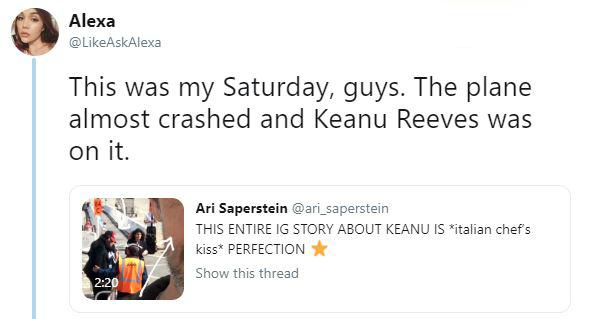 Article continues below advertisement
While United was preparing a solution for some irate passengers, Keanu kept things cool and kept everyone updated on the situation. The actor basically took command and let everyone know the status of their bags and their different travel options from Bakersfield to Burbank.
Article continues below advertisement
Though he could've easily gotten a car to drive himself to L.A., he instead hopped on the minibus provided by United Airlines and turned the entire experience into a wonderful road trip. Fans of the actor were star-struck, not just by the fact that they were hanging with a man they only had one-sided interactions with on screen, but that he encouraged everyone to come ride with him instead of waiting around for their bags at the airport.
Article continues below advertisement
One fan documented the whole thing on video, which is how this blessed footage found its way onto the internet. As it turns out, Keanu knows a ton about Bakersfield and California in general, and started a game of trivia while on the ride to Burbank. He scanned the radio station for local country bands and just made the trip an awesome experience for everyone involved.
It's called being a "leading man," ladies and gentleman, and Keanu doesn't just do it while fighting soulless machines or floating through time and space in a magical phone booth. He even does it when his travel itinerary gets messed up after his airplane malfunctions. Oh and with a group of strangers.
Article continues below advertisement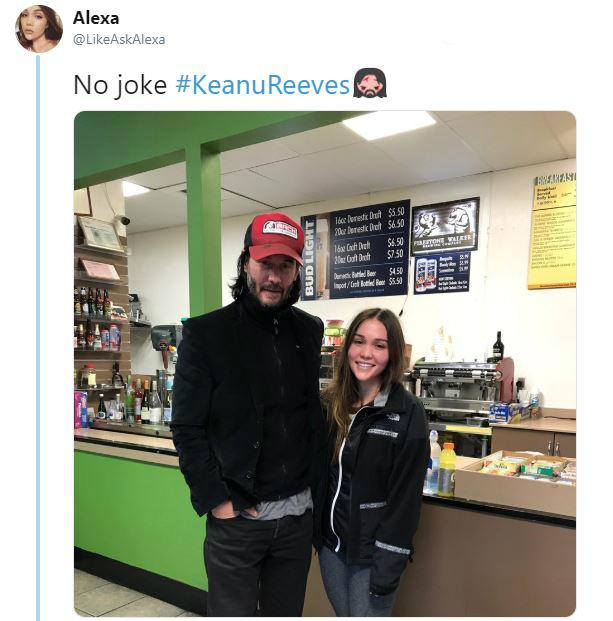 At the end of the video, marking the end of one passenger's journey, we can see Keanu shaking hands with someone and saying, "It was a pleasure to meet you." Now maybe this is because I absolutely adore Keanu — and maybe it's because I had an amazing experience with him when I was an extra in the bathhouse scene for the original John Wick and he took the time to speak with me about motorcycles — but the man seems genuine when he says it.
Article continues below advertisement
When all was said and done, Keanu walked off into the sunset. Well, replace "sunset" with "Carls Jr." Listen, he worked up an appetite and even though it's "fast food" it's utterly delicious. I think being magnanimous and generally wonderful burns calories, so he's good to go.