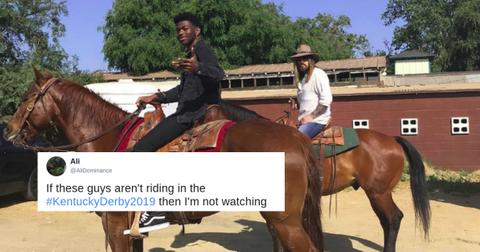 The Kentucky Derby Horse Names of 2019 Are Some of the Funniest of All Time
By Mustafa Gatollari
The 2019 Kentucky Derby horse names are probably the biggest thing that people are looking forward to about the races. Sure, there are the crazy hats and outfit combinations, and the ridiculous amounts of work and blood and sweat and tears that each team put into breeding and then racing the thoroughbred horses.
There's the history of the race and the copious amounts of money that are being poured into it as well.
But everyone knows that the names are where its at, and this year's got a bunch of pretty great ones. So without further ado, here are the:
Horses in the Kentucky Derby 2019
While there aren't any names like "Santa's Little Helper" or "Scabrous Bandicoot" this Derby's got a bunch of creative monikers you'll probably be stealing for Xbox Live.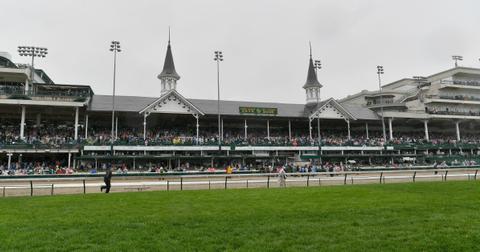 Tacitus
Vekoma
Plus Que Parfait
Roadster
By My Standards
Maximum Security
Game Winner
Code of Honor
Haikal
Improbable
War of Will
Long Range Toddy
Tax
Cutting Humor
Win Win Win
Country Horse
Gray Magician
Spinoff
Master Fencer
Bodexpress
What happened to Omaha Beach?
The top-ranked horse favored to win the Derby, who is coincidentally named after one of the beaches you're least likely to vacation at, ended up having to pull out of the race due to a breathing problem. Interesting to see that even animals get pre-race jitters. As much as it stinks that the thoroughbred won't be competing, better to keep the horsey nice and healthy instead of risking an injury.
2019 Kentucky Derby Odds and Positions
It's the 145th time horses will be gunning for a huge cash prize at the Kentucky Derby. This year, the pot's worth a whopping $1.86 million buckaroos.
Last year's winner, Bob Baffert, is taking his Hall of Fame training techniques to three horses this year: Game Winner, Roadster, and Improbable.
The favorite as of now is Game Winner, with a 9-2 payout, Roadster, and Improbable trail at 5-1 odds.
The rest of the horses odds are as follows:
War of will: 15-1
Tax: 20-1
Gray Magician: 50-1
Vekoma: 15-1
Maximum Security: 8-1
Tacitus: 8-1
Plus Que Parfait: 30-1
Cutting Humor: 30-1
Code of Honor: 12-1
Win Win Win: 15-1
Master Fencer: 50-1
Long Range Toddy: 30-1
Spinoff: 30-1
Country Horse: 30-1
Bodexpress: 30-1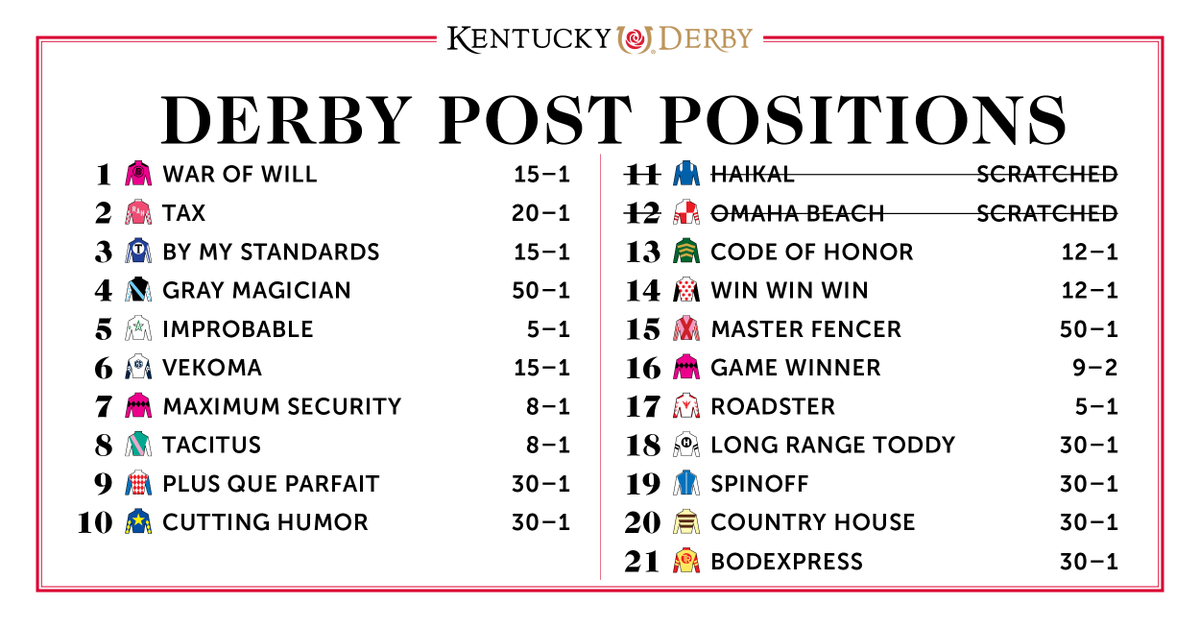 Betting on the Kentucky Derby
If you want to bet on horses online, the laws of online betting varies from state to state. If you're in a state that's got a casino that facilitates sports betting, you could always do that.
But there are also some legitimate sites that'll handle your money as well. The official betting site of the Kentucky Derby and backed by the race itself is TwinSpires. To learn more about it, you can check it out here.
As with any bet, the higher the odds, the more "likely" or bigger favorite the horse is to win the race. If you're dumping a lot of money on a "longshot" then you're taking a huge risk for a huge payout. Sorry to have to explain the concept of gambling to you, but I feel like this needs to be said for everyone ogling Master Fencer and Gray Magician, thinking they're going to drop a grand and then get 50 back in return. Sure, it could happen, but there's a reason they're 50-1 underdogs...errr...horses.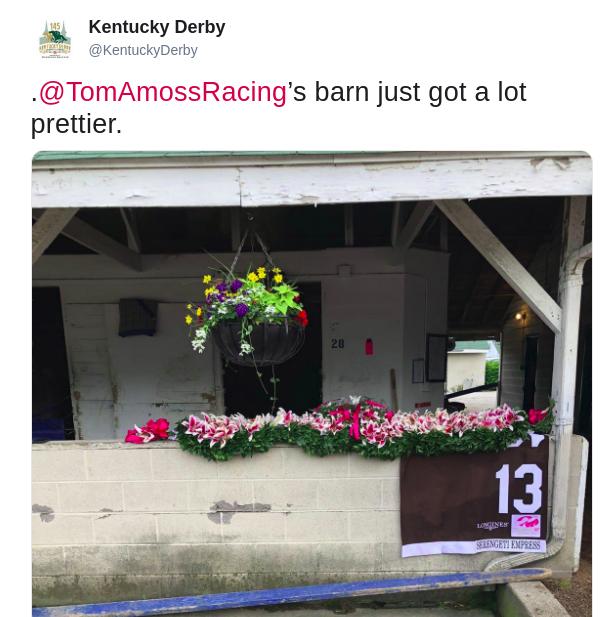 Watch the Kentucky Derby 2019
On Saturday, May 4th at 6:50pm EST, the Kentucky Derby will air live on NBC. Full coverage of the event is blocked off for five hours worth of air time however, from 2:30pm-7:30pm.
You can stream the event online as well by going to NBC Sports Live.