4-Year-Old Accidentally Kills Pet Goldfish After Bringing It to Bed for Snuggles
A young man is being branded as a real life Elvira from Tiny Toon Adventures after he got a little too handsy with his pet goldfish.
It's not uncommon for kids to want to cuddle with a toy or pet while they sleep. My son, no matter what, has a favorite toy that he has to bring in bed with him, no matter what.
Article continues below advertisement
I personally can't recall loving anything that wasn't a person so much that I wanted it in bed with me. Heck, even with people I can only cuddle for so long before I start overheating and kick my blanket off of me and start hating the world.
But my son and daughter can toss and turn, flip around, and end up with half their head off the bed, with a hard plastic dinosaur under their ribs and they wake up feeling energized and refreshed.
Kids will bring some very unconventional things to bed with them. I had this one friend in elementary school, who, before wearing a new pair of sneakers or shoes, would bring them to bed with him while they were still clean. So strange.
I thought I'd heard it all until I heard about Everett, who loved his pet fish so much that he wanted to bring it into bed with them.
Article continues below advertisement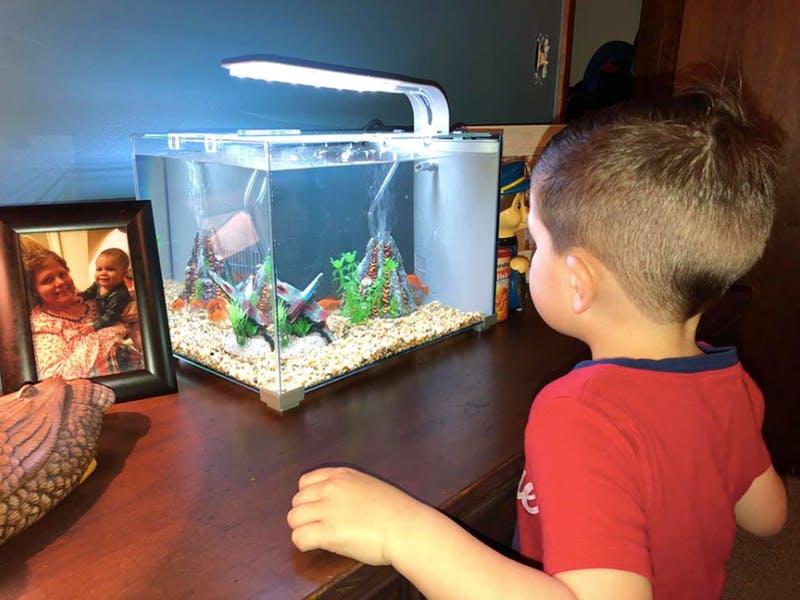 Everett was totally enamored with his scaly, swimming pal Nemo. The 4-year-old would stare at his fish tank and see Nemo swimming around. His mom, Tori Hamlin wrote on Facebook:
"He loved the goldfish. It's always been in his bedroom. He loved looking at it.
His tank had different colour lights so he loved looking at the different coloured light and picking out different things to put in the tank.
He's never tried to get it before it happened that night."
Article continues below advertisement
One night, while Everett was going to bed — probably staring at his fish tank from his mattress and feeling bad Nemo had no one to cuddle with — he got up, dunked his hands into the tank, and brought the slippery little guy to bed with him.
Tori and her husband, Corey woke up in the morning to find Everett like this (my son has the same exact pajamas).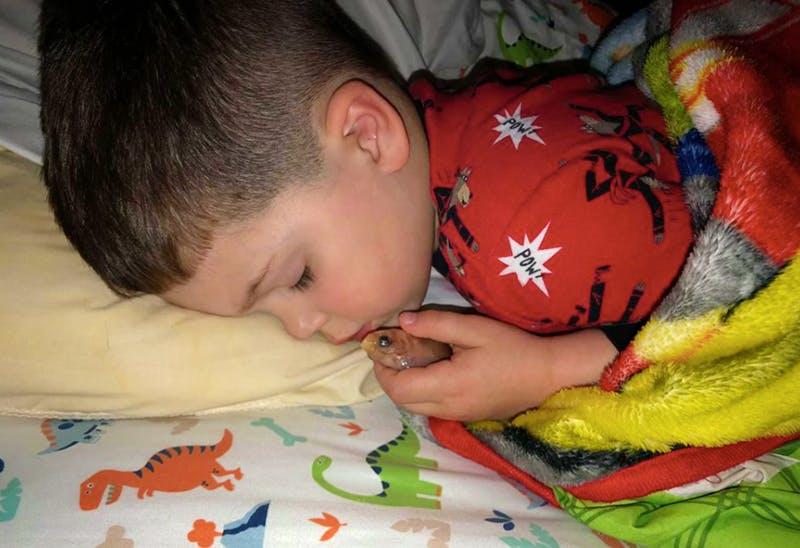 Article continues below advertisement
Tori and Corey had to explain to their little guy that fish can't live outside of water and, no matter how much we might love our finned pals, bringing them out into air for hugs is generally a very, very bad idea.
In an interview with the Daily Mail, Tori explained what is was like seeing her child snuggling a dead goldfish:
"I was shocked at first, but then when he said he just wanted to pet it I was thinking, oh my god, that's so sad. I didn't think it was funny that he killed it.
"He had no understanding of what he was doing. Honestly, I'm surprised he caught it. He's got some good skills there.
"Maybe the fish was just so used to seeing him that he was comfortable with him next to the tank."
Article continues below advertisement
When he saw Nemo was no longer moving, Everett kept stating his intention was only to pet his little friend:
"I just wanted to pet it.' So we were like, 'buddy, you killed your fish. Fish can't live out of water'.":
Article continues below advertisement
While initially devastated by the news, Everett managed to quickly recover from the traumatic event. "He was fine the next morning. When we asked him about it again he said, 'I just wanted to pet it'."
It seems Everett ultimately did learn his lesson, however. When Tori reiterated that touching pet fish was a bad idea, he had this to say to his mom:
"'That's alright. We'll have to get another fish and I won't touch it. I'm only allowed to touch fish when I go fishing'."
Nothing like a little bit of trauma to teach a kid a lesson.
Article continues below advertisement
The Hamlins have kept fish tanks for a long time. When Corey and Tori were engaged, they had 4 or 5 tanks between them, so when their son was growing up, they couldn't wait to give the little guy a pet fish of his own.
Although Nemo's life was cut short by Everett's well-intended hug session, he lived a pretty long life for a goldfish.
Article continues below advertisement
So long in fact, he had shed most of the orange color in his scales, a sign he was nearing the end of his days.
"We had that goldfish for so long that when we bought it he was orange and by the time he died he had outgrown all the orange," Tori said.
"Most people don't have goldfish for that long. We've always been big fish people. We take care of our fish. He lived a longer life than most goldfish."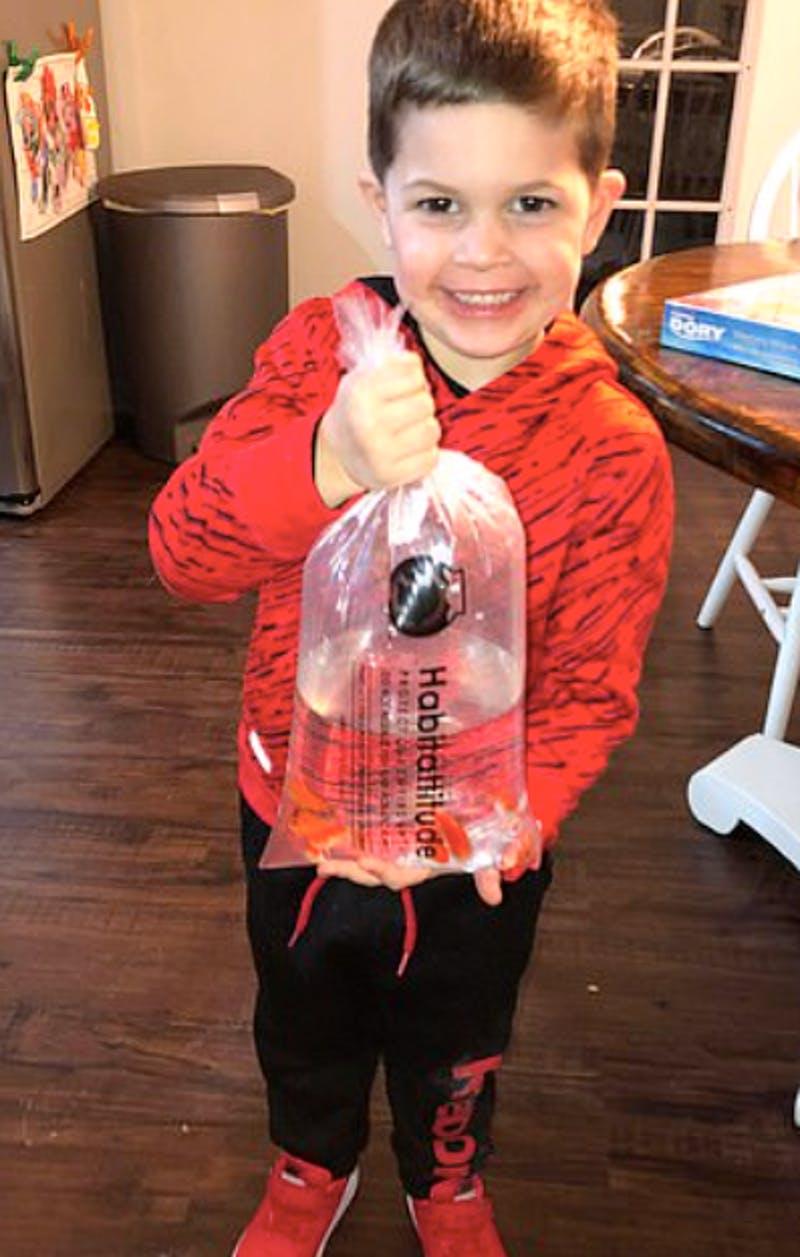 Although Tori received her fair share of criticism for sharing the death of the fish on social media, it seems the family is secure in their roles as pet caretakers and parents. They have several other fish who haven't been snuggled to death by a 4-year-old to back that up, too.