Kim Kardashian and North West's Joint Account TikTok Account Is Causing a Family Feud
Under their @KimAndNorth TikTok account, Kim Kardashian and daughter North West are posting joint videos. However, not everyone is happy with their account.
North West is following mom Kim Kardashian into social media fame. Kim, 41, and North, 8, launched a joint TikTok with a video on Thanksgiving Day, Thursday, Nov. 25.
Article continues below advertisement
"Me and my bestie. Managed by an adult," reads the bio for @KimAndNorth. Their profile photo, meanwhile, shows mother and daughter cuddling.
The account racked up thousands of followers on Thursday, People reports; but as of February 2022, the account boasts more than 5.6 million followers.
In her first TikTok, North West played around with aunt Kylie Jenner's skincare products.
Kim and North's debut TikTok on the account was a video they captioned "Spa day." In the clip, they played around with Kylie Skin products, offerings from Kylie Jenner's skincare line. (For those who don't keep up with the Kardashians, so to speak, Kylie is one of Kim's half-sisters.)
After posting that inaugural TikTok video, Kim shared the same video on Instagram, verifying the TikTok account.
Article continues below advertisement
In subsequent videos, Kim and North dance to Adele's "Easy on Me," show off their Thanksgiving decorations, try on various hats, and go for a golf kart ride.
Article continues below advertisement
North's cousin Penelope Disick also has a mother-daughter TikTok account.
Kim and North are following in the footsteps of Penelope Disick and her mom, Kourtney Kardashian, who is Kim's older sister. Penelope and Kourtney post videos under the handle @pandkourt.
"Account managed by an adult," that account's bio reads.
There is one family member who does not approve of the TikTok account — Kanye West.
In a recent Instagram post, the rapper formerly known as Kanye West wrote a scathing caption asking how to get his daughter's account taken off TikTok. "SINCE THIS IS MY FIRST DIVORCE I NEED TO KNOW WHAT I SHOULD DO ABOUT MY DAUGHTER BEING PUT ON TIK TOK AGAINST MY WILL?" He wrote in emphatic all-caps.
Article continues below advertisement
In response, Kim wrote a message and posted it to her Instagram stories, detailing how she feels Kanye's attitude toward her in the media has been less-than-helpful. She begins, "Kanye's constant attacks on me in interviews and on social media is actually more hurtful than any TikTok North might create.
Article continues below advertisement
Kim added, "As the parent who is the main provider and caregiver for our children, I am doing my best to protect our daughter while also allowing her to express her creativity in the medium that she wishes with adult supervision—because it brings her happiness."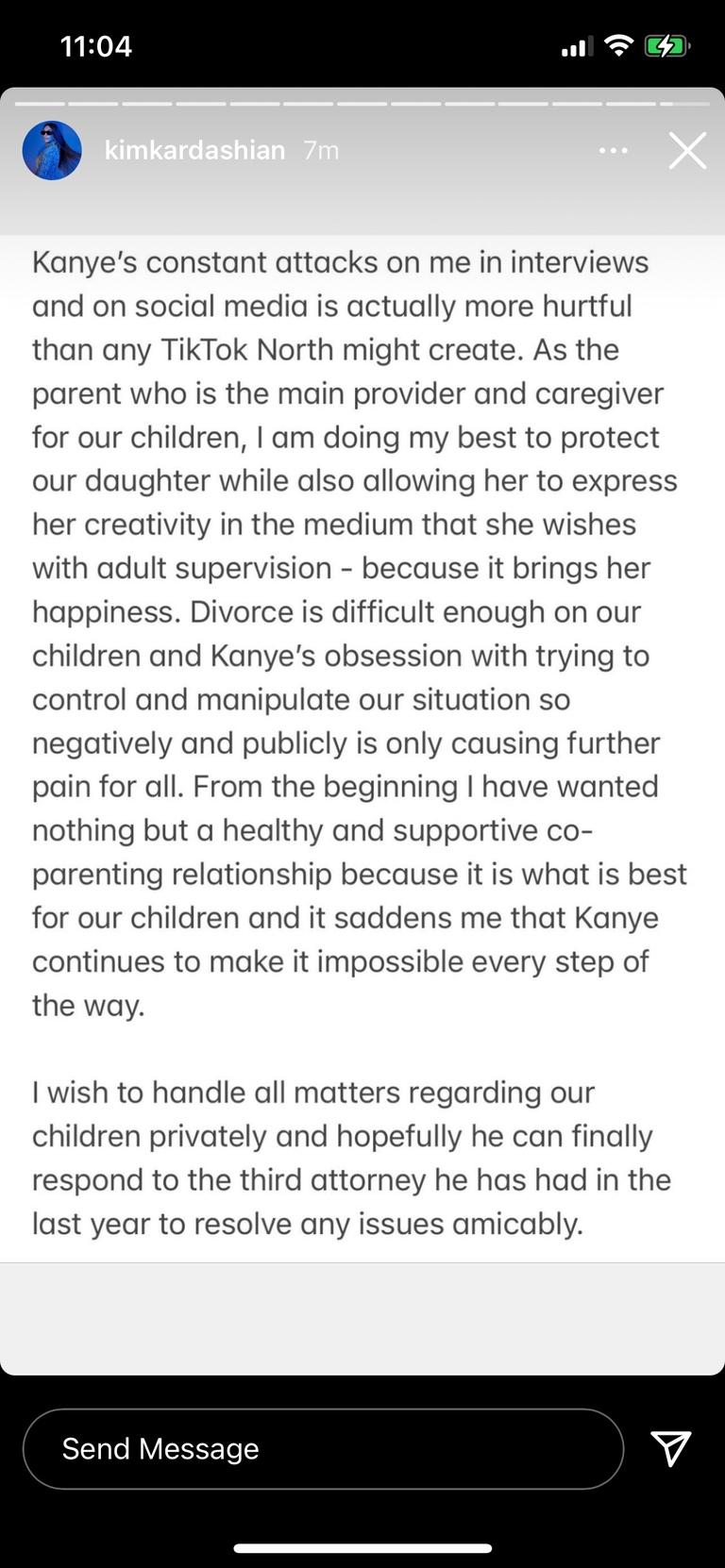 Article continues below advertisement
She continued, "Divorce is difficult enough on our children and Kanye's obsession with trying to control and manipulate our situation so negatively and publicly is only causing further pain for all. From the beginning I have wanted nothing but a healthy and supportive co-parenting relationship because it is what is best for our children and it saddens me that Kanye continues to make it impossible every step of the way."
Kim concludes, "I wish to handle all matters regarding our children privately and hopefully he can finally respond to the third attorney he has had in the last year to resolve any issues amicably."
Article continues below advertisement
Ye has since responded to Kim's message also via Instagram, writing, "What do you mean by main provider ? America saw you try to kid nap my daughter on her birthday by not providing the address You put security on me inside of the house to play with my son then accused me of stealing I had to take a drug test after Chicago's party cause you accused me of being on drugs Tracy Romulus stop manipulating Kim to be this way…"
In a dig aimed at Kim, Kanye also posted a screenshot of the TikTok user guidelines, which states that users under age 13 may not use the platform without supervision. Hopefully, both parties realize that their public feud could one day get back to their children and will take their matters private.