Kim Kardashian Reveals a Look Inside Her Fridge, Which Is Bigger Than Some NY Apartments
Somehow, a rumor started that Kim Kardashian only had milk and water in her fridge, so she took fans on a tour of her icebox to dispel that.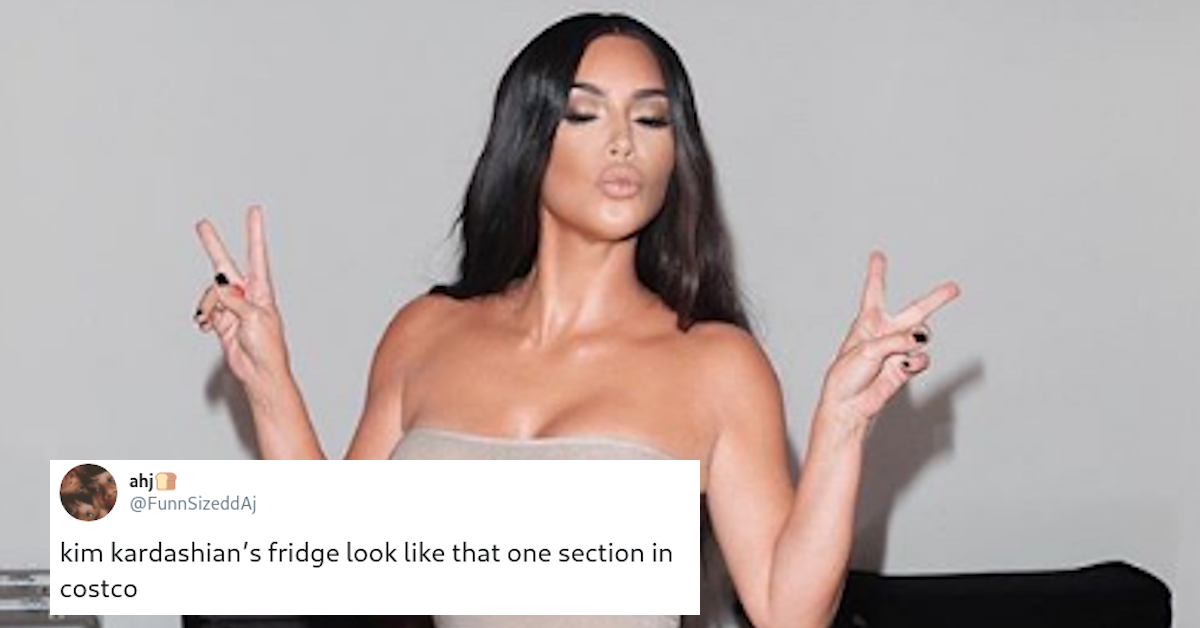 Celebrity worship is a tiresome activity and with it comes endless amounts of speculation as to how the human objects of our fascination go about their daily lives. The Kardashian/Jenner family have pretty much mastered the art of celebrity. So much so that they've transcended the need to cultivate any talents to make a living. And it's worked out really, really well for them.
Article continues below advertisement
So much so that "flexing and flossing" define the majority of their existences and Kim Kardashian isn't an exception. Just the process of her waking up in the morning, getting dressed, and eating breakfast probably involves spending more money than most people make in an entire month, depending on what she's wearing and what her beauty ritual is.
Kim, like the rest of her family has often been accused of being exceedingly self-absorbed.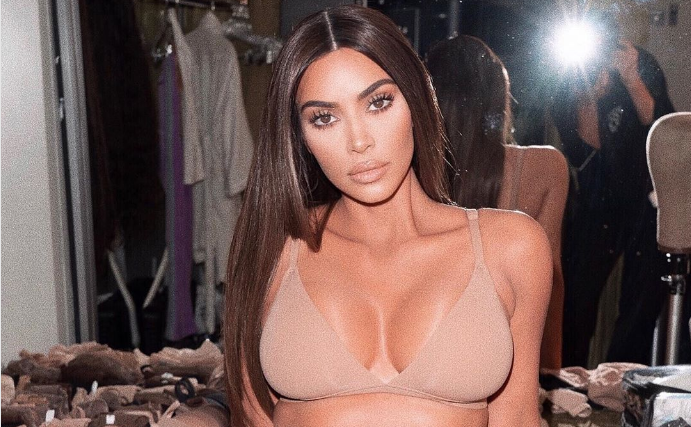 Article continues below advertisement
Which makes sense because self-absorption is kind of what the family's selling, which is why so many people are surprised and fascinated with the fact that the woman who helped kicked off her kin's journey to becoming collective billionaires from leaking a sex tape is a mother of four.
Motherhood is something that, at times, can be described as very un-glamorous. So how does someone as "glam" as Kim K. handle something as simple as messy as feeding her children?
It led to all types of speculation on the internet, especially when recent photos leaked of Kim and Kanye's spotless and extremely "open concept" home started making the rounds. There were rumors that she only kept milk and water in her fridge, because her house certainly didn't look like there were broken Cheerio bits and half-eaten bananas lurking in a dark toy chest recess somewhere.
Article continues below advertisement
Kim dispelled that myth on her Twitter with a more in-depth look at the inside of her refrigerator so people can see just how she feeds her kids:
"I saw a bunch of comments from people wondering how I feed my 4 children and since you guys are dying to know, here's a little peek inside our main fridge filled with lots of fruits and veggies!"
Article continues below advertisement
The "controversy" all started with her posing in front of a picture that just showed one of her refrigerators, and if you take a stroll through her Instagram stories, you'll see that the fame-hound has several fridges, freezers, and pantries, not to mention a massive kitchen manned by personal chefs. Look, if you had that same amount of money, you'd have a private cook, too.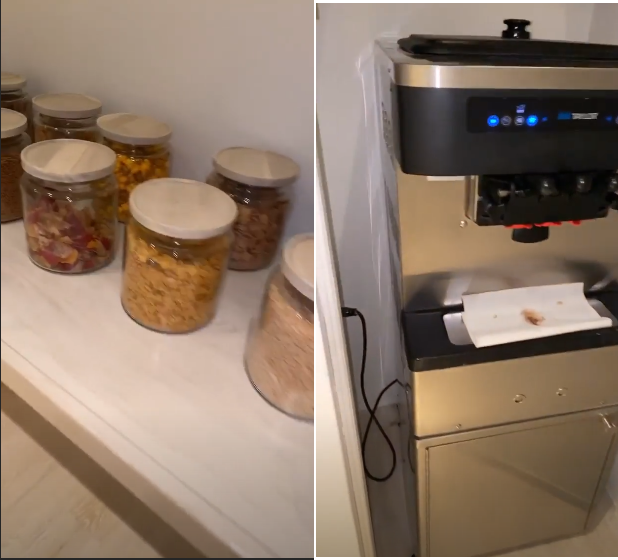 Article continues below advertisement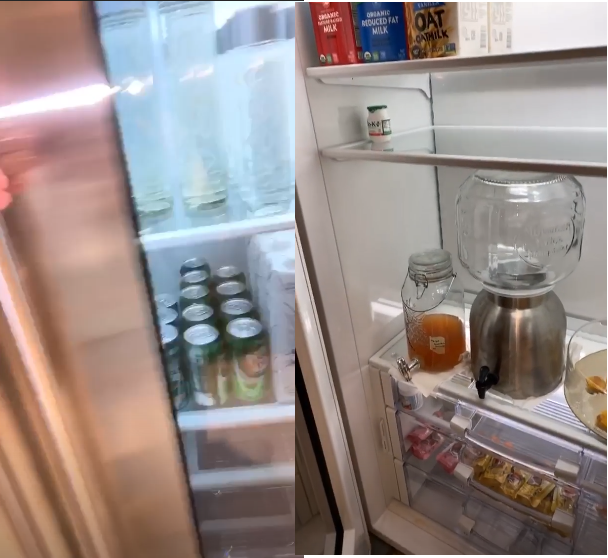 She first took viewers on a tour of one of her pantries where she showed off a bunch of glass sealing jars that hold various dry goods and toppings for her — wait for it — frozen yogurt machine. She then showed off the refrigerators she uses mostly for beverages and the different types of milk her kids all drink. But that wasn't the actual-actual refrigerator, just the one that led to people accusing her of only eating "air."
Article continues below advertisement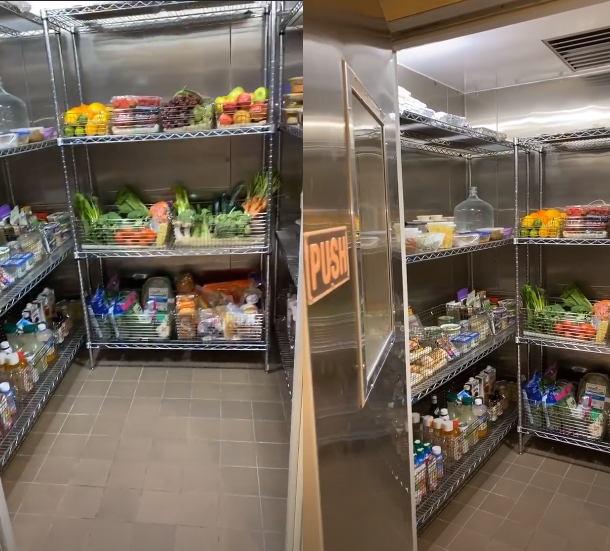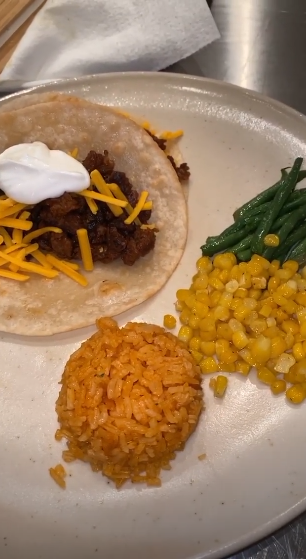 Article continues below advertisement
She then showed her adoring public what she was planning on eating for dinner - her chefs prepared a lovely meal of vegan tacos - everything on her plate was plant-based and organic, just like all of the food in her refrigerator. She also gave some in-depth looks at her other pantries and another freezer she seemingly forgot about. As well as her very roomy kitchen.
Obviously, after taking a gander at the sheer opulence and beauty of Kim's home culinary situation, Twitter erupted into a litany of impressed reactions.
Article continues below advertisement
Article continues below advertisement
Some said that if she did it as an attempt to relate more to people she created the opposite effect. Others were pointing out that her refrigerator seemed more like something out of Blast from the Past, the wonderful Alicia Silverstone, Brendan Fraser, and Christopher Walken flick.
Article continues below advertisement
Then there were those who just loved the fact she was rocking a professional grade frozen yogurt maker right in her pantry.
Article continues below advertisement
It's good to know that once humanity finds itself in any Doomsday scenario, Kim'll probably have a grand old time in her compound, slurping down froyo (with fixins) and enjoying a wide array of plant-based proteins. Must be nice.