Kim Kardashian Accused of Cultural Appropriation for Trying to Trademark 'Kimono'
Kim Kardashian cam under fire for trying to trademark the word "kimono" for her shapewear line. This isn't the first time she's been accused of cultural appropriation.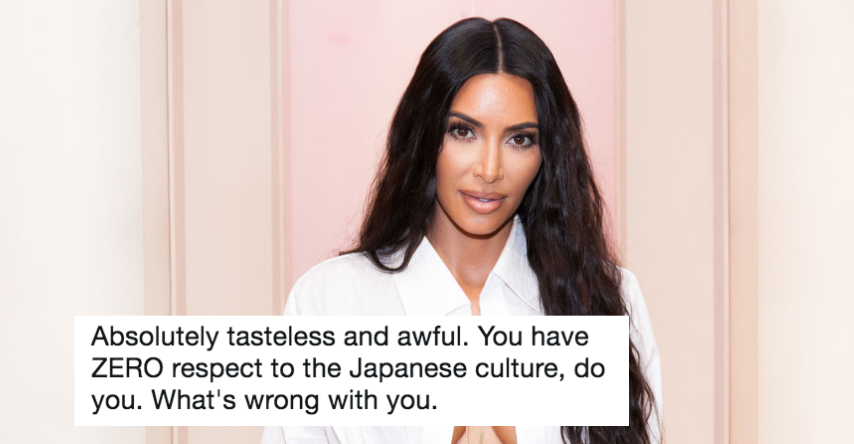 There is no denying that Kim Kardashian is used to criticism. Some of the harsh words about the reality TV star / business mogul are valid, and some are in bad faith. But her latest blunder offended a lot of people, and it became clear Kim really needs people around her who will say, "Hey, you maybe want to rethink this? Please?"
Article continues below advertisement
Kim seemed really excited to launch her new shapewear line on Tuesday, but it was met with immediate backlash. She tweeted out that this project has been 15 years in the making. And then, she revealed its name.
Article continues below advertisement
She named her line of underwear "Kimono." As in the traditional Japanese garment. Sure, it's a pun on Kim's name, but that's not an excuse to co-opt the word for a traditional garment from a culture to which you have no connection to brand the garments you're selling, which also have no connection to that culture.
As if using the word wasn't bad enough, it seems that Kim applied to trademark the word "Kimono" last April, according to the New York Post. "This year," the post wrote, "she's applied for a new kimono-phrase once a month since March, and twice in June, with trademarks pending for 'Kimono Body,' 'Kimono Solutionwear,' 'Kimono World,' and 'Kimono Intimates.'
Article continues below advertisement
If those trademarks are granted, it would allow her to ban Japanese companies from using the word "kimono" in America. At all. So not only is she appropriating the word to sell undergarments that have nothing to do with actual kimonos, but she might also prevent companies that sell actual kimonos from doing so in the United States.
That's all kinds of messed up, and the internet immediately let Kim know it.
Article continues below advertisement
Yuko Kato, BBC News Japanese editor, responded directly to Kim's tweet to let her know how culturally offensive it is for her to decide to use the word "kimono" to sell her shapewear. Yuko's tweet went nearly as viral as Kim's, garnering over 3,000 retweets and nearly 23,000 likes.
The feeling that Kim Kardashian was guilty of cultural appropriation in this case is pretty universal.
Article continues below advertisement
"Absolutely tasteless and awful," Twitter user @TrinityNYC wrote in response to Kim's tweet. "You have ZERO respect to the Japanese culture, do you. What's wrong with you. I'm from Japan. For us, Kimono represents the beauty and elegance of the country's tradition. Your spandex underwear brand has nothing to do with it. I'm offended."
Japanese women on Twitter started sharing photos of themselves wearing traditional kimonos to educate Kim and others about what the word actually refers to.
The wave of criticism spurred the creation of the bitingly clever hashtag "#KimOhNo," which pretty much sums up this whole debacle.
Article continues below advertisement
This is such a good point. Marketing underwear as "Kimono" is like marketing underwear as "Prom Dresses." It's as nonsensical and inappropriate, with an added layer of cultural appropriation.
If you're an avid follower of Kim Kardashian news, or honestly, even if you're not, you're probably aware that this is not the first time she's been accused of something like this.
Article continues below advertisement
In early 2018, she was criticized for her "Bo Derek braids," which were actually Fulani braids, also known as cornrows, because she was seen as appropriating black culture. She has been accused of blackface and of appropriating Indian culture when she wore a traditional headpiece that Indian women wear at their weddings.
It doesn't seem like Kim Kardashian is learning from her mistakes or even really hearing the people who are criticizing her, even when the criticism is coming from pretty much everyone.