"Going to Take That Out Your Last Paycheck" — Laid off Worker Smashes Work Laptop in Protest
A laid off employee vented her frustrations online by recording herself smashing her work laptop to the ground.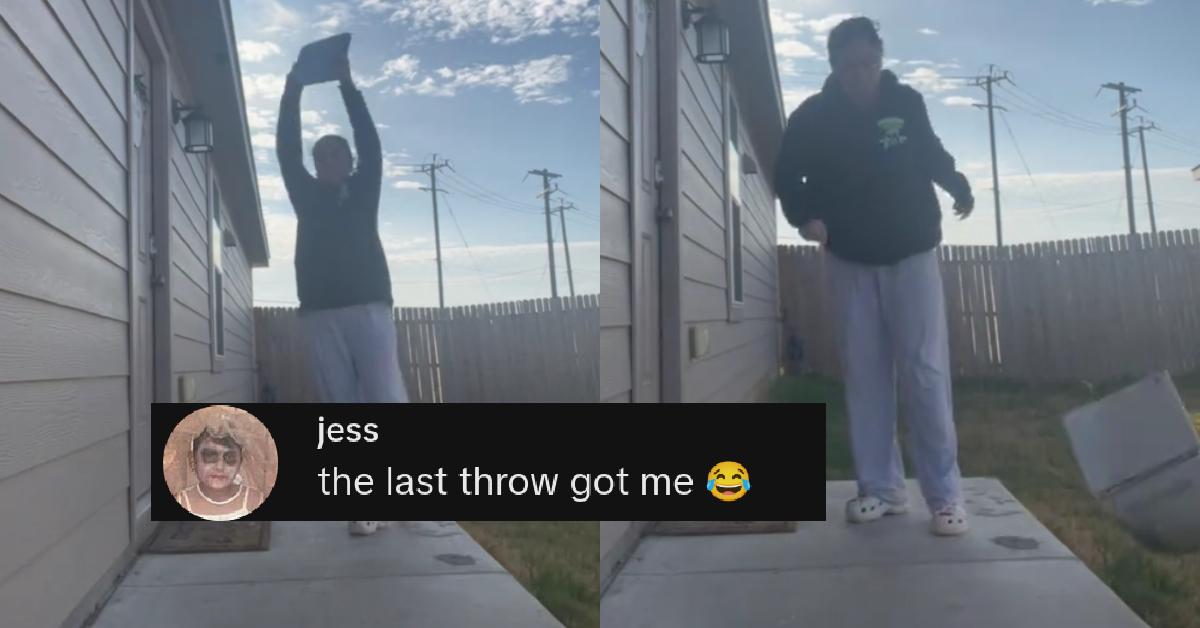 In January of 2023, there were massive numbers of tech layoffs across numerous high-profile companies like Google, Meta, Amazon, Microsoft, Dell, Spotify, Twitter, and Salesforce, including many others.
Article continues below advertisement
As a result, throngs of people were left out of work and frustrated, especially folks who, during the pandemic, engaged in the "Great Resignation" in the hopes of securing better employment pastures...only for many of them to regret their decisions after they found themselves out of work.
One TikToker, Lyss (@lyssg717), wasn't in this position, however, and was upset to discover that the first job she got out of college and had been with for three years decided to lay her off in spite of achieving $50 billion in sales the previous year.
Article continues below advertisement
She decided to vent about it on social media, but not in a tearful post, but rather by recording herself destroying her work laptop, smashing it repeatedly to the ground outdoors.
Article continues below advertisement
"Pov: you're watching me react to getting laid off by a company who made 50 billion in sales last year," Lyss writes in a text overlay in her video that shows her lifting a laptop way above her head and then slamming it onto concrete.
The video then transitions to a smash cut of her standing up on her toes only to throw the laptop on the ground yet again, pieces of the computer spiraling across the pavement. She does it once more before a final image of the laptop launching across the ground and slamming into the side of the house closes out the video.
Article continues below advertisement
In a caption for the video she further clarifies how she feels about the company that fired her, writing: "I think the laptop was more than a fair trade #ihatecapitalism"

Article continues below advertisement
Someone else in the comments section wanted to know how long she was working there that her firing elicited that strong of a response, they wrote: "How long did you work there?" to which Lyss responded: "3 yrs it was my first job out of college"
Article continues below advertisement
While another TikTok user thought the action was "more than fair," there were some folks who didn't think that it was necessarily the smartest move to make, like one individual who wrote: "They are going to take that out your last paycheck, that was silly"

Article continues below advertisement
However, Lyss says that she had already received her last paycheck from the company, but didn't rule out the possibility that they would send her an invoice for not returning the laptop after the fact: "My last paycheck has already been processed unless they're sending me a bill"
Other folks had more subtle ways of getting back at their own companies for firing them, like one person who penned: "I just soaked it in water...and dried and put it back in the box..."
Article continues below advertisement
And there was one TikToker who said that they kept some of the equipment from their job as a form of "payback" for getting canned: "I kept my monitors and docking stations I'm getting something out of it"

Article continues below advertisement
From the sound of Lyss' response, it seems like she made sure to keep something for herself on her way out as well: "Yeah I have more office supplies but I needed to let out a little frustration"
Others offered up other helpful ways to get out of paying any potential bills that might come in the mail: "Just say someone stole your laptop out of your car. Gotchu"
This video evidence doesn't seem like it'll help though, here's hoping someone at the company didn't catch it. Either that or Lyss could just outright refuse to pay it and hope that the company forgets about it.