TikTok Hack Shows You How to Get Up to $1,550 if an Airline Bumps You From a Flight
Erika Kullberg posts plenty of money saving tips and tricks on social media, and folks are saying her flight-bump payout actually works.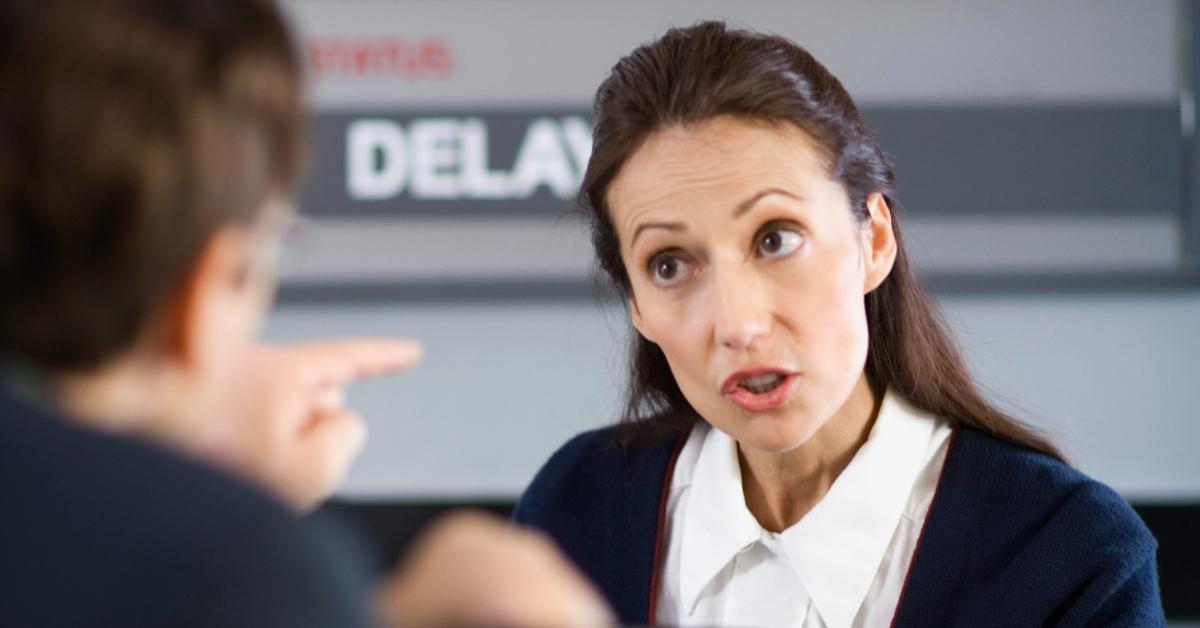 It's not difficult to get frustrated with airline companies. They charge exorbitant premiums just so you can have the privilege of getting a refund on a flight, nickel, and dime you when it comes to checking luggage, and structure their on-board seating arrangements in such a tortuous way that calling economy chairs "cramped" would be a generous description of their comfort level.
Article continues below advertisement
And that only has to do with the actual in-flight experience, this doesn't even account for all of the weird rules when it comes to ticketing and boarding an airplane. That's because airlines can seemingly delay or cancel a flight whenever they feel like it, and they often make getting your money back or re-booking another flight a complete and total hassle.
However, the US Department of Transportation has some clear laws when it comes to the nature of airline travel, and not all folks are privy to these laws. The fact is, depending on the circumstances of when and how your flight's been delayed or canceled, or if an airline provider forced you off of a flight, you could receive compensation.
Something that Erika Kullberg (@erikakullberg) delineated in a viral TikTok.
Article continues below advertisement
The social media personality also goes by Money Lawyer Erika and is quick to share tidbits of information when it comes to money-saving tips, tricks, and hacks, along with common situations where you may be entitled to compensation.
Article continues below advertisement

In many of her clips, including this one that involves getting compensated in a situation where you're bumped from a flight, Erika shares the exact verbiage one should reference in these situations to help get them paid.
Article continues below advertisement

In this video, like others that she shares, Erika acts out a sketch where she plays the part of the consumer and the customer service rep from the business/entity that may need to cough up some additional dough on top of a refund.
Article continues below advertisement
The clip goes as follows:
"Customer: Hi it looks like you bumped me from this flight that I was supposed to be on?
Rep: Yeah we overbooked it. Basically we sold more tickets than seats on the plane and to our surprise everyone showed up.
C: What can be done?
R: We'll try to get you on the next flight in a few hours but there's nothing else I can do, sorry."

Article continues below advertisement
At this point in the conversation, Erika says a bit of knowledge about how airlines operate in scenarios like this would go a long way. Unfortunately, the practice of airlines "overbooking" seats is very real, so one can only imagine there are scenarios where folks book non-refundable seats that they cannot make for one reason or another, meaning that airlines are making money on a seat that was unfilled that got sold to another passenger.
This means that there could be a number of seats on an airplane at any given time that was paid for two times over. And given the fact that the price of airplane seats varies from day to day, if someone purchased a last-minute seat that freed up, airlines could be making bank.
Article continues below advertisement

So if they're making money off of overbooking flights, why shouldn't they be compensating someone who purchased a ticket and has to now change all of their plans as a result of the airline's business decisions?
Article continues below advertisement
Erika goes on to look into the camera and directly address the audience, stating: "She has no idea I follow Erika - watch this."
"C: Actually I've read the terms this is called 'involuntary denied boarding and in this case I'm eligible for compensation.
R: OK, how much money do you want?
C: Well it depends when's the next flight you can get me on?"

Article continues below advertisement
The duration someone has to wait for another flight matters greatly in these instances, as Erika delineates in her video.
"R: It leaves in 3 hours.
C: According to the Department of Transportation, since the next flight you can get me on results in over a two-hour delay, I'm entitled to 4x the cost of my one-way fare. I paid $250 for my one-way fare so that'll be $1,000."
"R: Ugh fine we'll get you your $1,000 and I'll book you on the next flight. Who taught you this?
C: Erika did! She's a lawyer and she reads the fine print so I don't have to. That's why I follow her!"
Article continues below advertisement

While the last bit is certainly a branded message, and one of Erika's trademark phrases, there are tons of folks who responded to her video who say that they've gotten paid after being bumped from an oversold flight.
Article continues below advertisement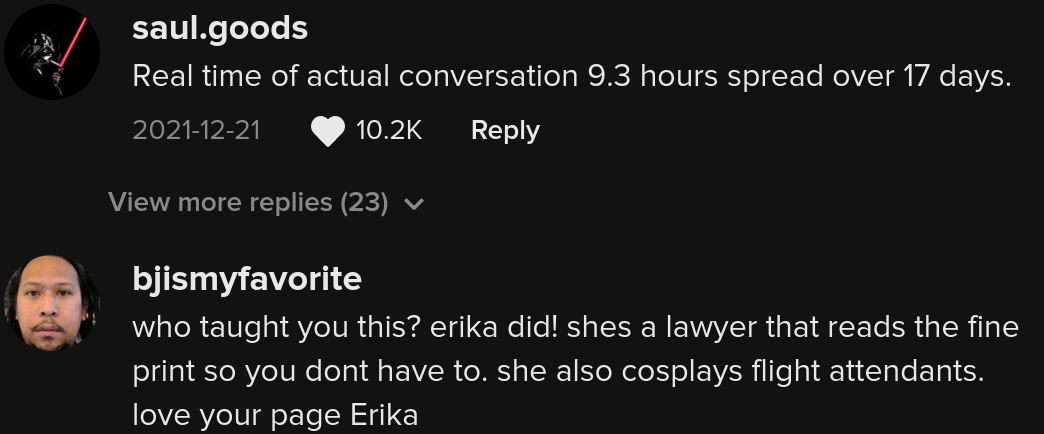 Have you ever been bumped from a flight? Will you be trying any of these techniques? Sure, you'll have to wait in line in order to speak to a flight attendant at the airport, and you may have to jump through some hoops later on and communicate over email, online chat, and a slew of phone calls while you wait on hold, but if you can earn up to $1,550 (as the Dept. of transportation has a limit on what you can get paid per one-way fare) it's worth it, no?