Don't Know What to Say When Asked About Gaps in Your Resume? — Try This
If you're tired of interviews with potential employers who mind the gap in your resume, trot out this little white lie next time you have to respond.
For many people, interviewing for a job can be one of the most demeaning experiences we as human beings are forced to suffer through. Essentially you sit in front of someone who holds your entire financial stability in their hands, as they rip apart a percentage of your life choices. Where did you go to school and what if you didn't? Where do you see yourself in five years? Probably five degrees warmer if the Earth has anything to say about it.
Article continues below advertisement
And of course there is the dreaded gap in one's resume. Regardless of why you were out of work, potential employers find it necessary to get all the possibly gory details about your unemployment. Thankfully, good advice on what to say is out there. Grant, one half of the Well, I Laughed podcast, gifted us with the perfect response during an episode of the pod. Why didn't we think of this? Mind the gap, and let's press on.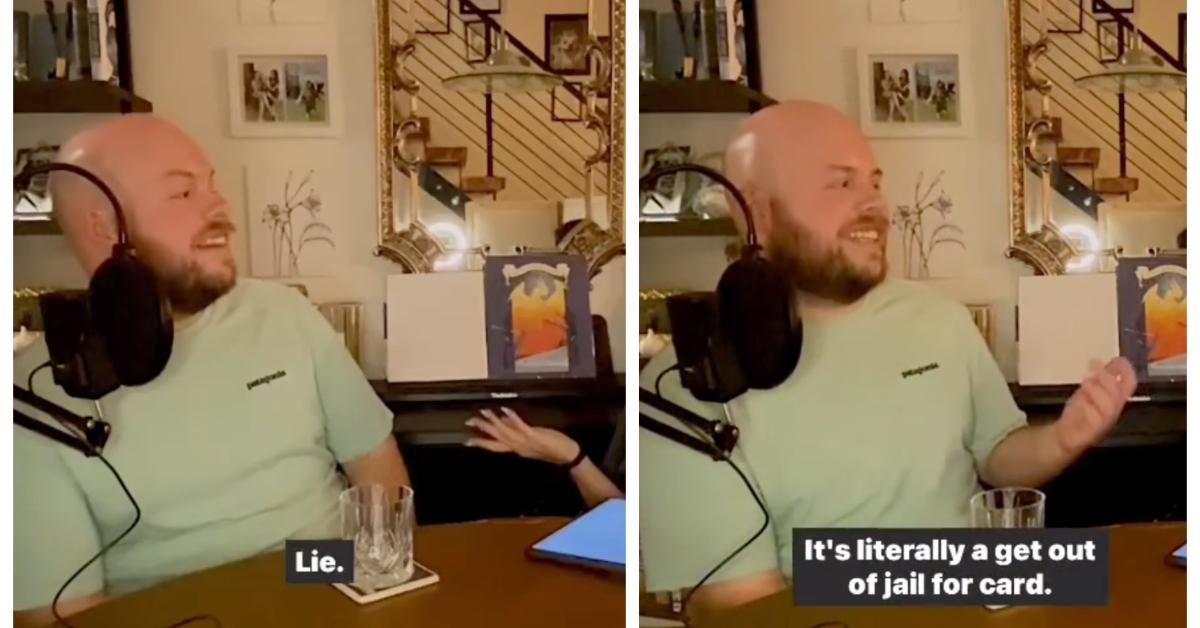 Article continues below advertisement
Here's what to say when asked about a gap in your resume. Fall into his gap!
In a TikTok featuring a clip of the Well, I Laughed podcast, Grant shakes us to our cores with a truly incredible answer to this insufferable interview question. "If anyone's like, 'Can you explain this gap on your resume?' you know what you have to say, right?" Like all of us, his co-host Maia does not. "Say, 'No, I cannot. I signed an NDA.'"
We have finally found a legitimate reason to have an NDA, real or otherwise, and it's to lie to a future employer. "The system was never built for us. So stop working for it," explains Grant. "Lie, I don't know what else to tell you." The advice buck doesn't stop here.
Article continues below advertisement
Have you ever been asked for references? Grant has you covered. "Put your three best friends as your references." If you're worried their insane hotmail accounts from 2003 won't look professional enough, fake an email account, says Grant. "It's so easy."
Article continues below advertisement
Things start to take a slightly more questionable turn with this next suggestion, but we're still all in. "You can Google docs edit a pay stub, OK?" Why not, we've come this far. "None of this is permanent," he says. We love an existential justification for engaging in shady behavior!
Article continues below advertisement
Folks on social media are 100 percent behind Grant.
People in the replies were blown away by Grant's suggestions and apparently plan on using them in future interviews. A few folks added some of their own. "I also heard you can enter a name of a company that closed. No one would be able to verify your employment," replied one TikTok user.
A couple of people suggested telling an interviewer that you were taking care of a sick relative, hence the gap in the resume. Of course if you're superstitious, you'll avoid this because it could end up jinxing a family member.
Article continues below advertisement
Could this NDA fib actually work? Yes, says @johndoe_tiks_his_toks. "On a serious note, as someone who has been required to sign several actual NDAs for all my jobs, this is absolutely true." Who wouldn't believe a man by the name of John Doe, the most trustworthy of names?
Article continues below advertisement
How often do people lie on their resumes?
According to CNBC, "55 percent of Americans have lied on their resume at least once, according to a recent [2022] survey from StandOutCV, which surveyed 1,785 Americans 18 or older who were employed between Oct. 12 and Oct. 26." People are also Googling how to fake a resume which tells us these people aren't watching enough true-crime documentaries. The search history is always a clue.
What are people lying about the most? Previous work experience comes in at number 1, which would include a gap in one's resume. Below that is skills, followed by education, and personal details such as age.
We're definitely sticking with Grant's core message which is, nothing is permanent. As long as it's not illegal, who cares. If you're confident you can do a job, but know you might not get it for insanely arbitrary reasons: pad the resume! Make it nice and thicc.