Life Coach Tells Job Seekers to "Just Lie" During Interviews — "There's No Way for Them to Verify"
A life coach who posts motivational advice online suggested that job seekers lie in their interviews, especially in response to this one question.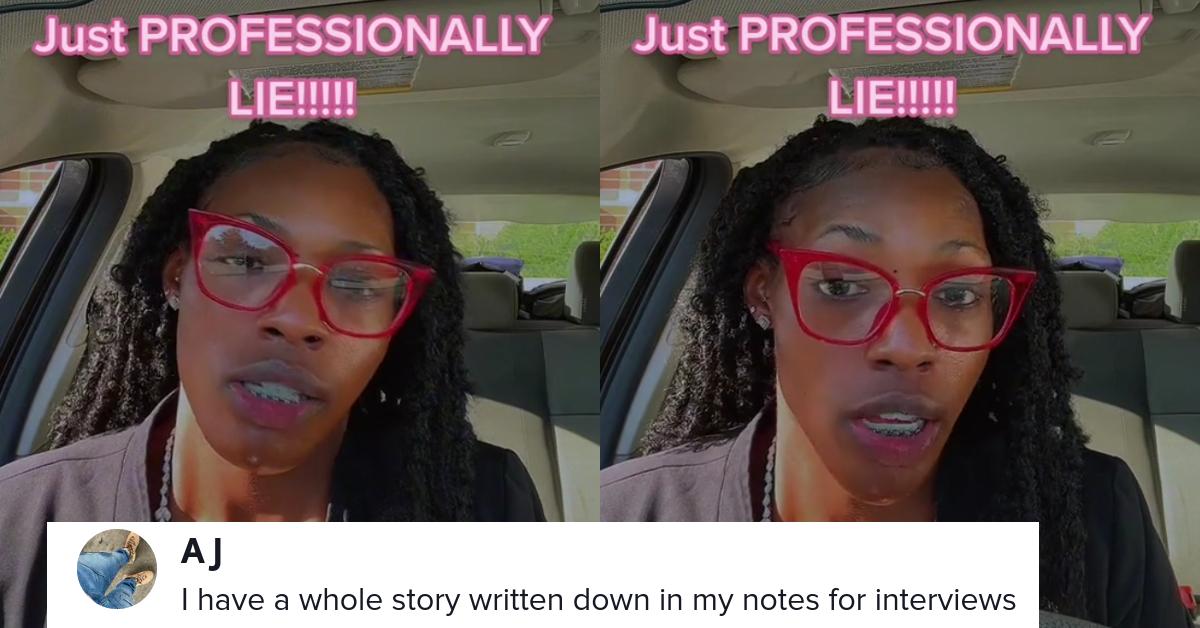 If you've been on a few job interviews, the questions start to feel the same. From "where do you see yourself in five years?" to "what is your biggest weakness?" we've probably heard them all at this point. And, if you haven't, there are tons of resources online you can check out to prepare for your interview beforehand.
Article continues below advertisement
Another common question interviewers ask during these auditions — let's be honest, that's what they are — is more of a prompt than a question: "tell me about a time you encountered a challenge at one of your previous positions and how you handled it."
You're going to want to stand out as a candidate, so if you've had a pretty uneventful past few jobs, then you more than likely won't have a lot to talk about that's going to make the interviewer remember you. By that same token, coming up with a story about how you saved the CEO's family from a terrorist threat probably won't fly, either. Unless, you know, that actually happened.
Article continues below advertisement
So what are you supposed to do? Well, according to life coach and TikToker Tashe' Gray, you should just lie. "When an employer asks, 'what's an obstacle you have faced and what you did to overcome it?' You could tell the truth or you could just lie," she says at the beginning of a now-viral clip.
Article continues below advertisement
She continued, "Just lie. There's no way for them to verify the story at all. All you have to do: number one, the obstacle that you name, you better make sure it's a juicy one. Make sure it's a very interesting obstacle. Number two: speak clearly, don't stumble. You need to know the words that you are going to speak before you speak them."

Article continues below advertisement
One can argue that lying in this circumstance is just communicating how you would act in a situation you haven't encountered yet. Job interviews and auditions are basically about presenting yourself a certain way and conveying that you have every intention of living up to the image you've projected in that interview.

Article continues below advertisement
Then, when you're in a high-pressure situation on the job, you can think back to that interview and make those lies a reality. Boom, audition fulfilled and in some instances, surpassed.

Article continues below advertisement
Users who saw Tashe's post were conflicted about the advice, though. Some remarked that lying can come back to bite someone in the behind. What if they get the job and then they ended up at a work function where that particular story came up around a friend or family member who knows it's BS? Seems unlikely, but stranger things have happened.

Article continues below advertisement
"U feel good about that? What if they mention it at a outing u bring a family member to," one commenter asked. "No lies no good."
Some felt more comfortable embellishing the truth. "I'm bad at lying lol I just tell a real story but over emphasize it lol"
Others said they feared their inefficacy at lying would ultimately betray them during the interview and they would fumble the bag.

Article continues below advertisement
"This is why I can't lie tho bc I would definitely stumble," said another.
However, many others said they routinely lie in job interviews and highly recommend others do so as well.

Article continues below advertisement
"I have a whole story written down in my notes for interviews," one commenter said. That may only work for video interviews, but it's not a bad tip.
"I ALWAYS LIE!!" another person admitted. "Girl I write down EVERYTHING like a damn movie script study it & do a lil freestyle on the spot but the same story line."
Here's someone with real upper management potential: "My last interview I just told them everything my boss did and said I did it"

Article continues below advertisement
Som people who work as recruiters even said they didn't care whether potential candidates lied, as long as their answers demonstrate they can understand the concept of problem-solving under pressure.
What do you think? Have you fibbed or fudged the truth a little bit during a job interview? Do you think it's normal to do so and want to just put your best foot forward? Are you like the recruiter in the comments section who believes that there's nothing wrong with lying as long as it's for the right reason? Or do you think that a lie is a lie no matter what?