Figure out Your Lip Shape With TikTok's Lip Chart Trend Sweeping the App
TikTok users have started sharing videos depicting different lip shapes and now others want to know what the Lip Chart trend is and how to do it.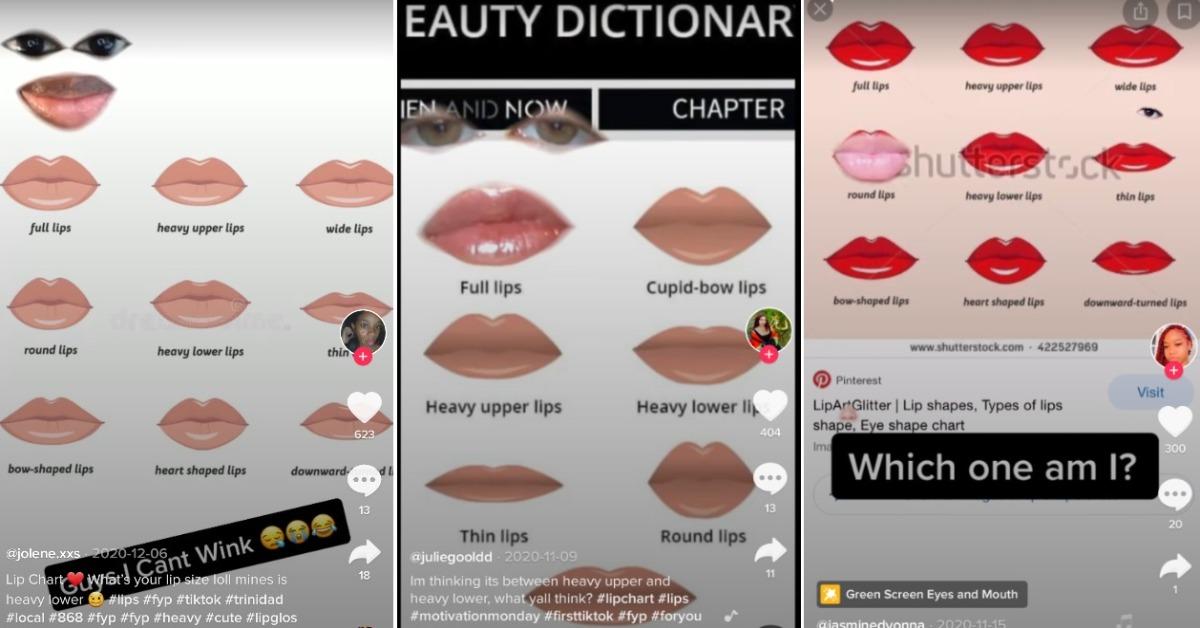 There are few things that make you feel like altering the way you look more than social media, or, more specifically, TikTok. With so many influencers enhancing their faces with fillers and filters, it's hard not to want to emulate them. Luckily, the Lip Chart trend on TikTok is more about appreciating what you already have, and you really can't be mad at that.
Article continues below advertisement
A ton of users started sharing videos in which they displayed a chart and several different kinds of lips. They then figured out their own lip shape thanks to a Snapchat filter and, naturally, other TikTok users are dying to know how to do it themselves. It's not really a challenge as much as it is a fun trend to jump on, so there's virtually no harm in figuring out how to do it yourself.

Article continues below advertisement
What is the Lip Chart trend on TikTok?
The trend itself involves using a chart of different shapes of lips and overlaying your own on top of them to figure out which shape yours are. They range from thin or round to heart-shaped or with a heavy lower lip. In some cases, it might help people feel better about having a pout they were otherwise not too happy with.
There was once a similar trend involving figuring out the shape of your eyes. And, like the Lip Chart trend, the Eye Chart trend had the same idea. In this case, it might also make you feel the need to change up your look, depending on what lips the chart says you have. But when it comes down to it, it's really all in good fun.
Article continues below advertisement
How do you do TikTok's Lip Chart trend?
To do the Lip Chart trend on TikTok, you don't necessarily need a TikTok filter. There is a filter called 'Green Screen Eyes and Mouth,' but some users have used the one from Snapchat instead. Either way, you will need to find a lip chart on Google and save it to your camera roll. You can simply search 'lip chart' in Google Images and there are tons to choose from. Then, with Snapchat, find the filter called 'Eyes and mouth.'
Article continues below advertisement
Bring up the lip chart you found on Google and, with the filter in use, you can move your eyes and lips over each mouth in the photo to figure out what lips you have from the chart. Then, make a video of that and save it to your device. Now, open TikTok and upload that video. You can add a fun song to go with it or your own commentary on how happy or unhappy you are with the result.
It's different from the lip filler filter people were using on TikTok.
There was once a time when TikTok users also got a kick out of using the 'Modern Ideal' filter on Instagram to share TikTok videos of what they would look like with bigger lips. The Lip Chart trend is more about figuring out which lips you do have rather than plastering on fake ones for the sake of entertainment.
But like all things on TikTok, it's also something else to get lost in.