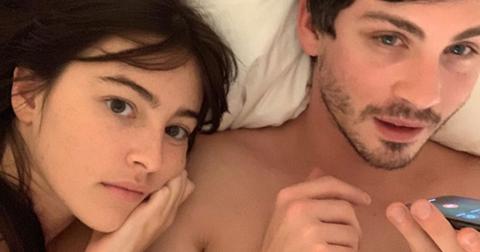 Sorry, Everyone — Silver Fox Logan Lerman Is Taken
By Katie Garrity

Updated
Here's a name you probably wouldn't expect to be trending during such a tumultuous time in our country: Logan Lerman. Yes, the Percy Jackson and The Perks of Being a Wallflower star, Logan Lerman, is going viral because of a recent photo that was taken of him.
The 28-year-old actor appears to have salt and pepper hair now and his fans are going wild for his new look. Logan's girlfriend, Ana Corrigan, shared the photo on her Instagram Story in which Logan's long dark hair is streaked with strands of silver. Soon, fans were feverishly commenting about his new look. One Twitter user wrote, "gray hair logan lerman is the only thing that exists in my brain now."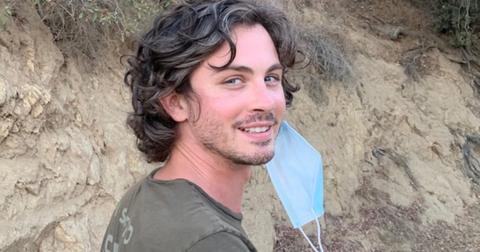 So, who is the person behind the camera who took the infamous photo? Let's meet Logan Lerman's girlfriend, Analusia Corrigan.
Analuisa Corrigan is a New York-based artist who generally works in ceramic art.
Analuisa Corrigan is a New York-based artist who generally works in ceramic art. She shares much of her work on her Instagram page. She graduated with a BFA in Communication Designs from Parsons, The New School of Design. In addition to her degree, she also studied Graphic Designing at Santa Barbara City College. At the moment, Analuisa works as a Freelance Graphic Designer at Hello Alfred.
Unfortunately, Ana lost her father, Edward Joseph Corrigan in 2014. He worked as a Technical Director at Alvin Ailey American Dance Theater. She is an only child and continually posts about the memory of her dad and how much he meant to her.
In an Instagram post, she shared a handwritten note from her father and wrote, "After my dad passed i found these notes, along with others, amongst his stuff. He loved chilis (me) and I loved him. Go hug, kiss, call, text, write notes to, be with and love your dad today if you can."
Ana and Logan started quarantining together at the beginning of the COVID-19 pandemic.
In April 2020, Logan posted some photos of himself, Ana, and their dog with the caption, "We in here." A few weeks earlier, Ana posted a birthday tribute to Logan with several photos of the couple. She wrote, "Happy logie day."
Logan and Ana haven't spoken much about each other in the press, but their relationship seems pretty serious from the looks of Instagram.
Before he was with Ana, Logan was engaged to his co-star, Alexandra Daddario.
Before getting serious with Ana, Logan was allegedly once in a relationship with his Percy Jackson co-star, Alexandra Daddario. According to CelebSuburb, the two were on-off for several years before Logan proposed to the Baywatch actress. They did end up getting engaged in 2016 but eventually, they called it off.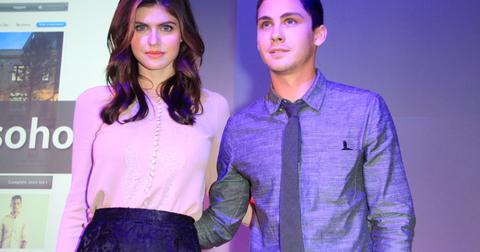 He was also rumored to have dated the daughter of the late Kurt Cobain, Frances Bean Cobain. Though both Logan and Frances never mentioned their relationship, tabloids exclusively confirmed they were an item.