'Make Women Great Again' Conference Run by Men Promises to Restore Concept of the 'Ideal Woman'
A 3-day convention that promises to "make women great again" is completely organized and run by men who claim a woman's purpose is to have "unlimited babies."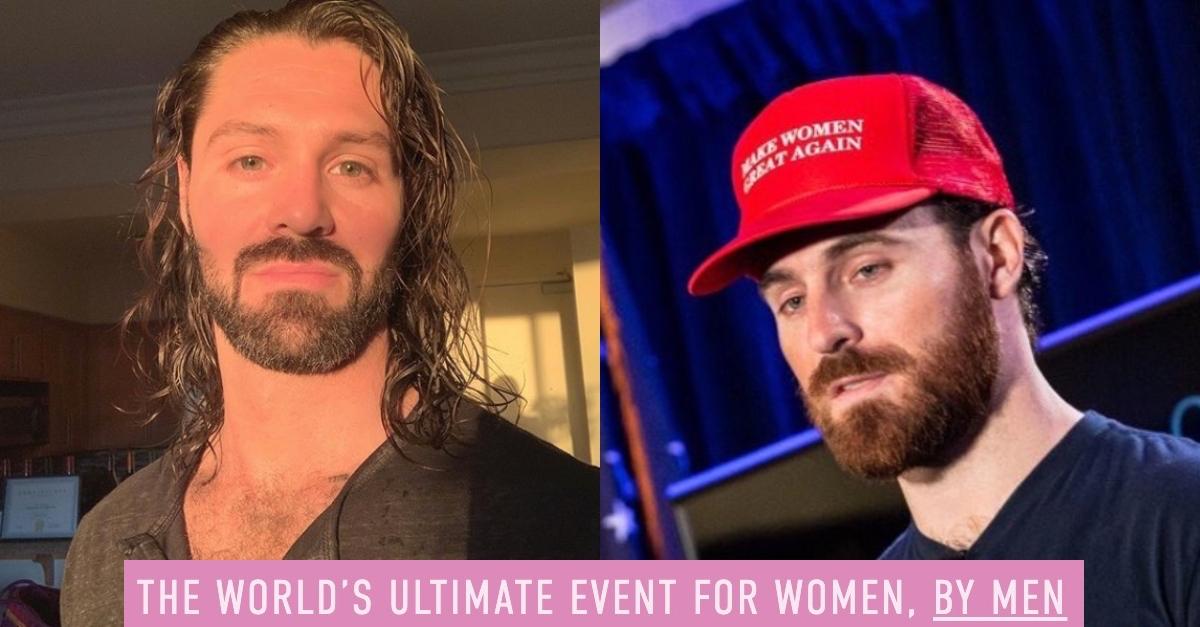 Women everywhere, hold onto your boobs because this is going to be a bumpy ride. The 22 Convention is a brand new 3-day conference taking place in Orlando, Florida that you can currently purchase tickets for. It is chock full of guest speakers — all male — who intend to "make women great again" by teaching them how to get fit, have "unlimited babies," and reject "unhealthy militant feminism."
Article continues below advertisement
I don't know about you, but my feminism is getting more and more militant with every word of this article. The conference is being hosted by 21 Studios, which was founded by Anthony Dream Johnson, a man who, just two hours before the writing of this article, tweeted, "Feminists are the new KKK."
It will take place at the same time as the 21 Convention, which is geared toward men and promotes a "pro-father, pro-man, pro-masculinity" set of beliefs. Tickets to the 22 Convention, which promises to consist only of harmful, regressive notions of femininity and womanhood, cost $2,000. Each.
Article continues below advertisement
The conference's website calls it "The World's Ultimate Event for Women, By Men." Big bold letters claim it is "destined to be the mansplaining event of the century."
"Women today are being taught to act more like men," the website reads. "Where has that led us? Skyrocketing rates of divorce, depression, dysfunction, and America at the no. 1 spot in the world for single motherhood. No longer will you have to give in to toxic bullying feminist dogma and go against your ancient, biological nature as a woman."
On a Pepto-Bismol pink background (because women = pink, obviously), the site covers topics conference speakers will address, all of which center around "lost traditions" of womanhood and motherhood like being silent, suffering trophies for men and pumping out as many babies as possible. The site claims there is a "war on motherhood," and "women today have been pushed to … DENY their own feminine nature."
Additionally, the site paints obesity as "not beautiful" and urges women to become fit so they will be admired by men. "They are after all sizing you up for reproduction..." it reads.
Article continues below advertisement
According to the website, there has been an attack on both masculinity and femininity, which has done "catastrophic …damage" on our society. "The result," it reads, "is a depolarized mess where men act like women, women act like men, everyone's confused, and nothing 'works.'"
Article continues below advertisement
The convention website is full of hyperbolic language that nevertheless seems to be taking itself completely serious. "Raise your femininity by 500 percent!" it reads. "Get pregnant and have unlimited babies!" These are quotes — word for word. I'm sure you know how quotes work, but I still felt like I had to clarify.
"Learn the truth about submission, dominance, and functional healthy relationships that respect your nature as a woman." Again, this is not a parody. This is a sincere event. Speaking at the event are all types of people — oh wait, no, sorry. It's just men. Men like Anthony Dream Johnson, who calls himself the "First President of the Manosphere" and chose the below picture of himself to include on the website.
Article continues below advertisement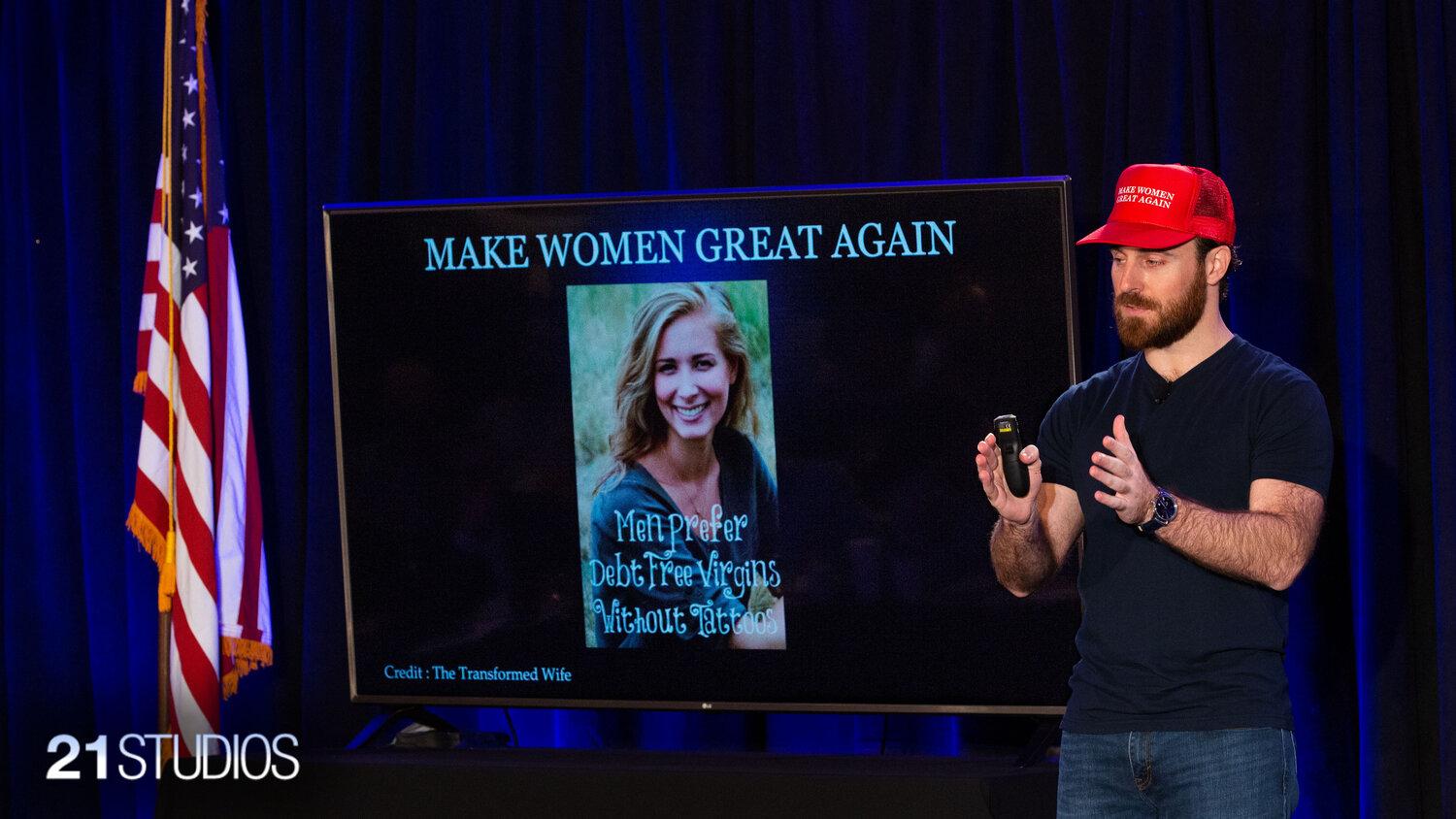 Notorious white nationalist Stefan Molyneux and men's rights activist Mike Cernovich are also slated to speak. Other speakers confirmed for the event have names like Socrates ("author of The Map: A Personal Guide to the Sexual Marketplace"), Goldmund Unleashed ("infamous bad boy author of Camera Game: How to Seduce Women Through Photography"), and Texas Dom ("seasoned navigator of the Dom / sub lifestyle").
Article continues below advertisement
How did this convention come about in the first place? Well, according to the website, in 2018, Anthony Dream Johnson realized that there was no event like the 21 Convention for women and that it was sorely needed since "women today are being indoctrinated into toxic feminist ideology at an epidemic rate and are being lead astray into lives filled with depression, barren wombs, and loneliness."
Article continues below advertisement
The FAQ section of the site is truly something to behold. First of all, it reads, the event is for "natural born women only." "Being a mother is not required" to purchase a ticket, "but being a biologically born natural female is." Second of all, the event takes place in Orlando, but the website doesn't reveal the actual venue or address "for privacy and quality concerns." Hm. Seems like if you have to keep your conference location a secret to stop hordes of protesters, you might want to reexamine the ideas you're spouting.
Even though tickets cost $2,000, they are currently half off with the option to bring a friend for free. As the website claims, it's the "early bird" special and definitely not the "nobody is buying tickets to our wildly offensive conference" special.