Women Share Stories of Times Strangers Helped Them Fend Off Attackers
Women can sense when other women are in a vulnerable situation. These stories are of strangers stepping up to help women who were dealing with creepy men.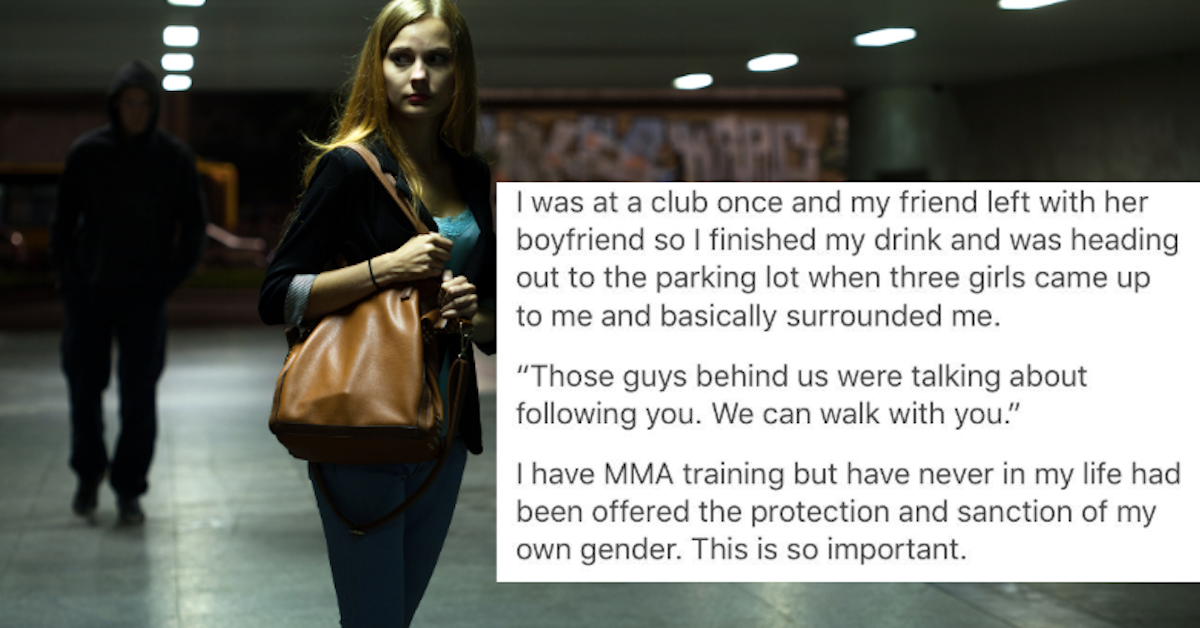 Most women know what it feels like to be followed, hit on, relentlessly pursued, and / or straight-up totally creeped out by a strange man. It's an unfortunate reality of the world in which we live. While it's never fun to be reminded of how many women have to deal with this on a daily basis, it's at least encouraging to remember that there are also good people out there.
Article continues below advertisement
In a recent Facebook post, Alexis Tyler shared three stories from Tumblr. While each story is different, they all have two things in common. A woman in potential peril being stalked by a strange man, and a kind, observant stranger who saw what was happening and decided to protect the vulnerable woman.
Article continues below advertisement
There is a pervasive notion that women are and should be competitive with each other. We are fed narratives of "cat fights" and vicious arguments between women that more often than not stem from internalized misogyny. But the vast majority of women I know are extremely supportive of one another.
And not just of their own friends, either. Often, women can sense when other women feel uneasy about a situation and need help. It absolutely sucks that this is the reality of our world, but when women move in groups and support each other like the women in that first story, they have a better chance of staying safe.
Article continues below advertisement
I have seen things like this happen in my own life. Friends have stood up for me in creepy situations, forming a protective barrier and not backing down until the guy did. The stories that Alexis shared on Facebook are extraordinary, but they're not uncommon.
Article continues below advertisement
"Protect your friends. Protect strangers. There are good men in the world, but don't wait for them to do something if you can do it yourself," this story reads. Sometimes, the support doesn't have to be confrontational. Sometimes, as in this next story, all you need is another pair of watchful eyes making sure you are going to be OK.
Article continues below advertisement
When Alexis posted these three stories on Facebook, I'm not sure if she realized what an impact they would have. Not only has her post gone completely viral, garnering over 8,200 reactions and over 45,000 shares, but it has also inspired hundreds of people to comment with similar stories.
It seems every woman in the world has a story of a time when a stranger or a friend stood up for her when she was in a vulnerable position. It's simultaneously amazing to hear and horrendous to realize just how many women have been made to feel unsafe in this way. The stories started pouring into the comment section of Alexis' post. And they are all similarly moving.
Article continues below advertisement
Another commenter recalls a story from when she was vacationing with her family on the Caribbean island of St. Kitts. "We were walking back from dinner and I saw a woman getting into a car arguing with a man to leave her alone," she writes. "I loudly asked if she needed help. It distracted him enough that she got her car door closed and drove off. Made my heart go pitty pat but I was proud to have helped her."
Article continues below advertisement
"Stick up for each other," this story ends. "Pay attention to each other." There were several stories in the comments of good men sticking up for women too. We all have to do the work of protecting each other from the creeps and reminding everyone that goodness exists. Sure, these stories are heartwarming, but I'd personally rather live in a world where they didn't have to exist.