Malu Trevejo Emotionally Tells Fans She Just Learned Who Her Biological Dad Really Is
Cuban-born Spanish singer Malu Trevajo just learned the truth about her father: The father she's known her entire life isn't her biological father. Here's what we know so far.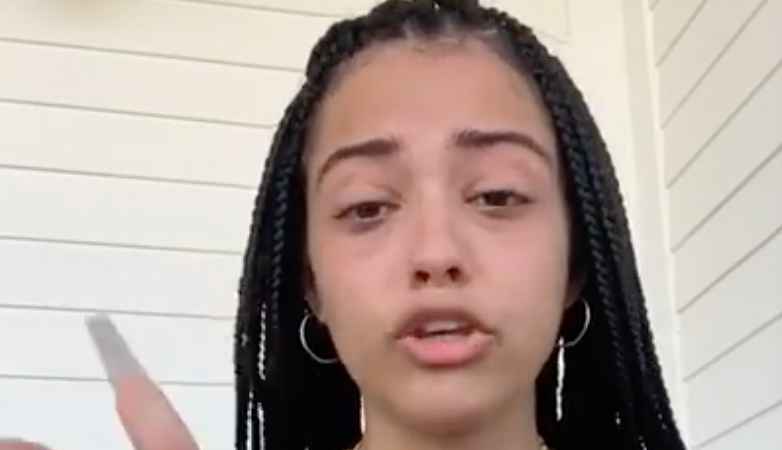 Cuban-born singer and influencer Malu Trevajo recently found out who her real dad is. After receiving hurtful and nasty comments from people, Malu went on Instagram Live to explain the situation (not that she had to) and why her entire life changed overnight. Apparently Malu's mom had a boyfriend back in Cuba who insisted that Malu's mom be with someone else to ensure Malu a better life in the U.S. Currently, Malu's dad is in jail for allegedly killing people along with robbery.
Article continues below advertisement
Who's Malu Trevajo's dad?
We don't know the exact identity of Malu Trevajo's dad, only that he's now in Mexico and has been sentenced to 122 years in prison for his crimes. Malu tearfully told the camera that when her mother told her about her real father, she finally understood why her skin was darker than her mother's and stepdad's, and why her hair was curly. She told her fans that she was shocked, and had to pause the recording several times to compose herself.
Article continues below advertisement
"In Cuba, we were poor. We had no food, we had nothing to eat. So my mom had to get with the rich man, so that he could get her out of Cuba. But she had her boyfriend over there. My REAL dad told her it was best for her to be with my other dad, the one I always thought was my dad. He's still my dad, because I love that man because he's the one that, you know, took care of me." Malu's biological dad told her that her stepdad would be able to give her a better life outside of Cuba.
Now, Malu feels sad for her biological father, who she'll never get to be with outside of prison. And she also feels sad that her relationship with her stepdad has changed forever. Even though he probably loves her just has much as he would his biological daughter, Malu feels like learning the truth has shifted the dynamic, nonetheless.
Article continues below advertisement
You can see Malu's stepdad in an older Instagram video that shows her dancing and him getting his groove on in the background. She captioned it, "My dad 🤣♥️."
Article continues below advertisement
It's a huge bummer to see people apparently making fun of Malu and writing on her stepdad's social media accounts as well. Malu shared a screenshot of what appears to be people commenting on her stepfather's Instagram account. "That's crazy y'all writing shit to my dad his bro I already told him and y'all literally making it worst y'all finna have him a heart attack I swear to god I swear y'all take someone from me y'all see," Malu wrote on her Instagram Stories.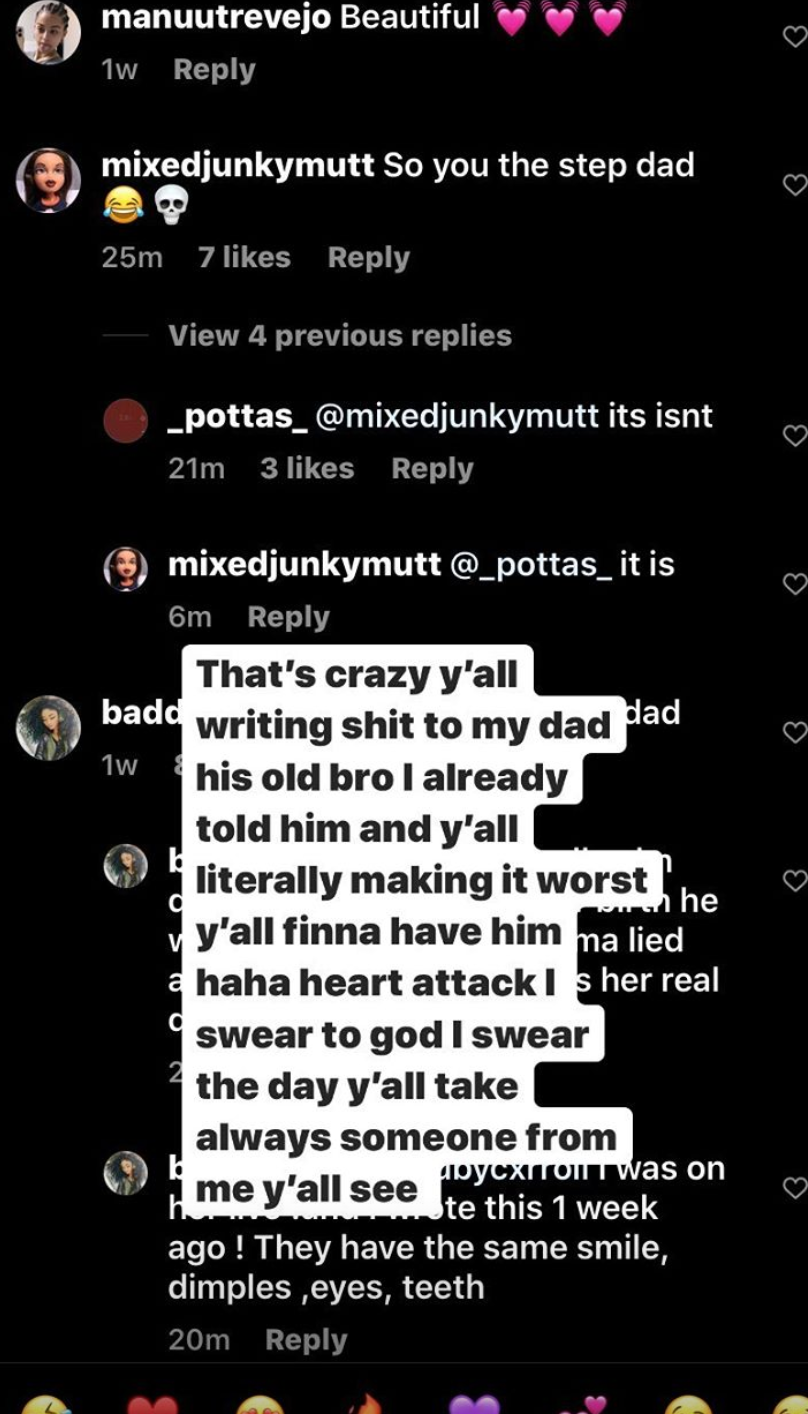 Article continues below advertisement
Malu posted another Story, writing, "The people making fun of it y'all going to hell bye."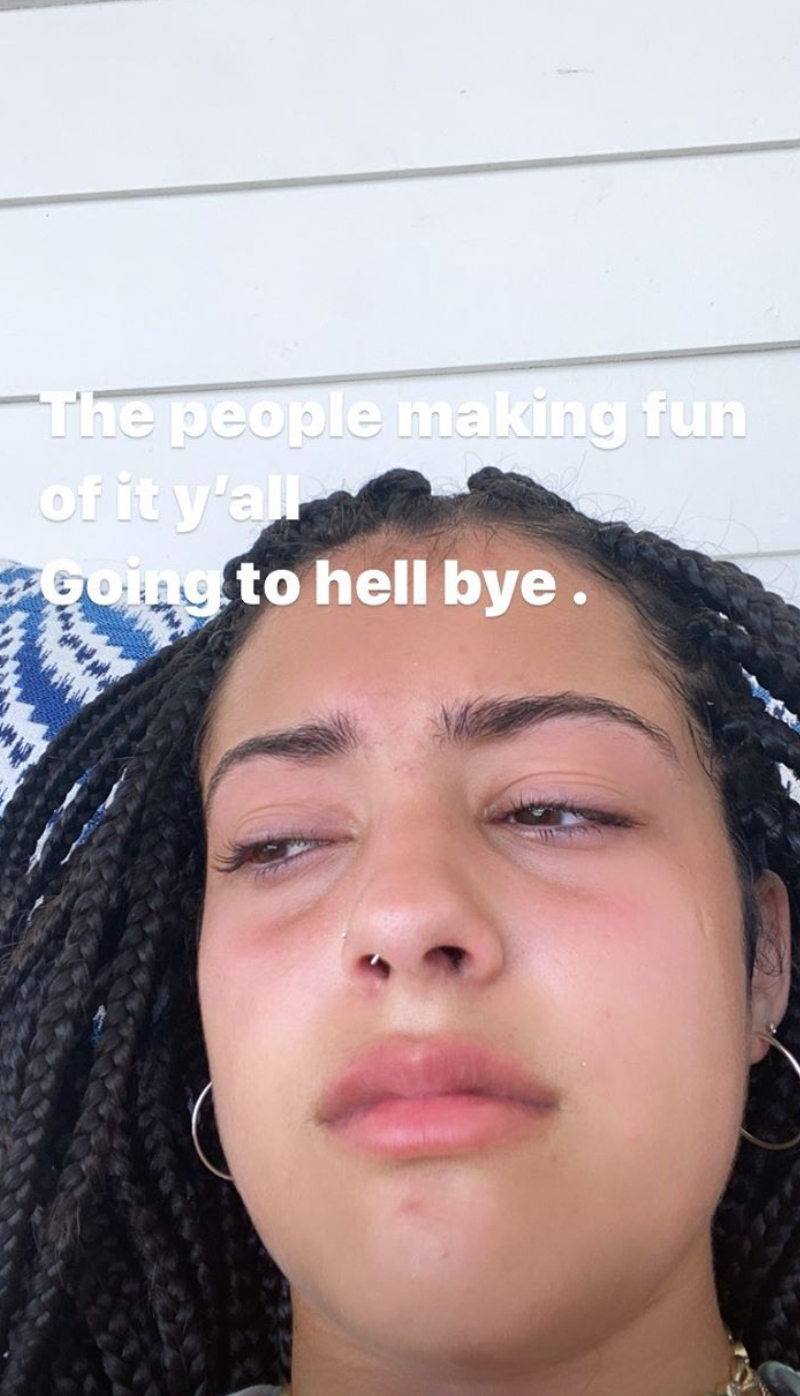 This must be a lot to take in for a 17-year-old, and we hope that Malu is able to meet her biological father and find peace with him and her mom's decision. Plus: Just because someone isn't your biological parent doesn't mean they don't love you just as much (if not more).