Man Puts Mom in Hospice After Comment She Made About His Son With Down Syndrome
A man wanted to know if he was in the wrong for putting his mother into hospice care when she said his late wife's child is not his son.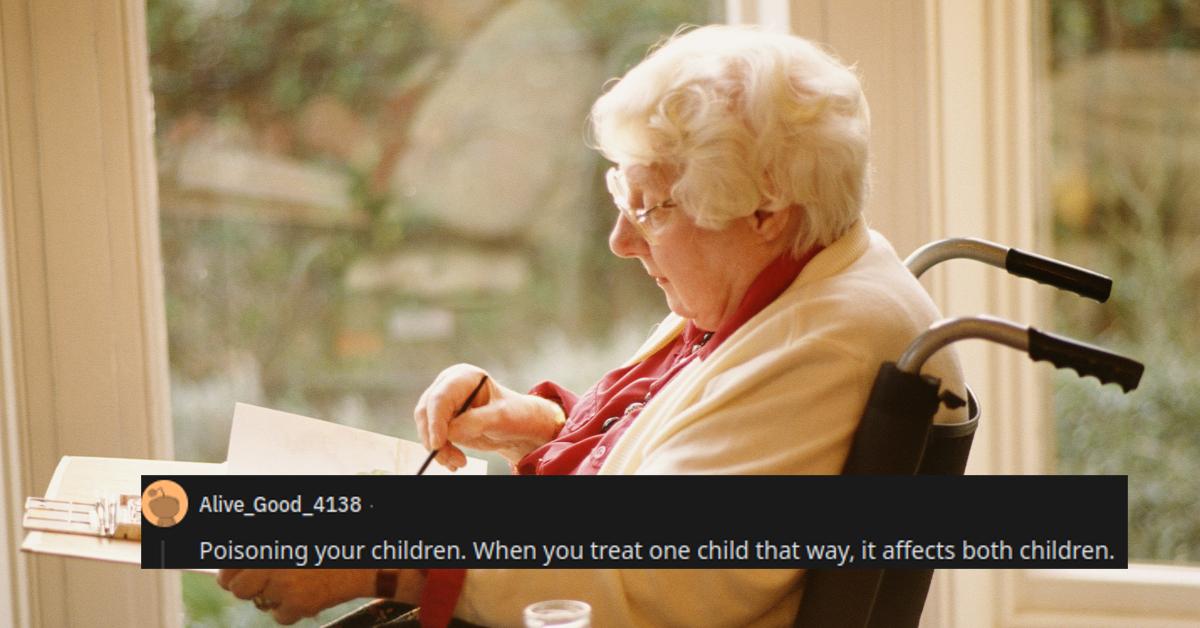 The decision to send a parent to hospice care is a difficult choice for many people to make. For some, it feels like a "betrayal" of sorts to a parent, especially if they dedicated a good portion of their lives to raising you in spite of everything else they had going on in their lives.
So many argue that spending more time with one's parents later in life by living with them, especially when they're sick, is even more important than spending it with an otherwise healthy child.
Article continues below advertisement
However, as anyone with overbearing or extremely opinionated parents can tell you, sometimes keeping a bit of distance is ultimately healthier for their relationships. Fewer people can get you going out of your mind more quickly than your folks and reasoning with them, sometimes, is a task that seems more difficult than finding the fountain of youth.
You could become an eternal, all-knowing being, and all it'll take is one remark from your mom about the outfit you're rocking to your wedding, or a political conversation with your father and the eons of knowledge you've accumulated will go out of the window. Maybe it has something to do with the fact that they wiped your butt when you were a baby and struggled to keep milk/formula down and had to be taught how to use a toilet, but parents always think they know better.
Article continues below advertisement

But sometimes those thoughts can be shocking and harmful when expressed, forcing individuals to make difficult choices, like the one Redditor BigBlueDotss wrestled with in a now-viral post on the popular social media platform's AITA (am I the a**hole) sub.
He started by stating that he attained full custody of his late wife's biological son, who has down syndrome.
Article continues below advertisement
The child's father "signed off parents right at birth" leaving him as the kid's sole caretaker after she died. "I consider him my son" he said. He also had a daughter with his late wife, who is six years old.
Five years after the death of his wife, the man's mother came to live with them. Her health is deteriorating and she only has a few months left to live, so he wanted to spend as much time with her as possible. Plus, it gives his 6-year-old daughter and 10-month-old son a chance to better know their grandmother.
Article continues below advertisement
OP says that this arrangement began "okay" but a red flag emerged after his mother made a huge order of toys for her grandchildren, something that OP isn't about.

Article continues below advertisement
"[My mom] special ordered a new set of toys for my 6-year-old (a REALLY expensive one) which I let fly, even though I don't normally just let my kids choose hundreds of dollars worth of toys, but I get that she was trying to do something nice for her grandkids.
He continued, "Then today the set arrived just before dinner, and at dinner, I asked my son what toys he chose. He said he didn't choose any toys. I asked my mom what he chose (my son sometimes mixes things up and I thought he just forgot) and she said that she only bought the toys for 'her grandbaby,'"
Article continues below advertisement

OP then tells his mother that she has two grandchildren, to which she replies that the young boy isn't her "real son."
This didn't sit right with OP, so he took his mother aside for a one-on-one conversation and asked the children to go in another room.
"She then said, 'it's true, you have no obligation here, you should go [to] foster care or stick it in a facility before your life is ruined," OP relayed in his post.
Article continues below advertisement

"I flipped out, called her all sorts of names, and told her I'll be calling hospice first thing in the morning and have them take her the same day (which I did)."
OP's family told him that he was "cruel" for sending his mother into hospice care instead of keeping her around the house and risking psychological/emotional damage to him and his son.
Article continues below advertisement

However, a slew of Redditors backed OP's decision stating that he was entirely in the right. "You don't get an 'I get to be cruel' free card when you're dying. She made her choice to voice her opinion and a second choice to double down on it and now she's finding out that there is a consequence for her actions," one user wrote.
Article continues below advertisement

What do you think? Was his decision to put his mom in hospice care the right call? Or should he have taken into consideration that he doesn't have many more months left with her into account?