"Sorry Mom, You're Not Coming" Says Man After Surprising His Father With a Concert Ticket
When a man surprised his father with a ticket to see the concert of a lifetime, he had to tell his mom she couldn't come. What's up with that?
My mother and I go to a lot of concerts together. The first one she ever took me to was Robert Palmer at Kings Dominion, in 1985. After that, it was The Cure, Depeche Mode, The B-52's, Peter Gabriel, and countless musicals to boot. We are so committed to a live show, that for my sixteenth birthday, she surprised my friends and me with a limo which whisked us away to a Ramones show. I remain eternally grateful to my mother for having such good taste in music.
Article continues below advertisement
While watching a TikTok of a man who surprised his father with a ticket to see Paul McCartney, I think about how as adults we switch places with our parents in so many ways. I, too, have brought my mother to shows. It's always been just me and my mom but for Sam Mac, who goes by @sammactiktok on TikTok, he has a relationship with both parents. You might be wondering what happened to mom's ticket to see Paul McCartney. All you need is love? More like all you need is another ticket.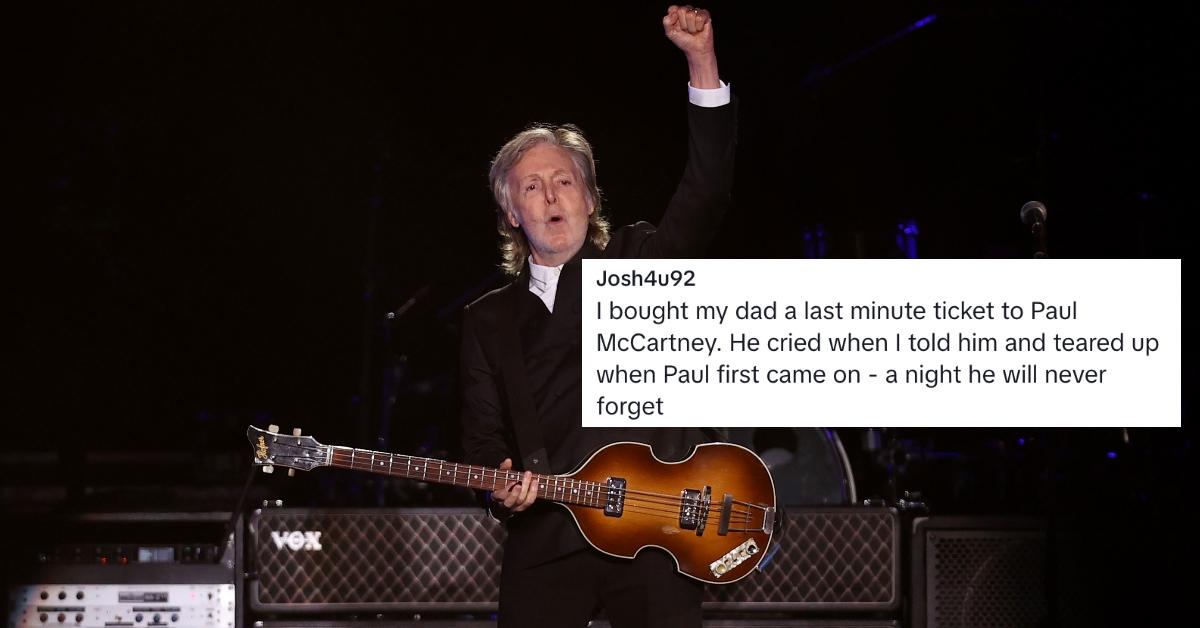 Article continues below advertisement
Sorry mom, it's a boys night.
I love a little good-natured trick, which is what Sam pulled off when he told his parents they were headed to a bar called SPM for a drink. The three of them were off to celebrate Sam's dad's seventieth birthday, but he had other plans in mind as he led his parents on a wild grey goose chase.
"So I've been lying to you both," says Sam in his sneaky video. "There is no bar called SPM. SPM stands for Sir Paul McCartney." Sam's mom gasps off camera and shouts, "Paul McCartney!" Unfortunately this is the moment we all learn that Sam's mom has not been invited. It's Pete Best all over again!
Article continues below advertisement
"Sorry mom, you're not invited," he says to her smiling face. I can't see Sam''s mom's reaction, but I can certainly picture it! His father is clearly trying to process what is going on as Sam asks, "Did you ever think you'd get to see a Beatle for real?" Shaking his head, Sam's dad softly says no.
Article continues below advertisement
The video then cuts to a montage of Sam and his dad at the concert. They are so filled with joy, it's as if they are day trippin'. At one point Sam is crying. His father's arm is slung over Sam's shoulder. People joke about making core memories, but this will undoubtedly become one for the both of them.
Article continues below advertisement
Sam buys himself and his father a t-shirt from the concert. In the past, I've had a lot of judgmental thoughts about wearing a concert shirt at said concert but when the next shot shows the two of them in their matching shirts, it's simply too beautiful to care. "That will never be surpassed," says Sam's dad.
Justice for Sam's mom!
The bulk of the comments were people demanding justice for Sam's mom, who we assume had to catch an Uber home? One person suggested Sam should have given both tickets to his parents, so they could enjoy date night. What a nice idea.
Article continues below advertisement

My question is, why didn't Sam just let his mom in on the surprise? Maybe she is like me, a person who is physically unable to keep a secret. Perhaps Sam's mom is a terrible actor and would not have been able to keep up the ruse. Regardless, it did feel a bit mean.
Article continues below advertisement
Sam cleared up the not invited mom situation in the comments. "Mum is normally the one getting spoilt," he said. "We had a great dinner. Dad and I rarely get one-on-one time. This was Dad's night, Dad's birthday. So special." This begs the question, what is mom getting for her birthday? Someone should give her Paul McCartney.
Article continues below advertisement
It really was all about Sam's dad. In a subsequent video, he shared more footage from their time together. In it, Sam's dad is taking pictures of anything and everything that has Paul McCartney written on it. According to Sam, his dad is normally pretty camera-averse.
His father calls a friend as well as Sam's sister to brag about where he is. He also takes photos of actual Paul McCartney and ends the evening with an offer to join the band as a rhythm guitarist of backing vocalist. All in all, it's a very good birthday for Sam's dad.