On Tuesday, Sept. 24, Marshalls unleashed something that is truly going to revolutionize shopping for the better: an online version of the store. Yes, you heard that loud and clear, folks — via Marshalls.com, you'll now be able to access the discount department store's stylish deals from the comfort of your couch, ultimately making shopping sprees far less exhausting.
So if you're excited to start shopping at Marshalls' online store, here is absolutely everything you need to know.
Marshalls now has an online store.
Shopping on Marshalls' website will be relatively similar to shopping at the store — that is — without having to go there in-person. According to a press release, Marshalls.com is organized just like Marshalls' thousands of stores. You will find familiar categories such as ladies, men's, kids, footwear, home, accessories, and beauty.
The only thing that's missing is the tasty snacks by the checkout counter... but I suppose I can live without 'em.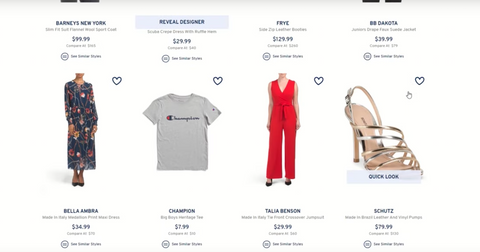 Most merch can be sent back or returned in-store.
One major anxiety shoppers often have regarding online shopping is the concept of returns. But luckily, according to the press release, most merchandise bought online can be sent back via mail or returned in-store.
However, several designer brands such as Christian Louboutin and Fendi have highlighted the fact their products are not returnable in store, according to USA Today. So, you may want to think twice about making certain big purchases.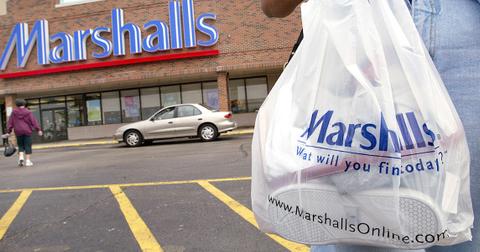 The online selection includes more brand-name designers than its stores.
Marshalls is also upping the ante for its online store selection by offering a ton of high-end products from big-name designers.
For example, according to USA Today, the site is currently offering a Gucci leather tote for $1,999.99, which apparently gives customers a full $500 off the retail price of $2,500. You can also find Alexander McQueen boots for $1,499.99, which normally retail for $2000. It's truly amazing.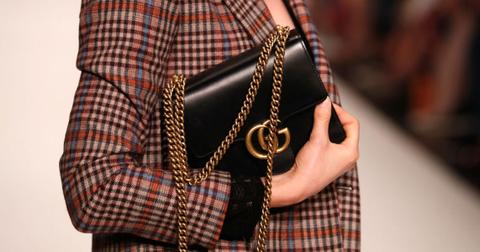 The technology for the online shop is next-level, too.
Marshalls.com will enable users to "Swipe to Shop," a Tinder-esque feature that allows customers to swipe left on any items they don't want, and to swipe right for things they do want, according to the press release.
Shoppers will also be able to find "curated" shops under categories, which boasts collections like Fall Style Shop or Made in Italy. Then, "Influencer + Shopper Finds" offers looks inspired by stylish influencers and shoppers.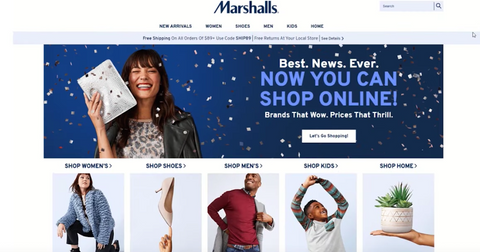 OK, guys, what did I tell you? Is this not the shopping experience of your wildest dreams? In my eyes, there is truly nothing better than having the freedom to bargain shop from a variety of brand-name designers, without actually having to leave the comfort of your couch.
Marshalls, you have truly outdone yourself with this glorious innovation.
Now excuse me while I spend the rest of my day (and also the rest of my money) online shopping... for real, if you need me, I have my eye on that Gucci tote.