These Online Shopping Fails Are Why You Must Always Read the Product Description
Online shopping is convenient and fun, but if you don't read the product descriptions carefully, you quickly learn photos can be deceiving.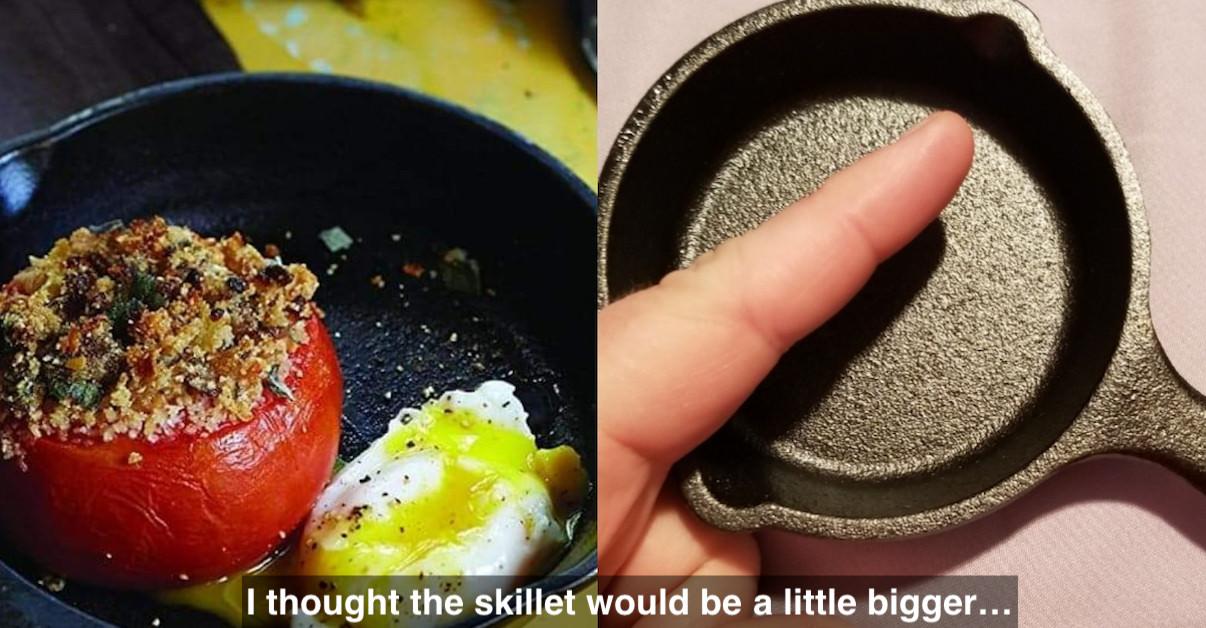 Online shopping can be convenient and fun, not to mention it's been a game-changer in making products available to a wider audience than ever before. In many areas you can even order your weekly groceries online. But as virtually everyone who shops online has discovered at some point, shopping by product pictures alone can lead to frustrating and often hilarious incidences of "expectation vs. reality." disappointment.
Article continues below advertisement
Like this $10 chair that was too good to be true.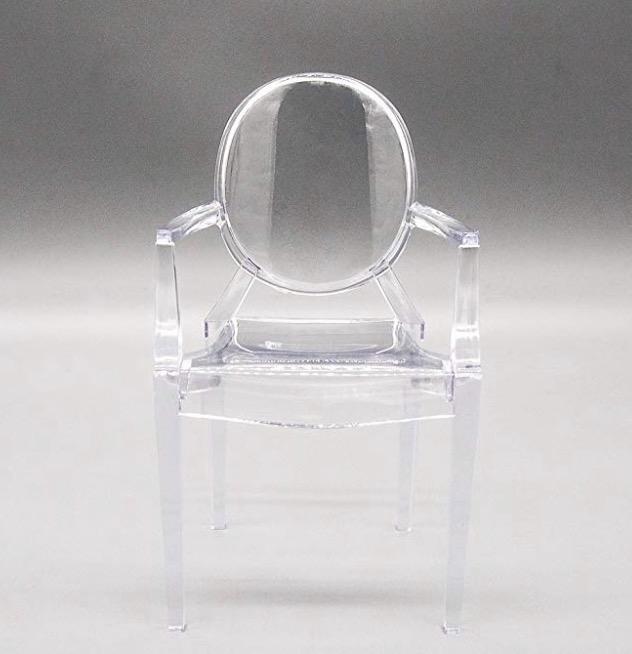 Who hasn't thought they found a great deal when in reality the item is much smaller than expected? A lot of Amazon shoppers were duped by this acrylic doll-sized chair, thinking it was regular human-sized. And who could blame them? Looking at this photo, there's no way of knowing the size. It's not until you see it in perspective that you get just how tiny that chair is.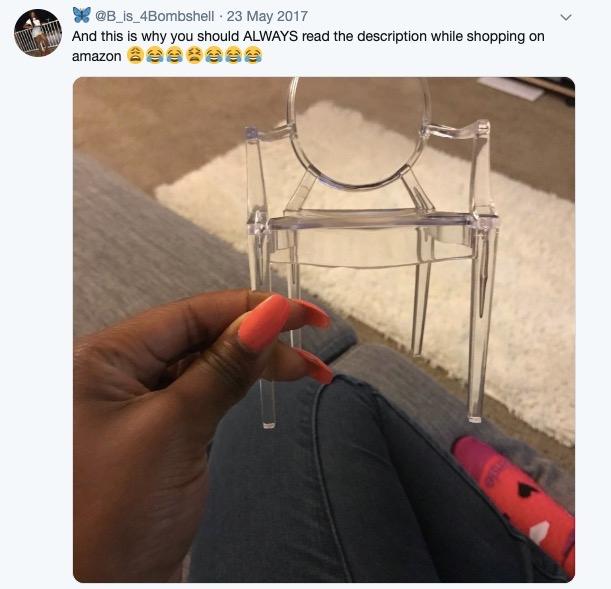 Thankfully, it seems like Amazon has been a bit better about monitoring for deceptive advertising, as chairs like this on the site now indicate "miniature" or "doll" in the product name.
Article continues below advertisement
It's the latest trend in festival fashion: wearable tents.
This poor guy thought he'd purchased a two-person tent. He had. It's just those two people are most likely under the age of 10. Still, he says he brought it to the festival he purchased it for anyway. Those are some very cozy accommodations.
Article continues below advertisement
"Area" rug doesn't specify the actual area it covers...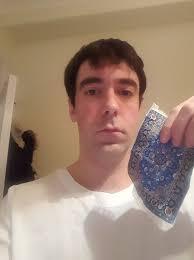 Poor Adam here bought a rug on Amazon to cover a stain on his light-colored carpeting. Unfortunately, the rug he received doesn't quite cover it. He probably should have suspected the $6 price tag was too good to be true, but honestly, for $6 I'd expect it to at least be bigger than an envelope. To his credit, Adam was duped by a dishonest reseller, who didn't disclose what the rug's manufacturer clearly states in their description: it's meant for a dollhouse.
Article continues below advertisement
Have yourself a very little Christmas.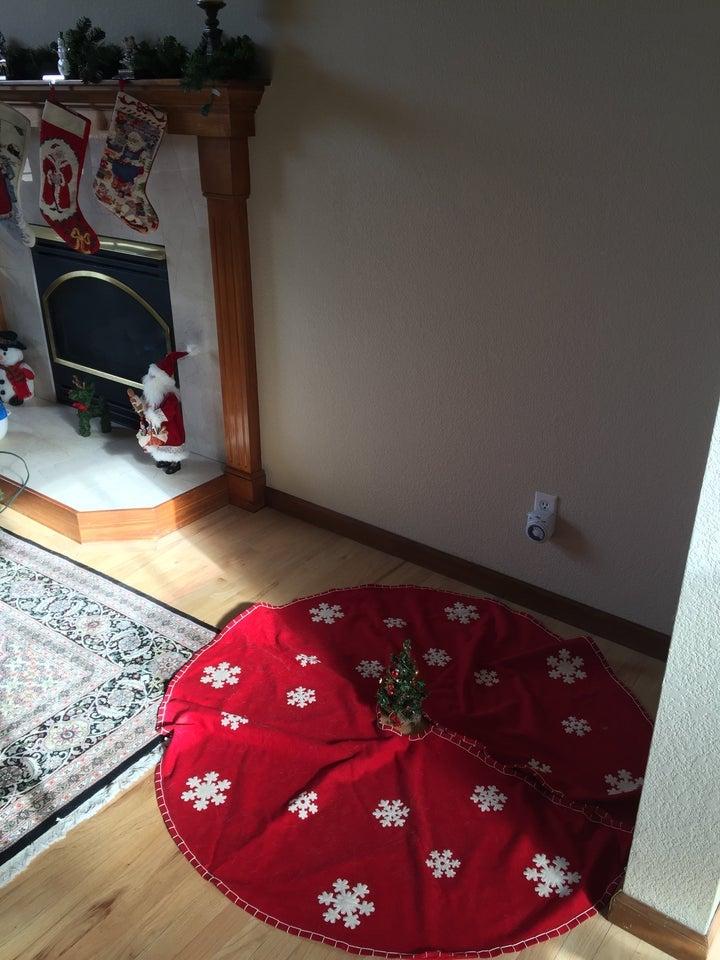 My 4-foot artificial tree from Amazon definitely felt a bit smaller than I'd wanted, even as an apartment dweller. But after seeing this model, I'll stop complaining. Not only is this absolutely swimming in tree skirt, but if you were to put the Santa figurine on the hearth next to it, it would be like a Godzilla Christmas special.
Article continues below advertisement
She said she wanted her wedding to be a "small, intimate affair."
This Instagrammer thought she'd found a great deal on candelabras for her bridal table. Well, maybe if she got some birthday candles these could do? Still, it's pretty unlikely these will work for her wedding tablescape.
Article continues below advertisement
Sometimes, the item you get is too big.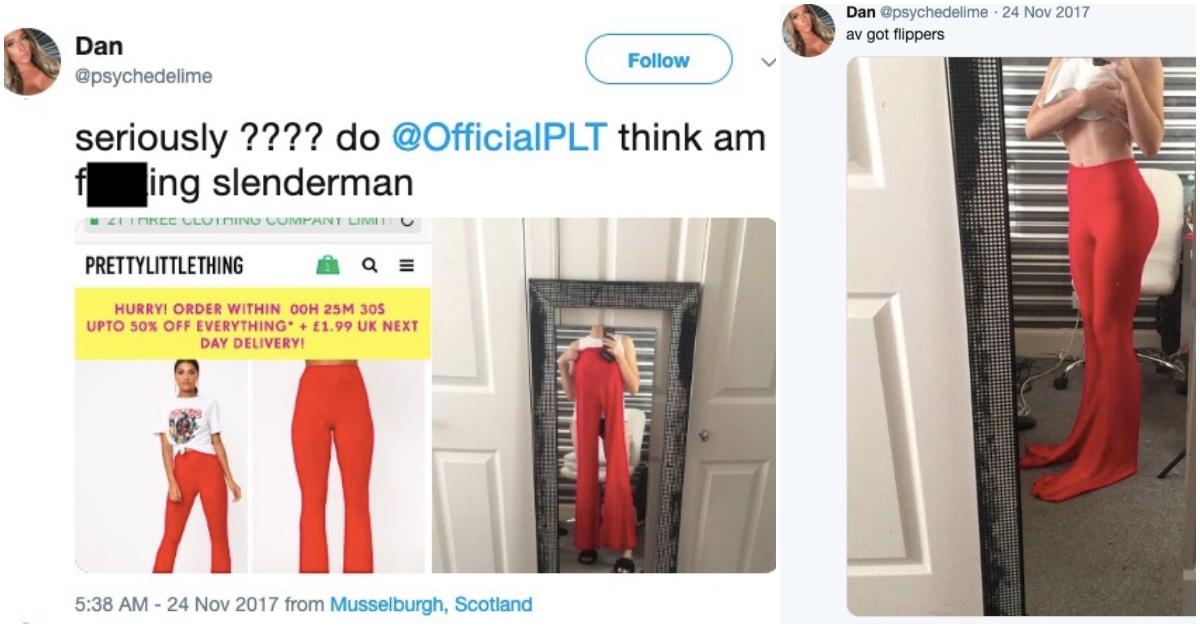 Like way too big.
These pants also look like they were made for Barbie — if a life-size woman with Barbie proportions existed. I have seen a few women with legs long enough for these pants. They are models.
For a time, shoppers of UK retailer Pretty Little Thing were taking to Twitter to show off how comically long their flared trousers were on people who aren't 6-foot-tall Glamazons.
Article continues below advertisement
Teddy Long Legs
This bear should probably order the pants above. They'd definitely fit. To be fair, the seller does say it's 6'5" tall, but seated there in the grass it certainly does look less.... leggy.
Article continues below advertisement
This is a Jurassic fail.
Clearly, most people who saw this product photo would expect to get a cute dino-shaped pillow in the mail, instead of the weird meta pillowcase they received. Still, if I got this, I'm not sure I'd even be mad. I doubt I'd return it for a refund, because the laughs and novelty alone are worth whatever the price. I might even order a few more so I could have a full set for my bed.
Article continues below advertisement
For finger food!
Looking at the photo on the right, you can tell this is a small skillet, but most sane people would assume the stuffed tomato is your typical beefsteak variety and the soft-cooked egg beside it is a chicken egg. Clearly, this seller moonlights for Tiny Kitchen and went to the trouble of stuffing a cherry tomato and poaching a quail egg just to pull off this perspective goof. I'm not even mad, I'm impressed.
Article continues below advertisement
Sometimes you don't get what you paid for...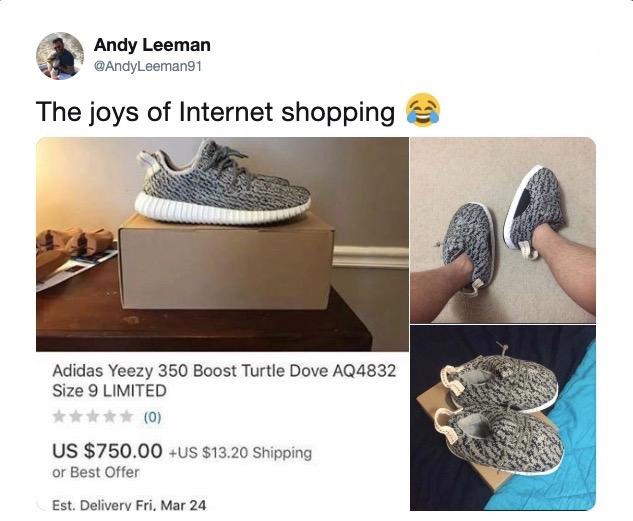 Thank goodness eBay has protections against scams like this, but let this be a warning to you sneakerheads out there: if you're shopping for limited edition kicks as coveted as these, don't buy from a seller with zero ratings, lest you end up with a pair of Yeezy novelty slippers. instead.
These aren't the only online shoppers who got sold a false bill of goods. Sometimes you really don't get what you asked for.
Article continues below advertisement
This face mask really REALLY makes your pores smaller.
Look, there's not enough beauty products out there for the shrunken-head set, so this seller clearly saw a consumer demand and met it. It's not their fault if people just assume the proportions are for non-witch doctor survivors.
Article continues below advertisement
I have questions...
First off, the quote is "you can't sit with us," so both shirts are wrong. Yes, I realize that's not a question. Second of all, am I wrong in saying the image on the shirt on the right is better? All I'm saying is, if you combine the best parts of these shirts, you've got yourself a pretty cool shirt.
Article continues below advertisement
Good grief.
What really sucks here is this is a sympathy arrangement. The person who purchased the bouquet was expecting the beautiful, tasteful one on the right to express their profound sympathies. Instead, their aunt got the one on the left. Sure, it's not the worst bouquet I've ever seen, but when You want tasteful minimalism and get a baby's breath bomb tied together with a cheap satin bow, you're probably not going to be super pleased.
Article continues below advertisement
Trick or treat.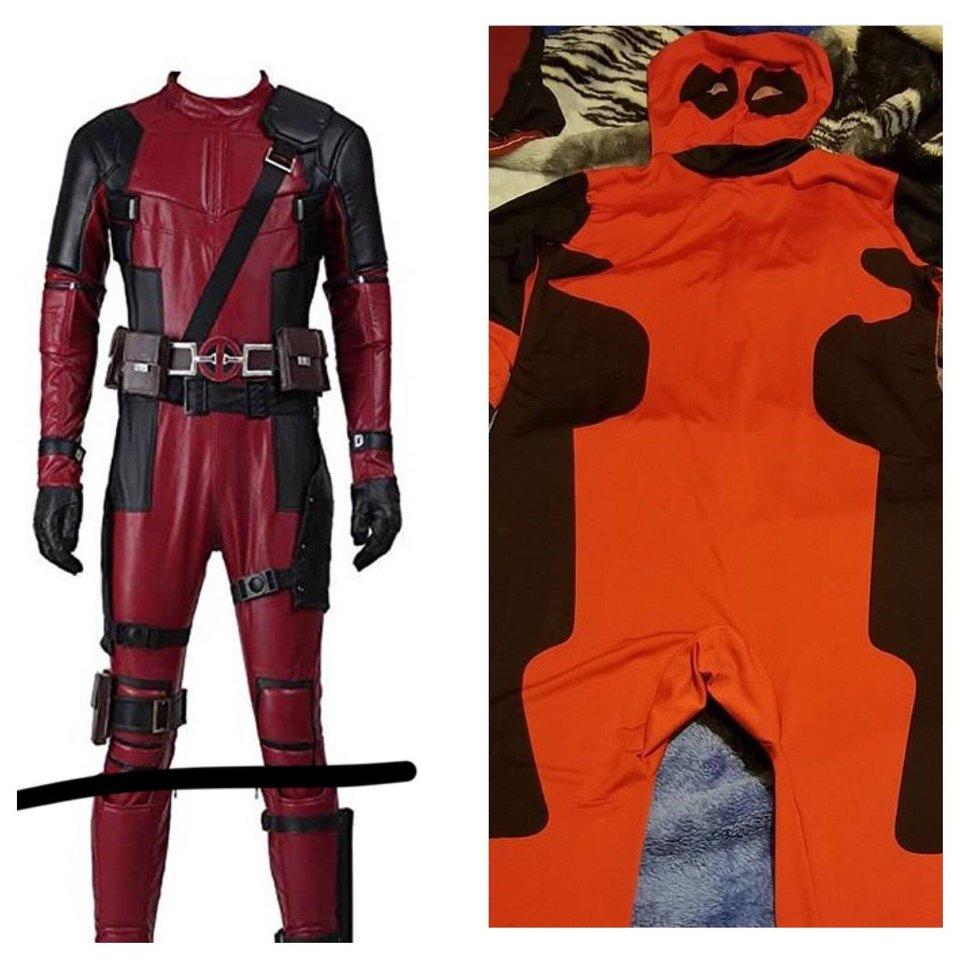 You think you found an awesome deal on a Deadpool costume. And then the mail arrives. Reddit user Origami_girl said it best with the one-word caption "Derpool." Hard to believe, but the retailer where this monstrosity originated is no longer in business. Go figure!
Article continues below advertisement
2008 vs. 2019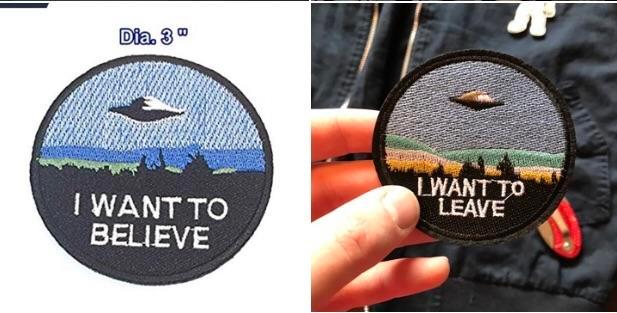 My theory is that the patch used to look like the one on the left but the seller decided, with our current geopolitical climate being what it is, the sentiment needed an update.
Article continues below advertisement
Rebel Girl
Well, that certainly is a subversive plot twist — although, if the mom who purchased it had been more familiar with meme culture, she may have been less surprised at what came in the mail. While the good-humored mom insists her child won't wear the shirt out of the house, I say, why not? Also, is this available in adult sizes?